Sponsored by Visit Sweden
When we arrive in Ramoa in Småland Sweden the sun has almost set. A canoe awaits us between the red wooden houses on the lake shore. It will take us to our accommodation for the night – a tiny island in the middle of the lake Örken.
We paddle into the twilight and after half an hour we see our island twinkle in the distance lit by little solar powered lamps. We go ashore, and we are super excited. What could be more awesome than staying at your very own island?
Our cabin is tiny but cosy. It's furnished with nothing else than a comfortable double bed. The island itself is not much larger. There is no electricity or water and the toilet is placed in open air behind the cabin. But that is no problem at all. The lake shore is far away, and we are completely alone. Our only company is two terns nesting on a rock nearby.
We fall asleep under a starry sky. We are only a few hours away from our home town Copenhagen but have the feeling of being far away on a great adventure.
A magical morning on the lake
I wake up to the most beautiful morning ever. A photographer's dream – a misty lake and a pastel coloured sky. My boyfriend sleeps on while I put the canoe in the water and paddle out into the quiet morning. Nature silently awakes around me and the golden light suddenly bursts through the mist. It's an overwhelming feeling. I find myself in the middle of the lake – in the middle of nature in a fairytale world. The real world has not woken yet. Perhaps it has never really existed at all.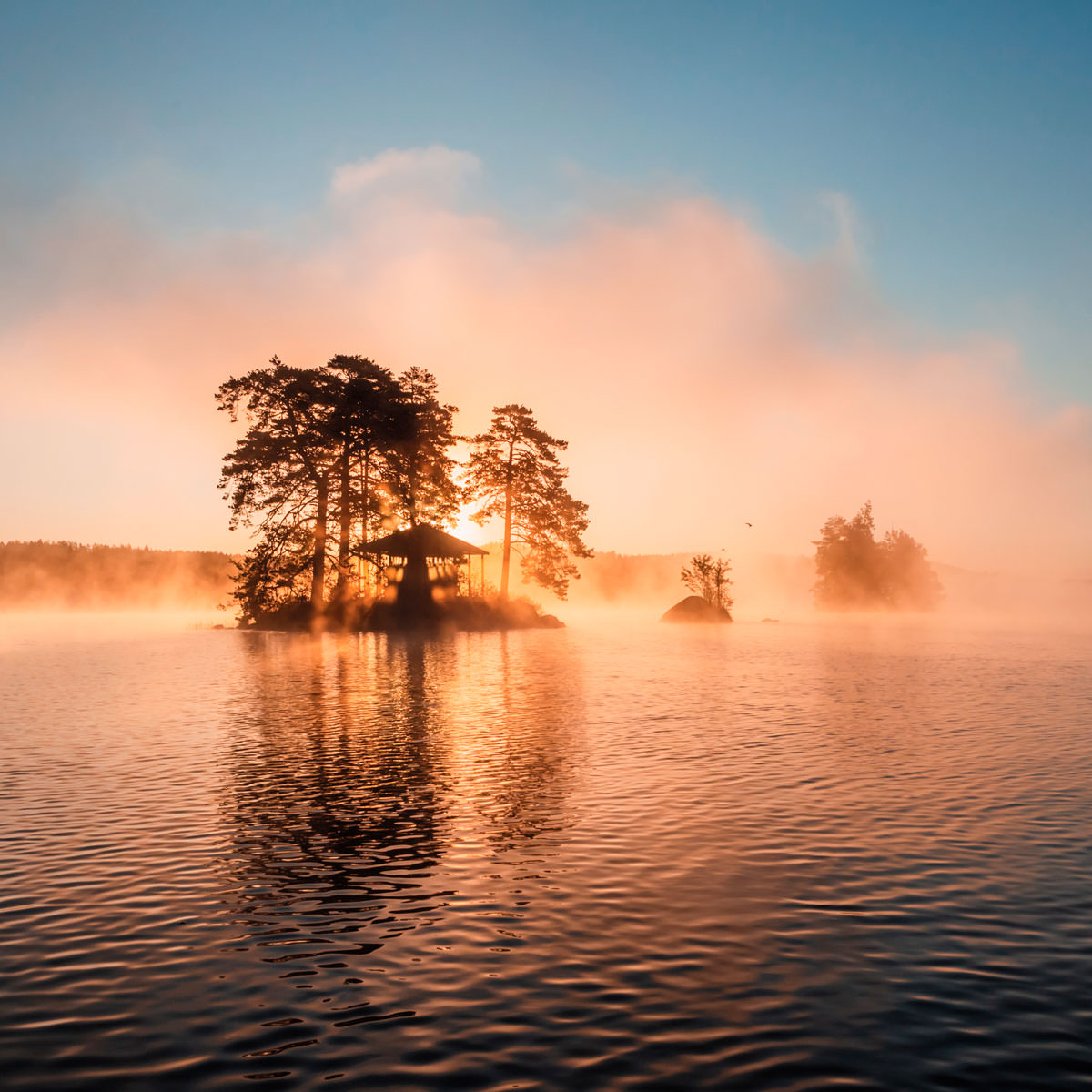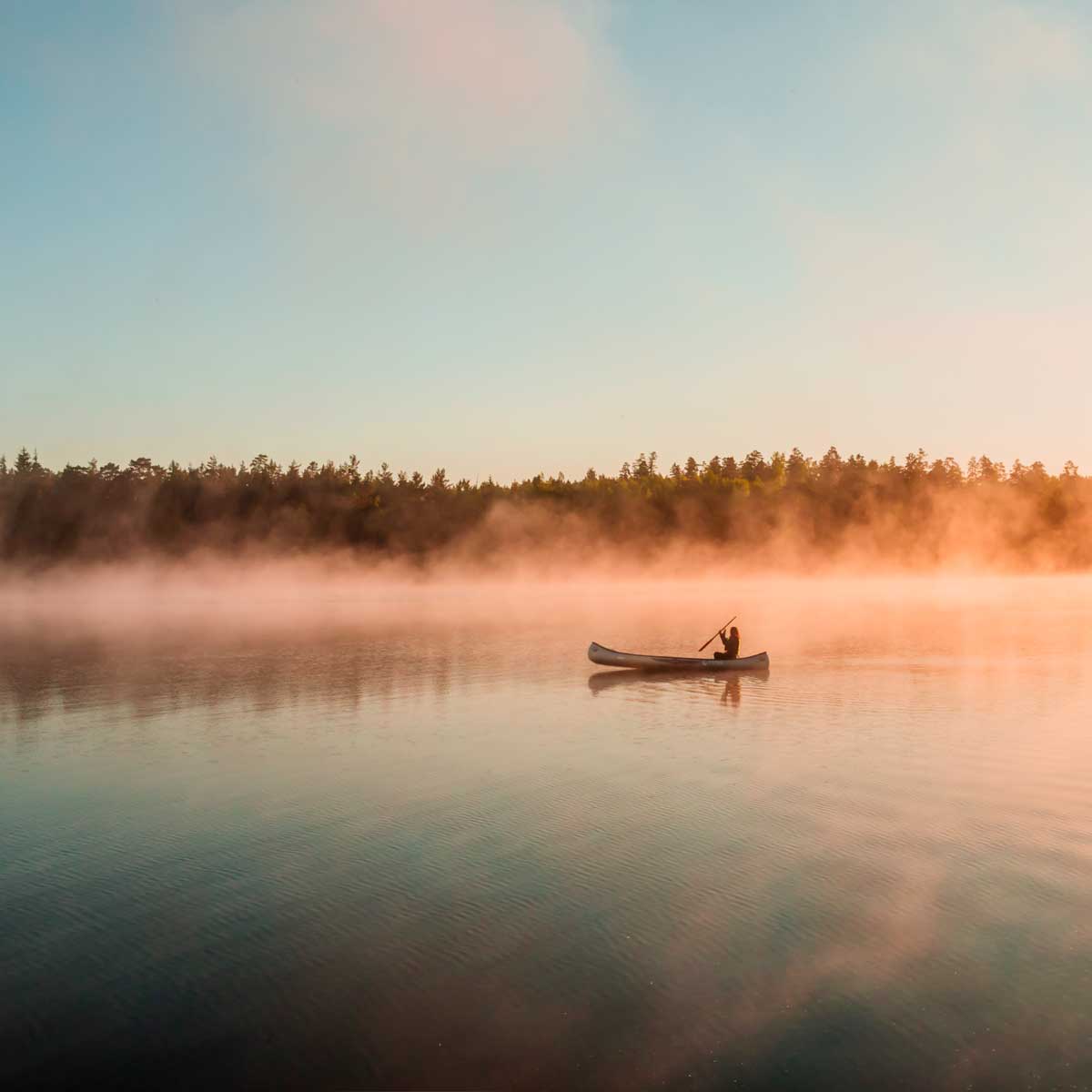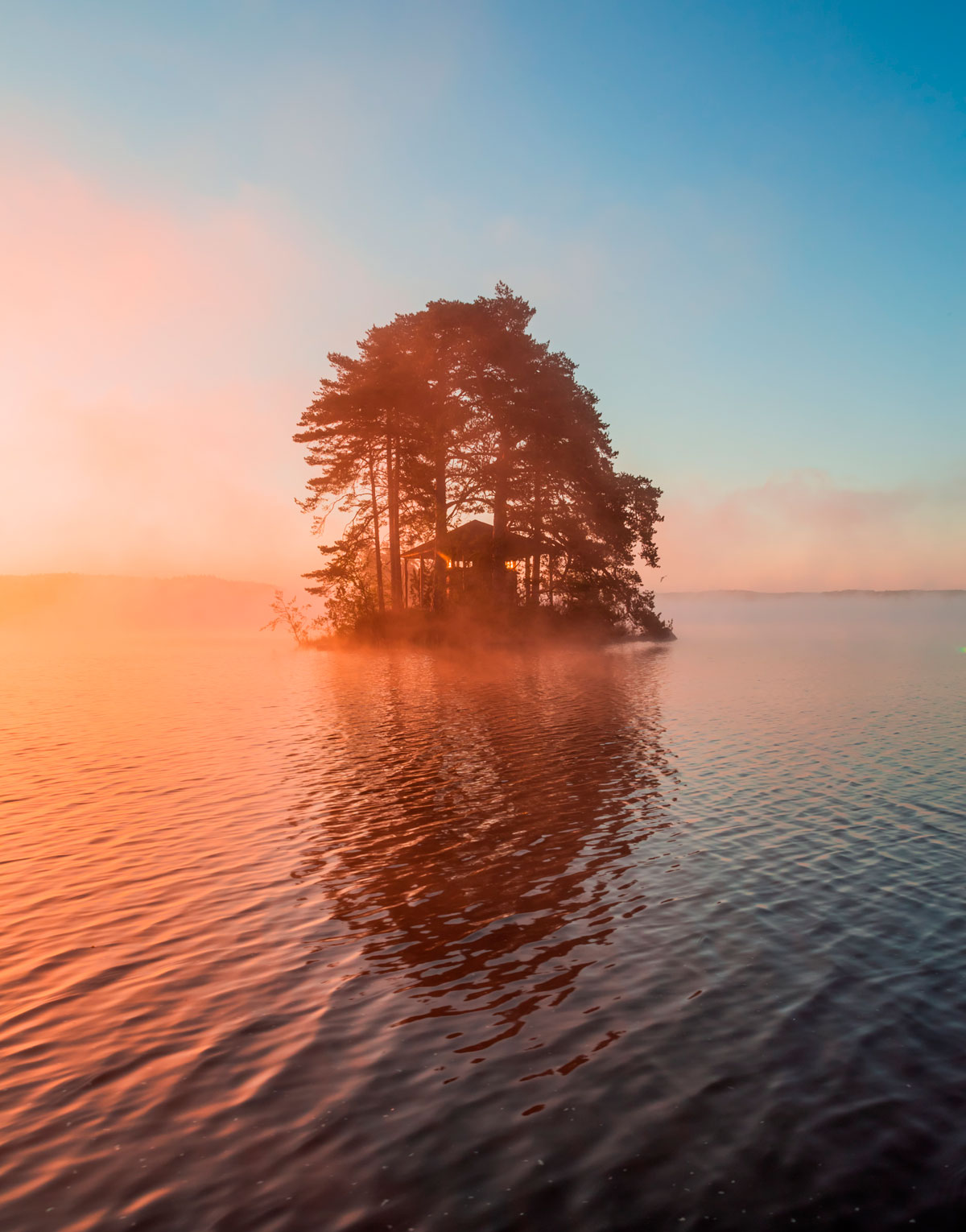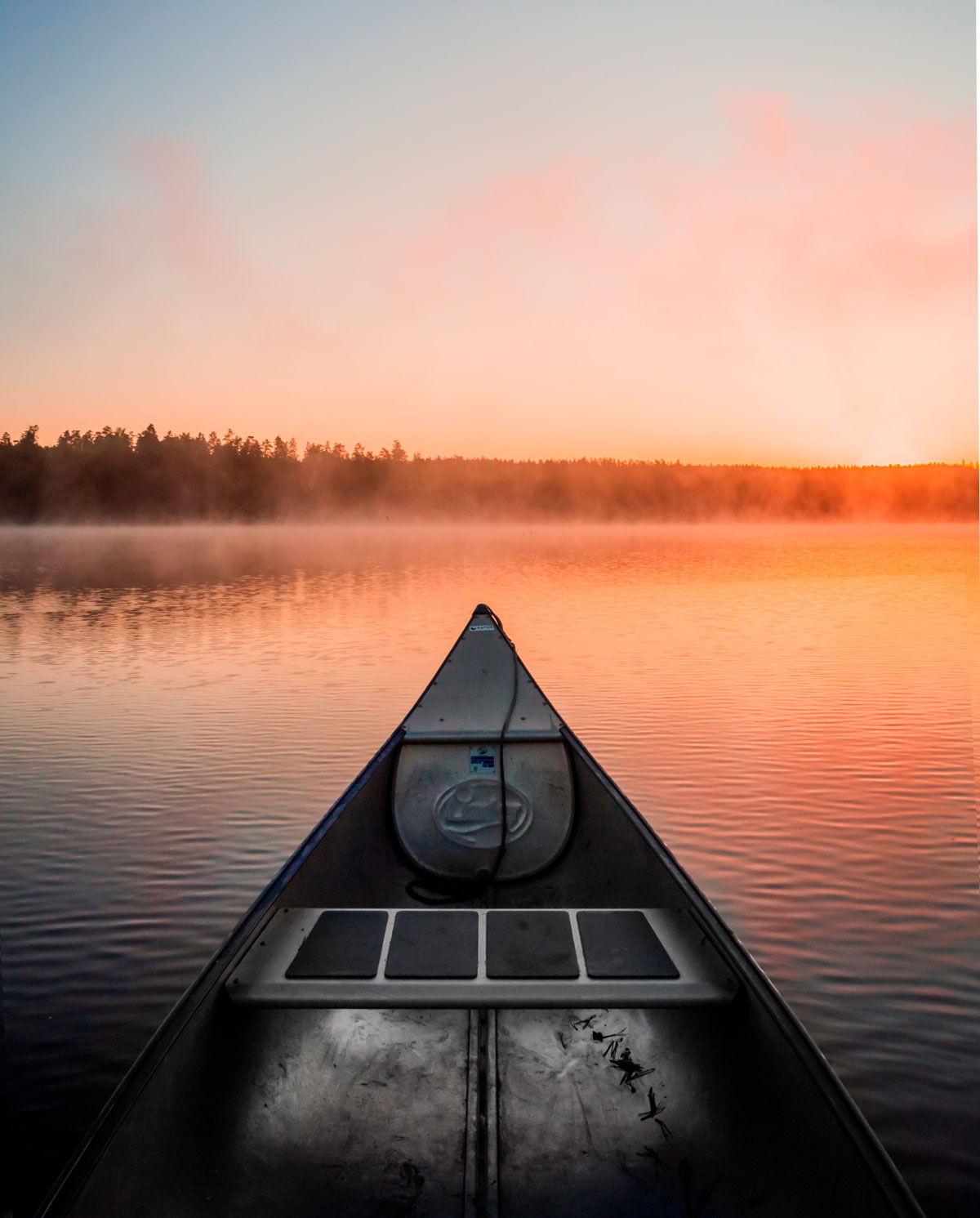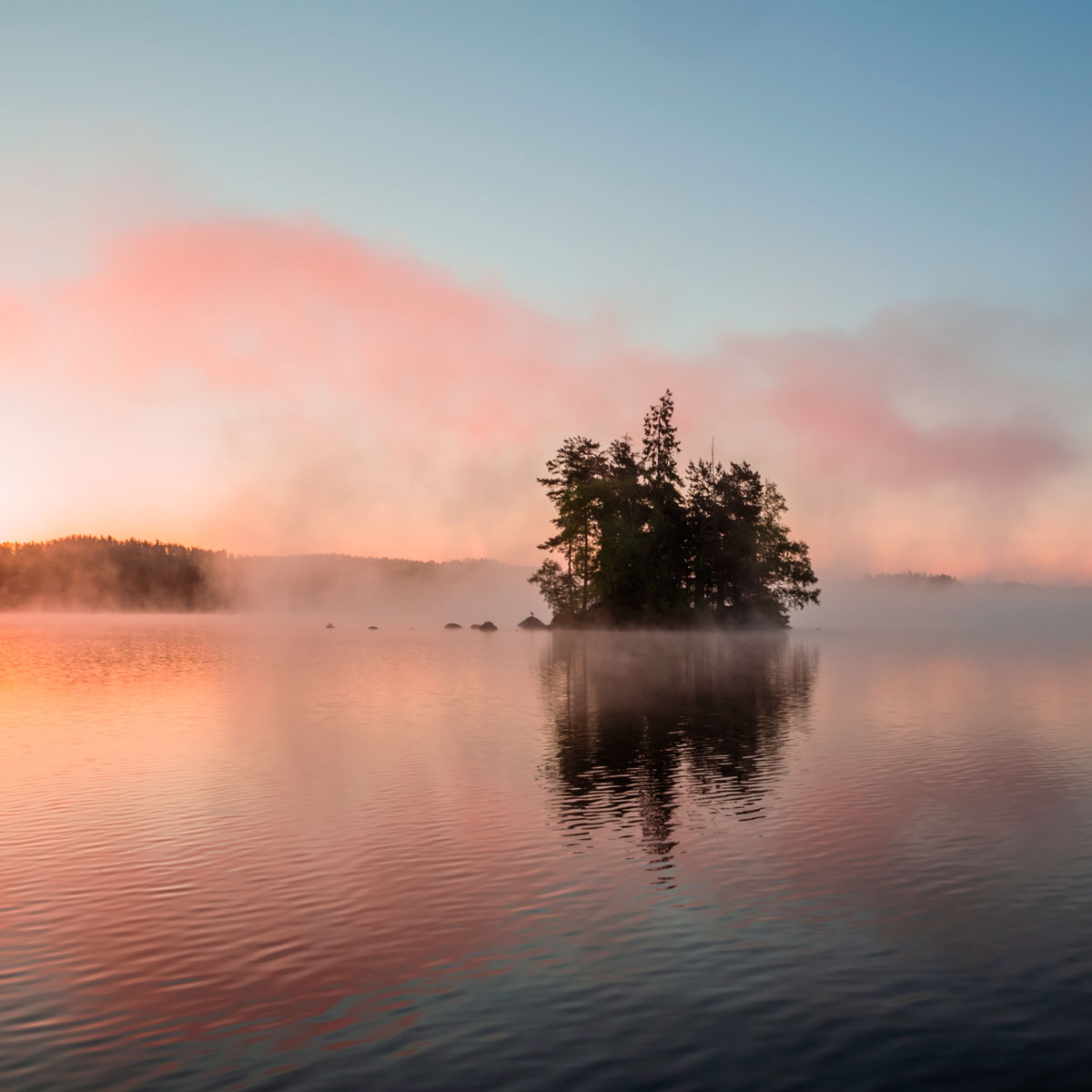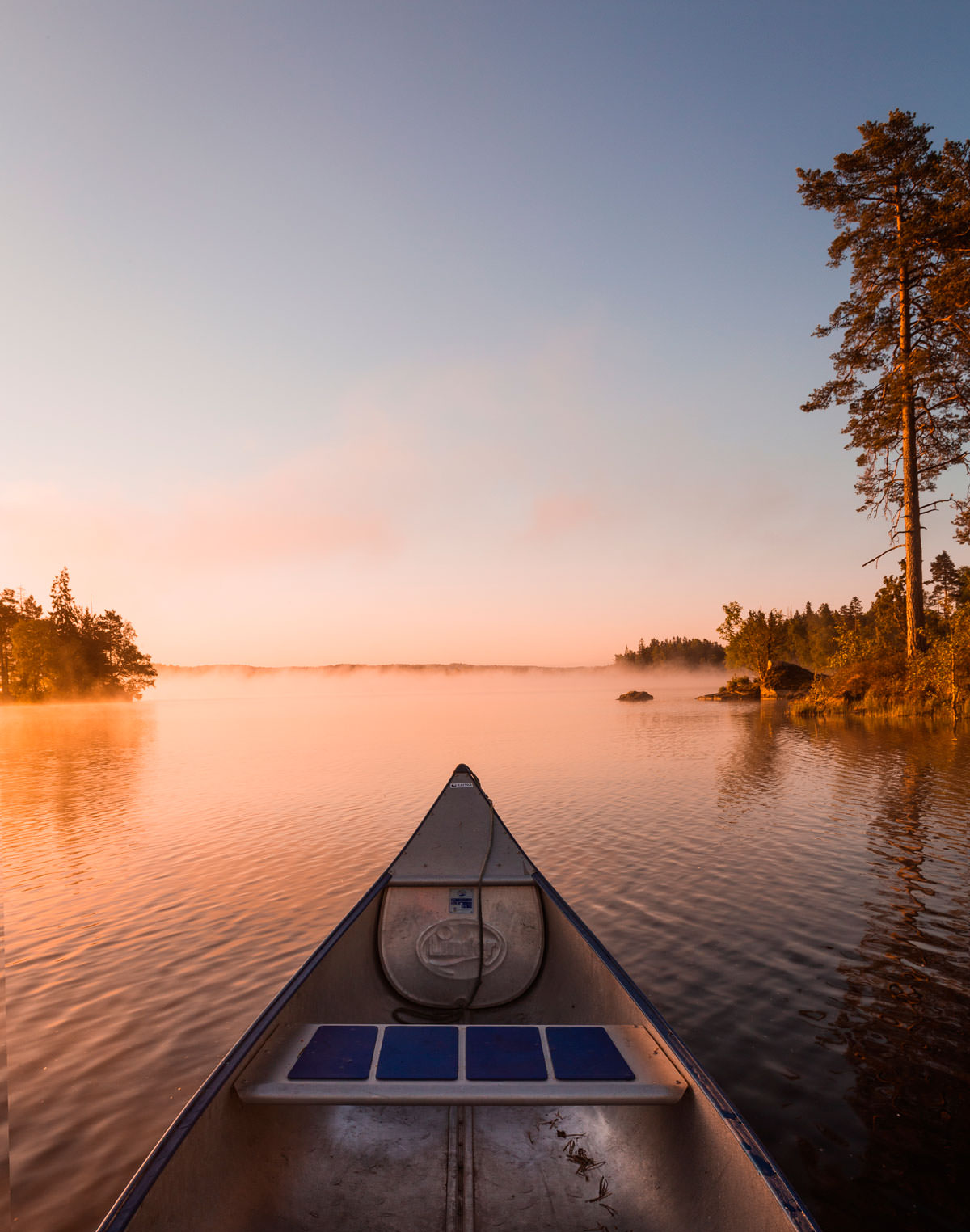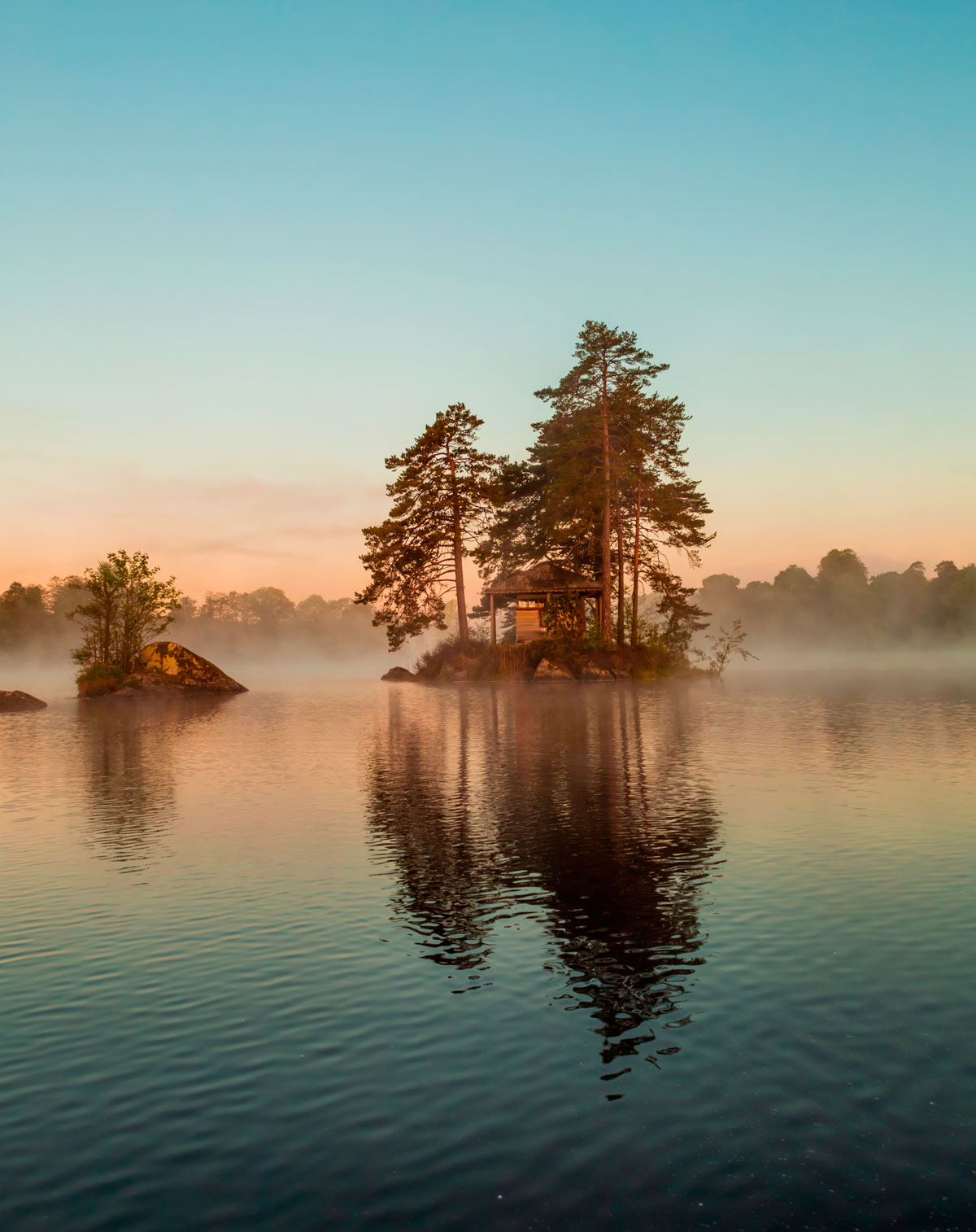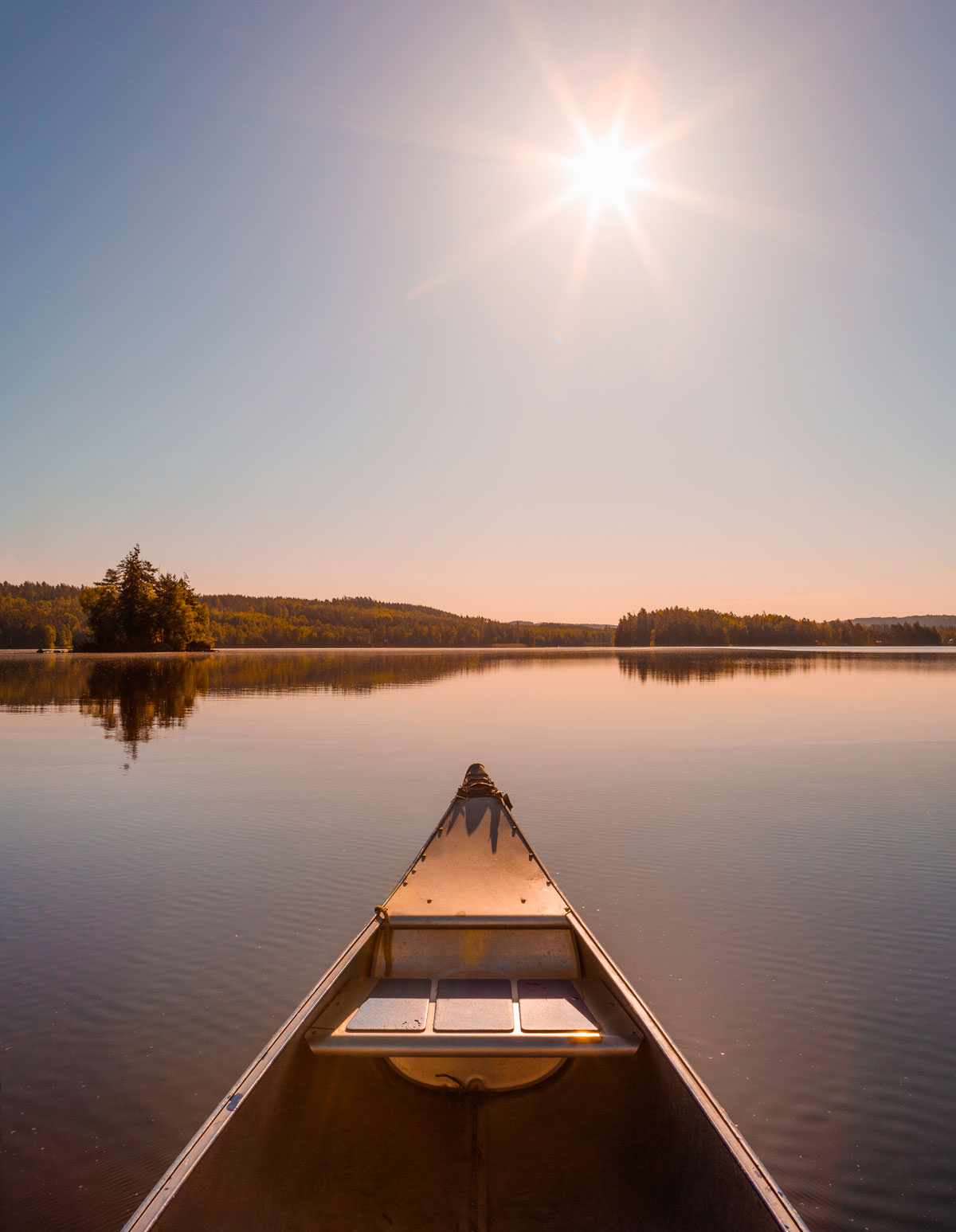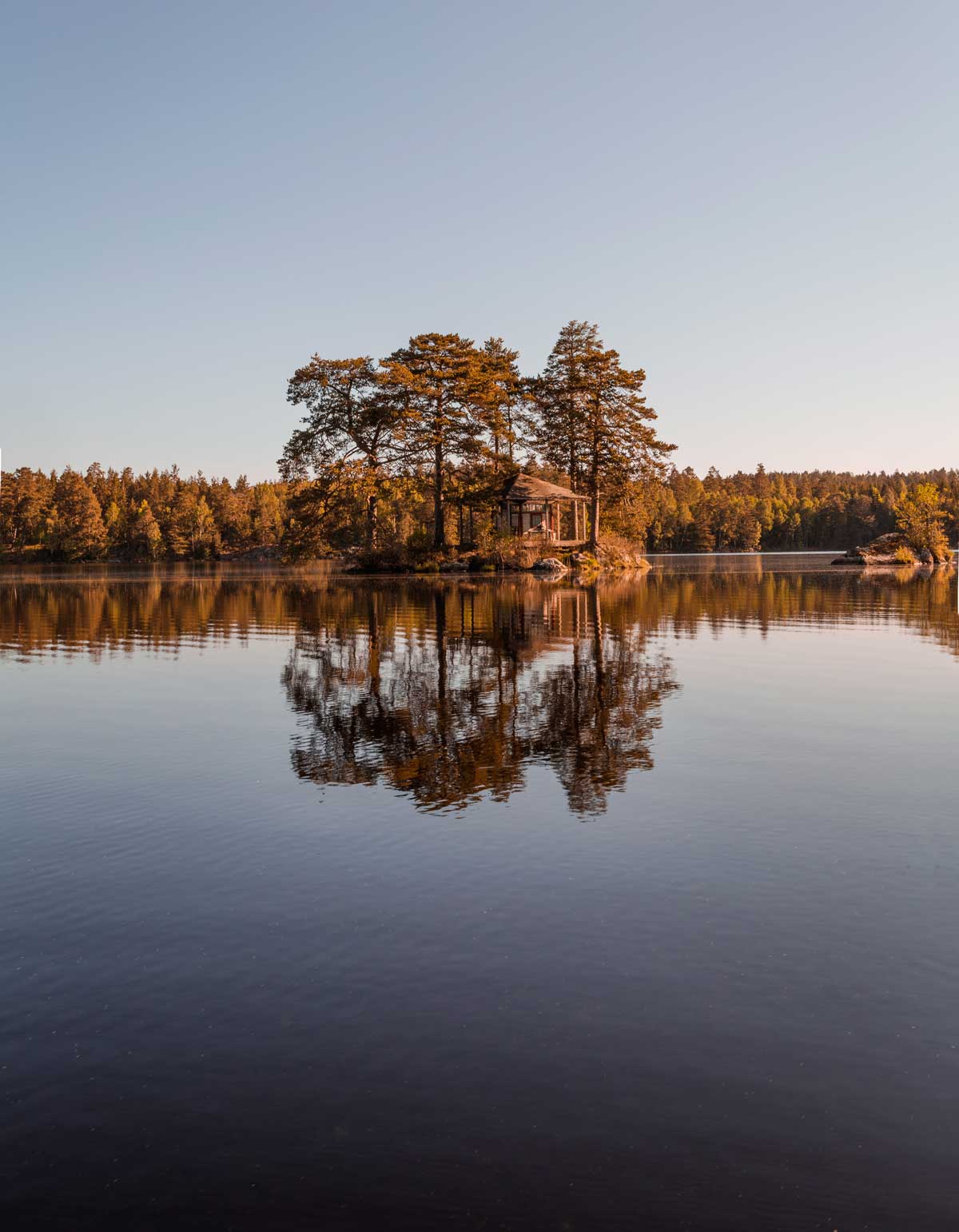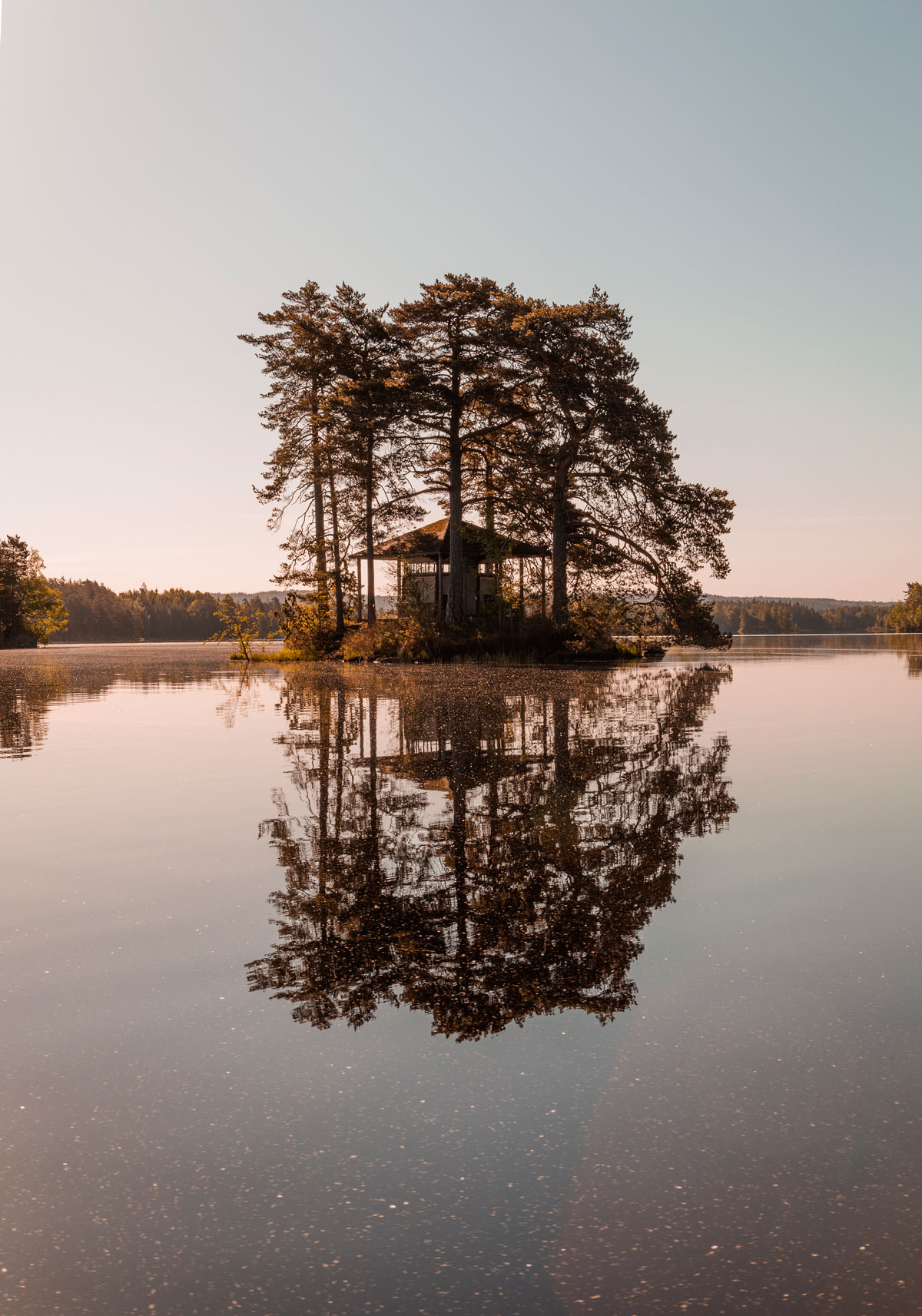 Enjoying life on our little swedish island
Possibly we are stranded on a deserted island, but we don't suffer at all. At 8.30 the owner of Ramoa comes by in a motor boat with our breakfast. The moment after he is gone, and we are once again completely alone. We eat our breakfast in the sun behind our cabin while the tern feeds his nesting mate with tiny fish.
It's time for our morning bath – a swim in the lake! The water is freezing cold at first and immediately chases away all morning tiredness. But the sun is warm, and the water soon feels all comfortable. It's really not necessary to put on our swimwear. We are still completely alone.
A little later we sail out to explore more of the lake. On the way we meet the local osprey who has built a nest in a treetop on one of the many little islands.
At noon we paddle back to the lake shore and back to civilization. It has been an intense travel experience, a tiny adventure and an awesome nature experience.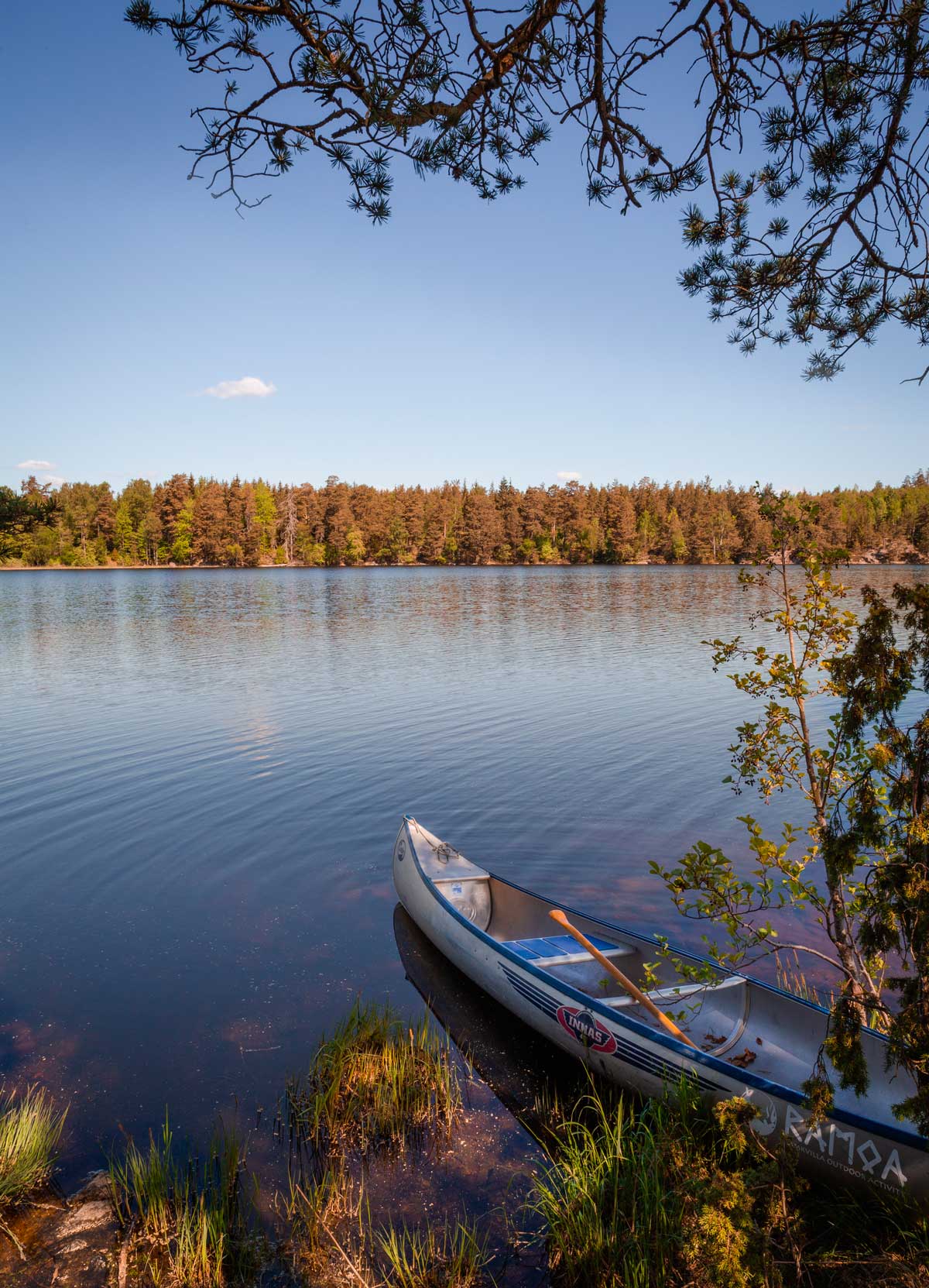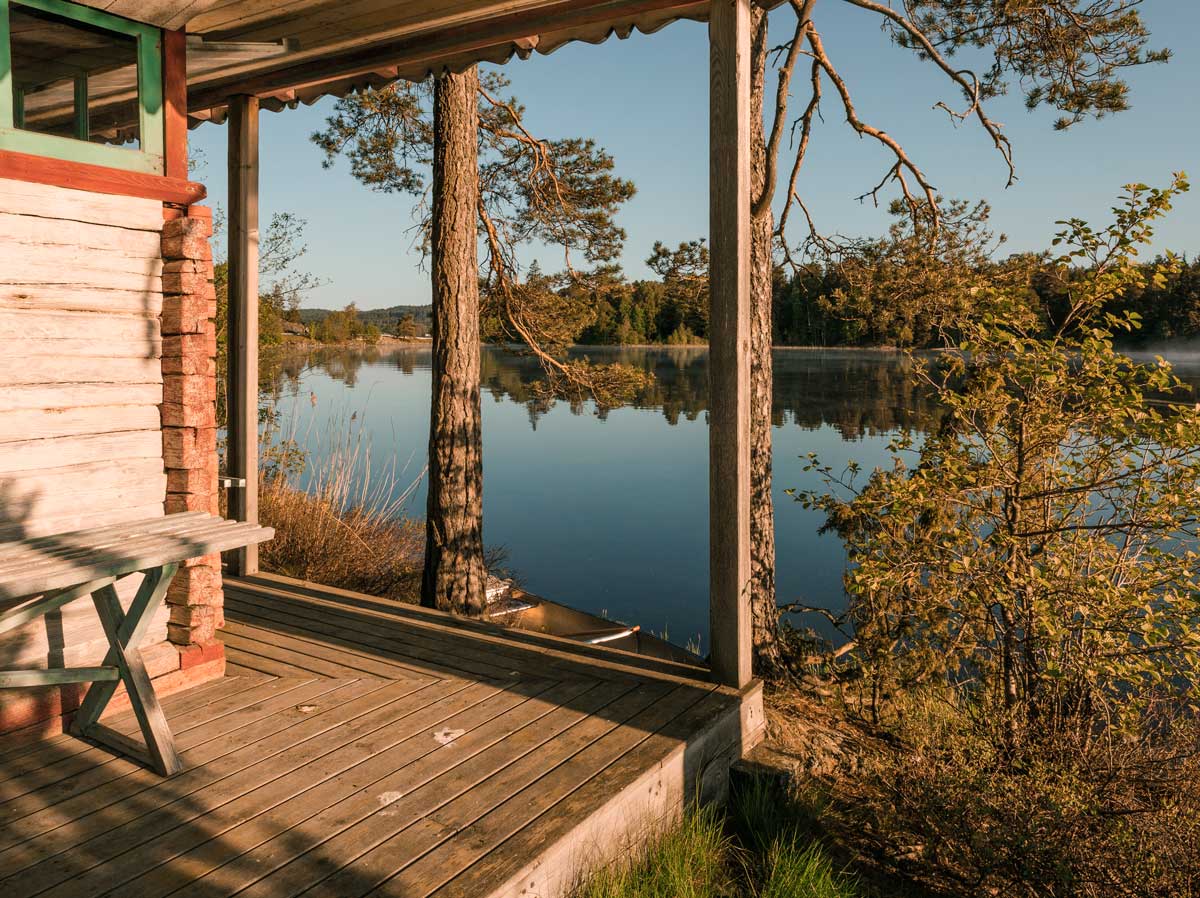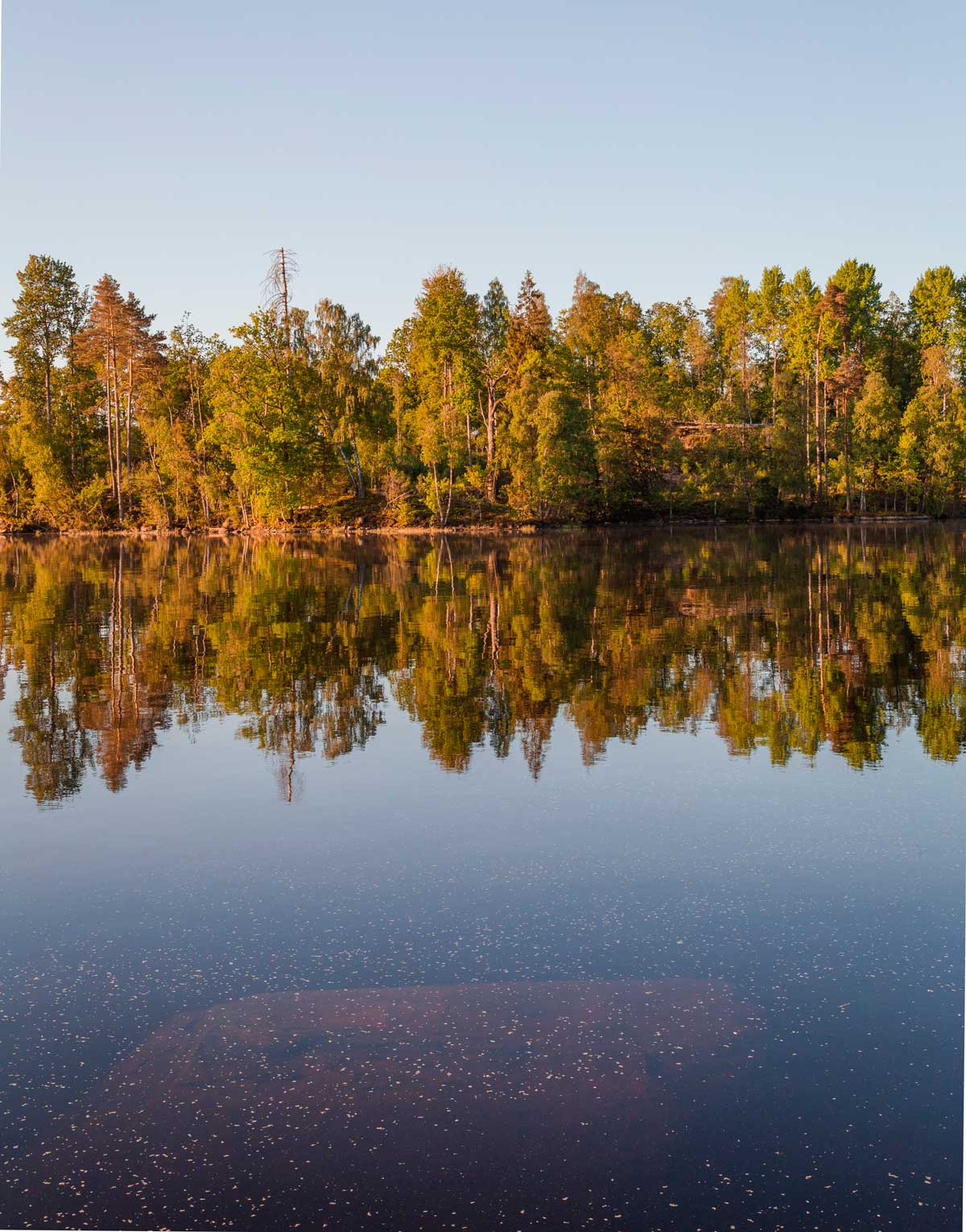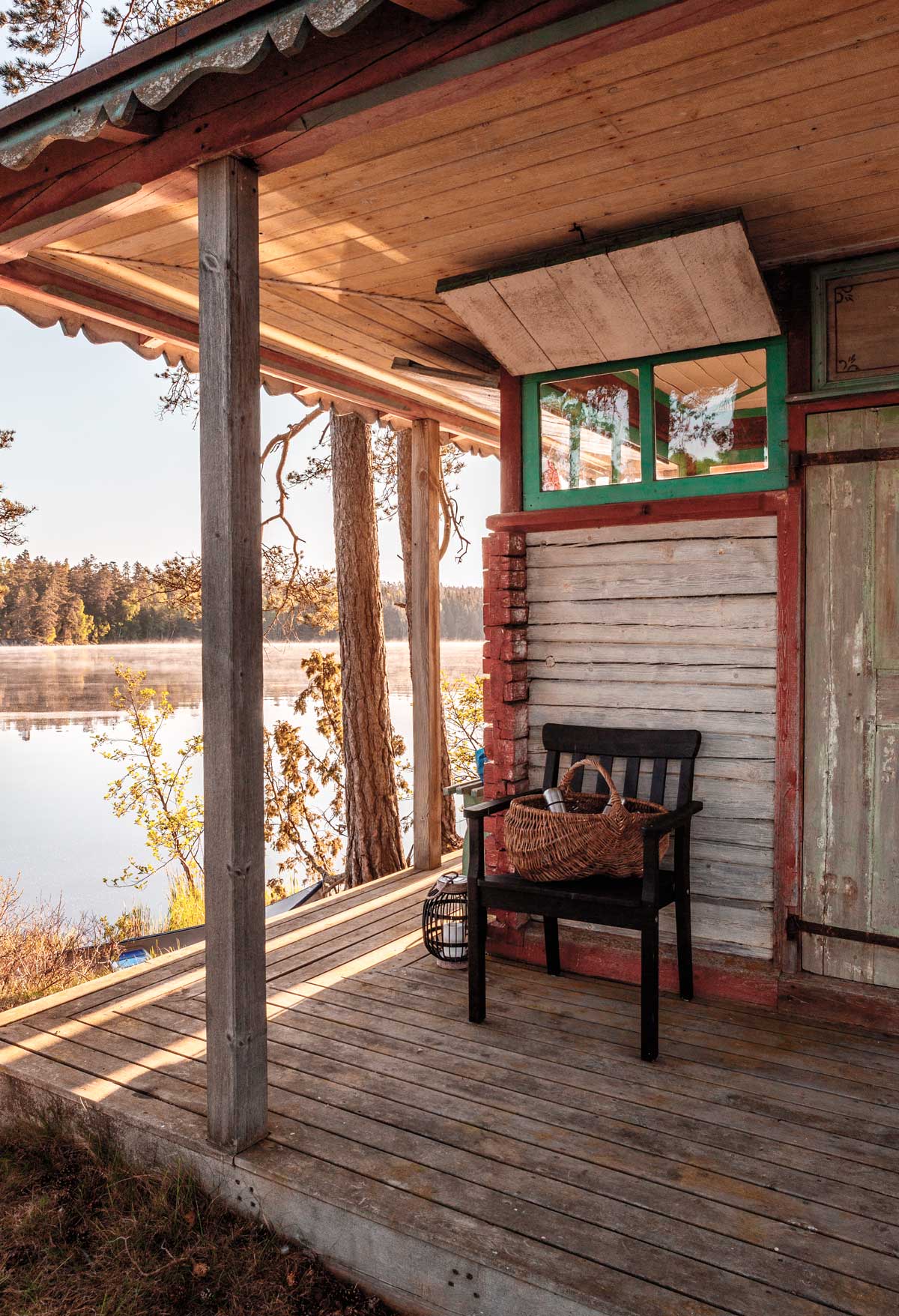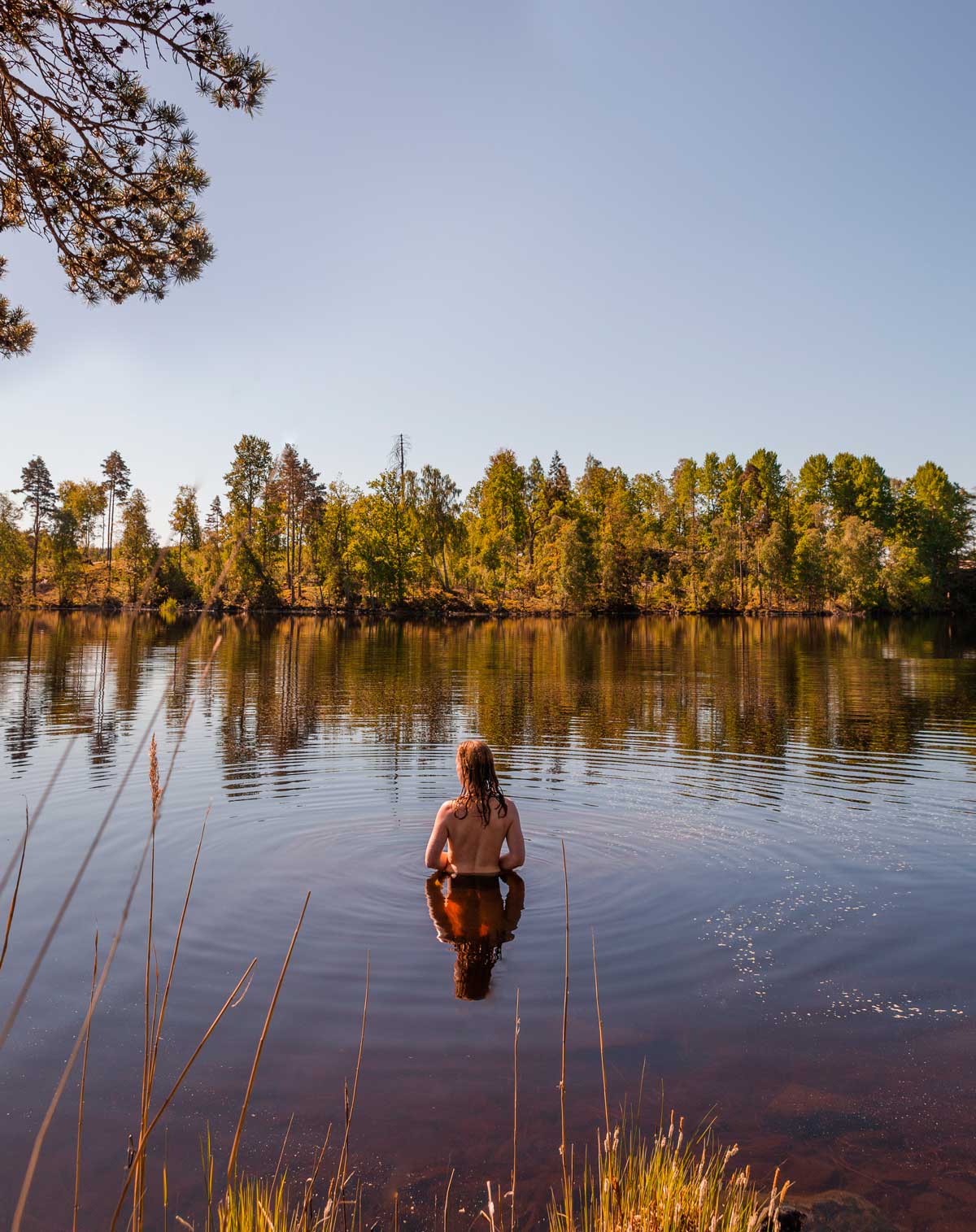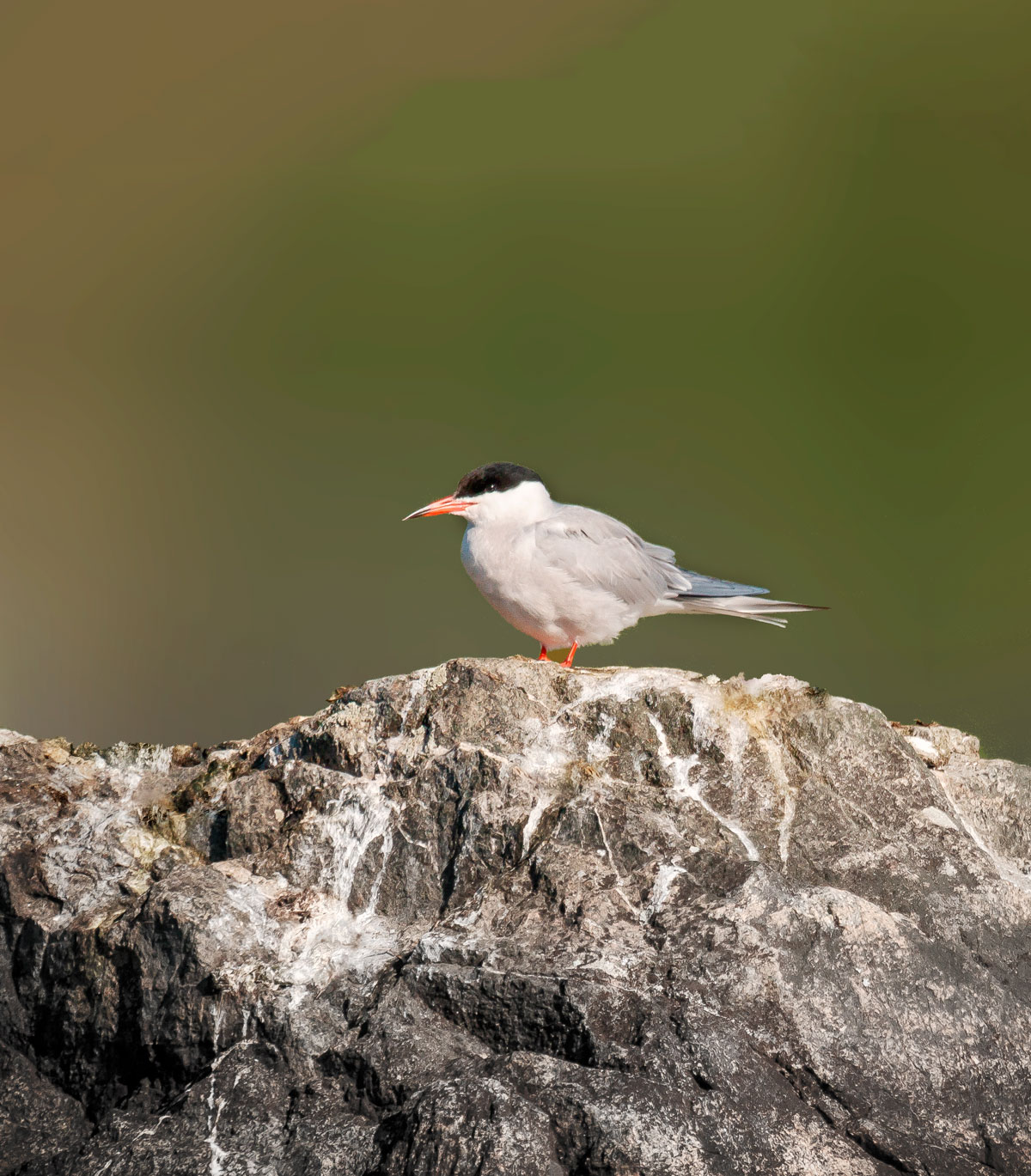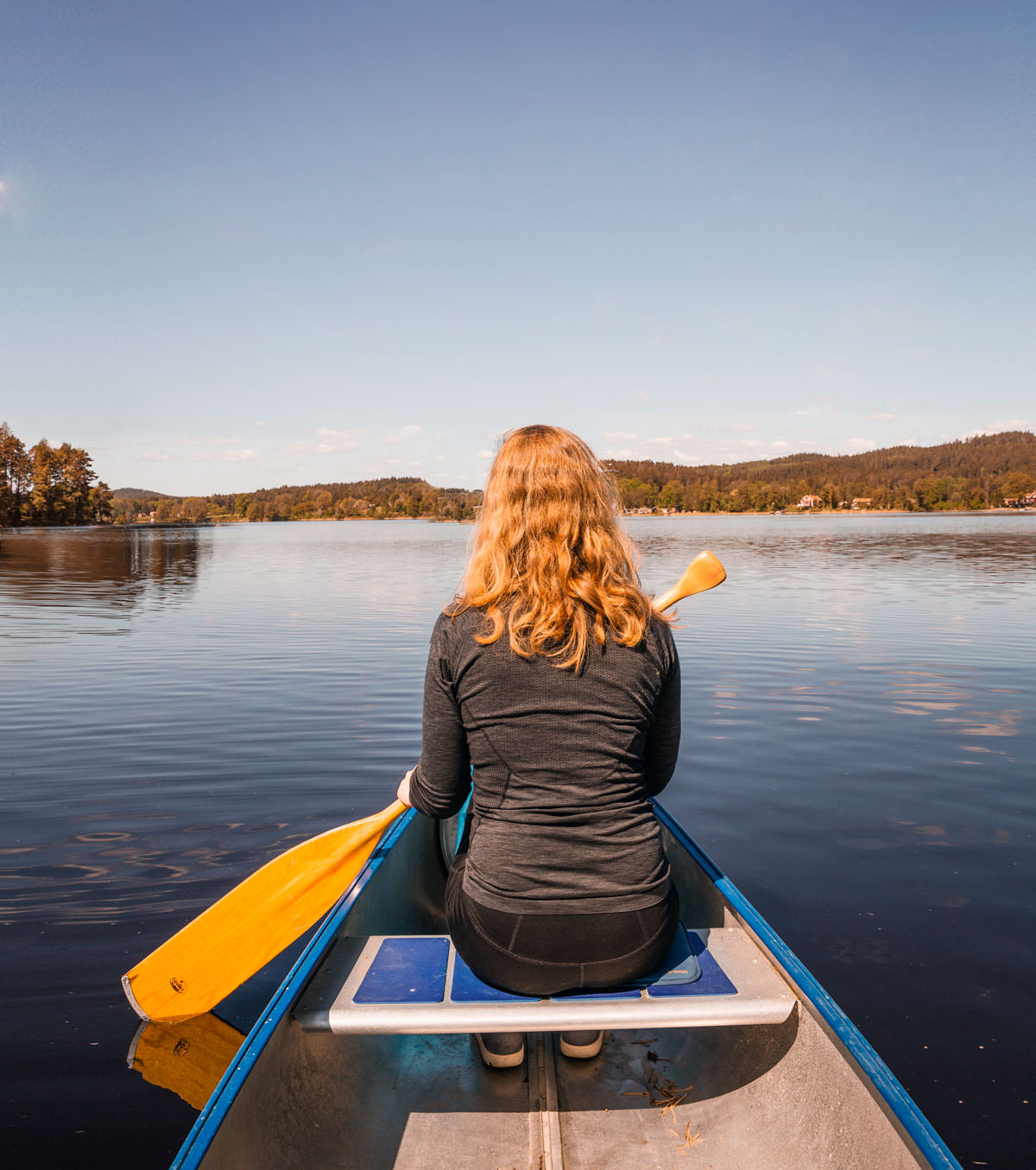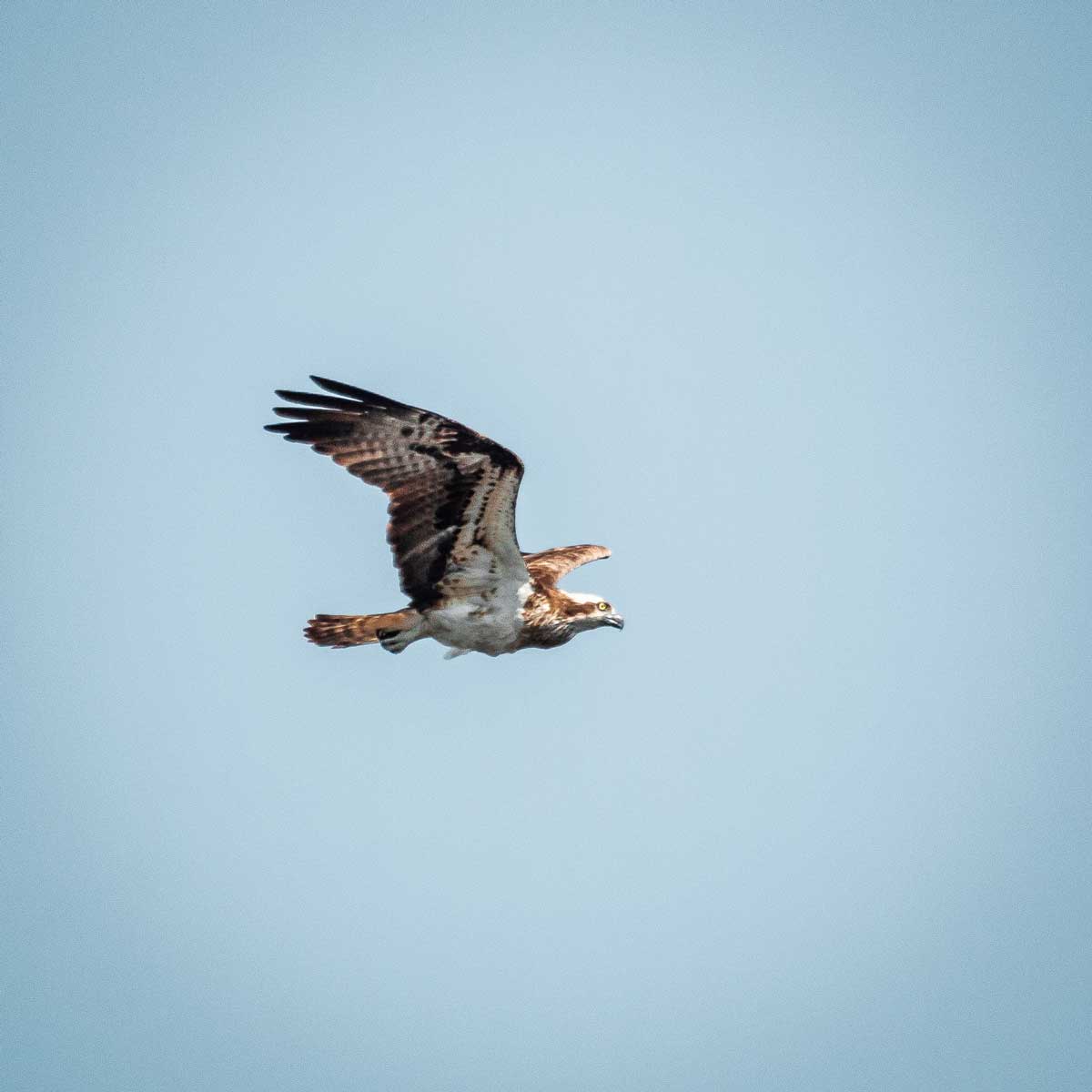 Stay at your very own island in Småland
If you want to go on your own romantic adventure staying on a island you can book through this link
Ramoa and the island is situated in Småland – a region in South Sweden. From Copenhagen in Denmark the trip takes 4 hours by car. Here you will also find the largest international airport. You can also try to find a flight in the smaller airports in Växsjö or Gothenburg.
Bonus experience: On moose safari
There are around 250.000 moose in Sweden, but it can still be pretty hard to spot them. They mostly come out at night and are despite their size really good at hiding in the woods. And the woods in Småland are endless! If you want to be completely sure of meeting a moose, you can visit one of the many Moose Parks in Småland. We visited Skullaryds Älgpark half an hour north of Ramoa and spent an afternoon with the sweet and clumsy animals. I have still not seen a moose in the wild yet, but I am sure it will happen some day!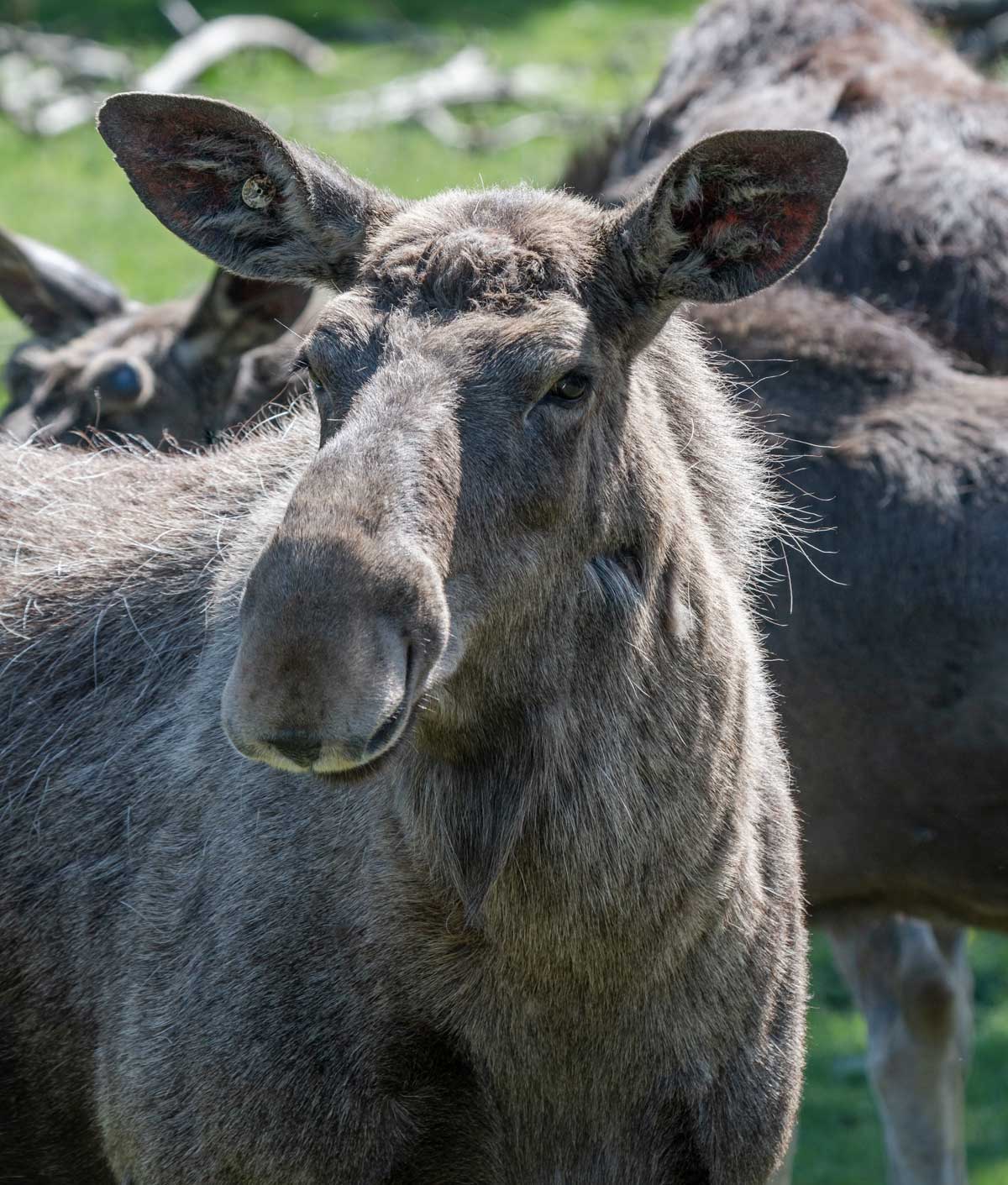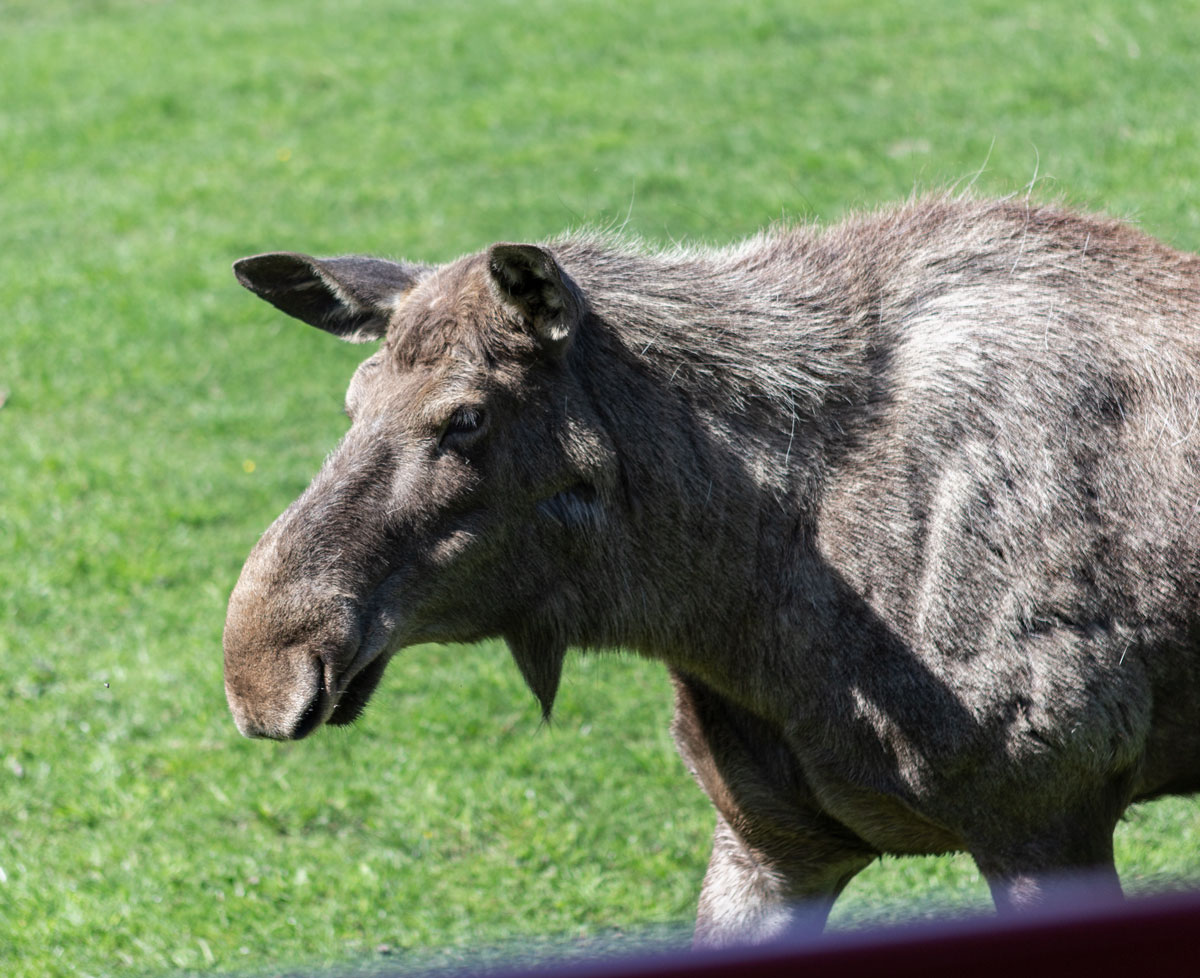 Besides moose Skullaryd Älgpark is home to a herd of red deer that curiously comes close to the visitors.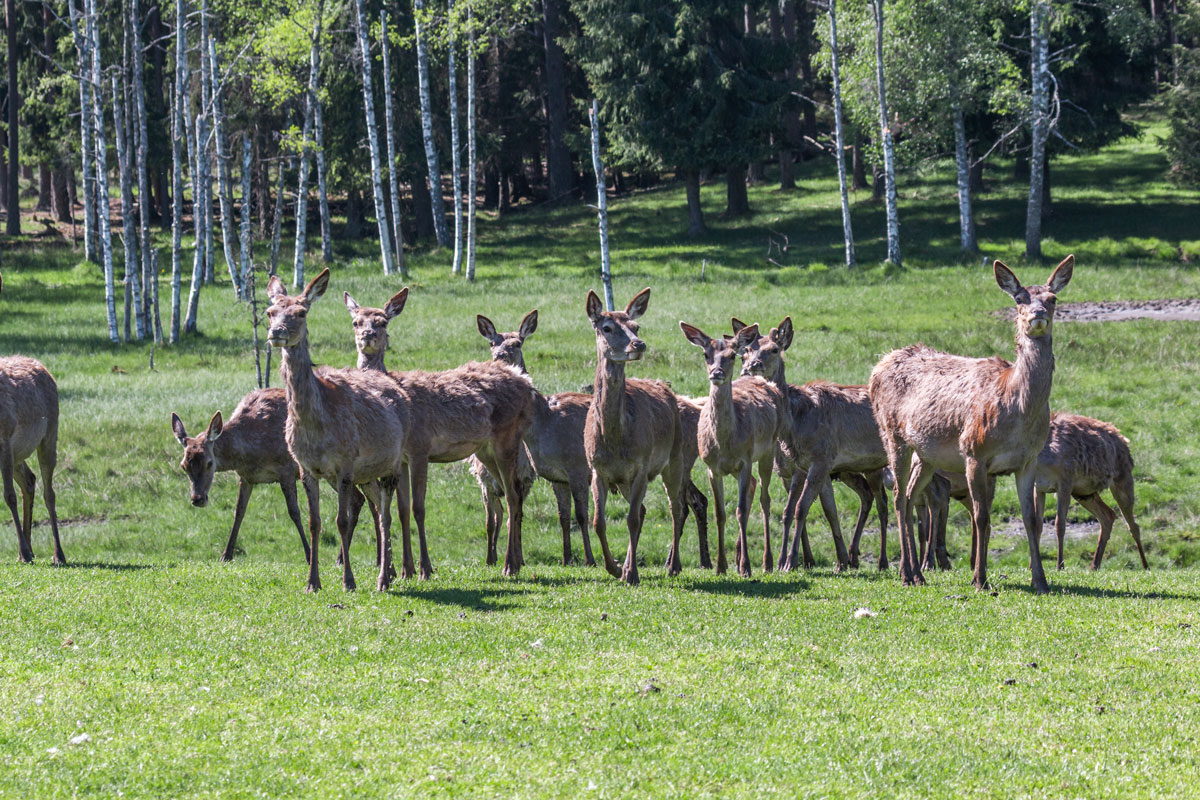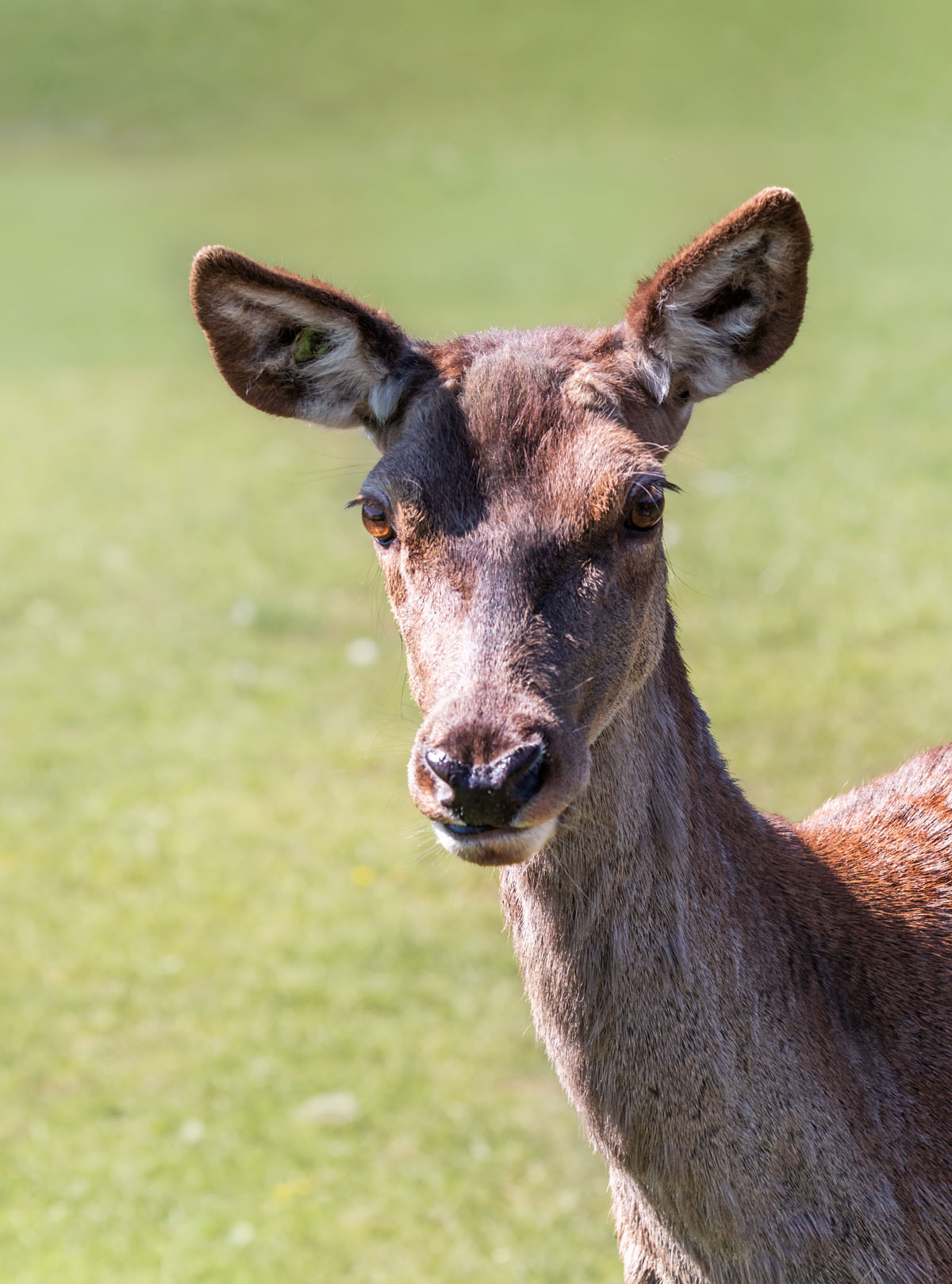 Save this post on Pinterest