Advertisement partnership with Visit Sweden

The Swedish region Skåne is really a hiking paradise – expecially for us Copenhageners!
The hiking opportunities are countless. One of them is in the Hovdala nature area. From Copenhagen it only takes 1 1/2 hours to get here by car or by train to the nearby station in Hässleholm. This makes the area super attractive to anyone living or staying in Copenhagen.
After our canoe trip in Ivösjön, we hiked in Hovdala and spent a wonderful night in Sweden's possibly most beautiful shelter.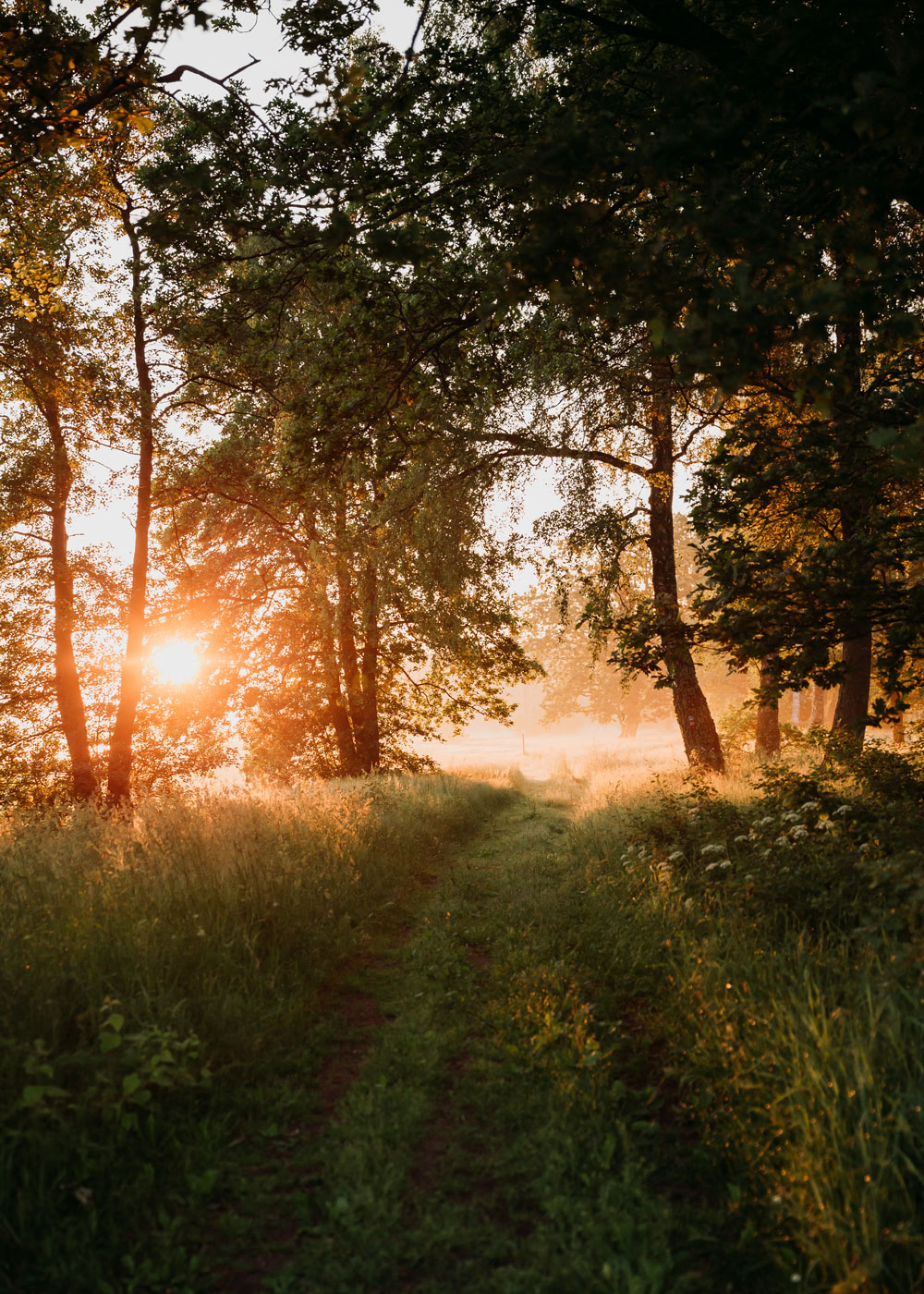 Hiking in Hovdala nature area
The Hovdala Trail, which is also part of the well-known trail Skåneleden, starts at Hässleholm station and runs all the way around Finjasjön. It is 57 km long and typically takes three days to walk. You can stay in shelters along the route.
Our hike starts at Hovdala Castle, which is the centerpiece of all the circular day trips in the area. There are, for example, Höjdarnas Höjdarled  (22 km) or In Posta-Nilla's spår (26 km).
We walk the western part of the trail Jakten på Gullspira, a 12 km round trip that ends at Hovdala Castle. A super-beautiful walk that runs across meadows with grazing sheep, through dense natural forest and on plank paths over moist marshy areas. The route is marked by signs featuring a baby goat, which comes from a little story about the goat kid Gullspira, who disappeared into the woods and returned many experiences richer. The goat theme follows us all day as we eat lunch at Glada Geten Gårdsmejeri ("Happy Goat Dairy Farm") in the middle of the route.
You can find the map of all the walks in the Hovdala area here (in Swedish). You can also get a free paper map at Hovdala Castle once you arrive.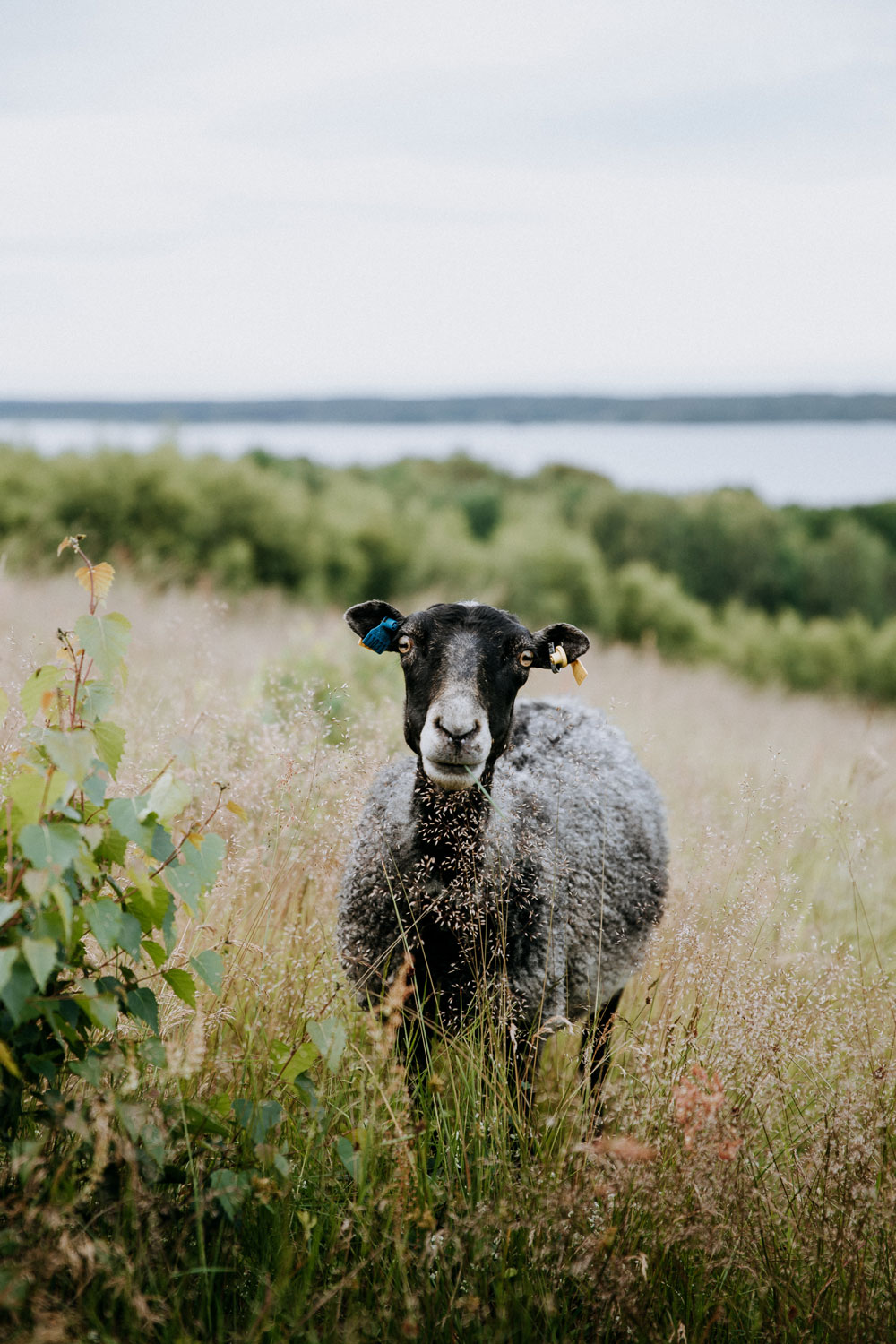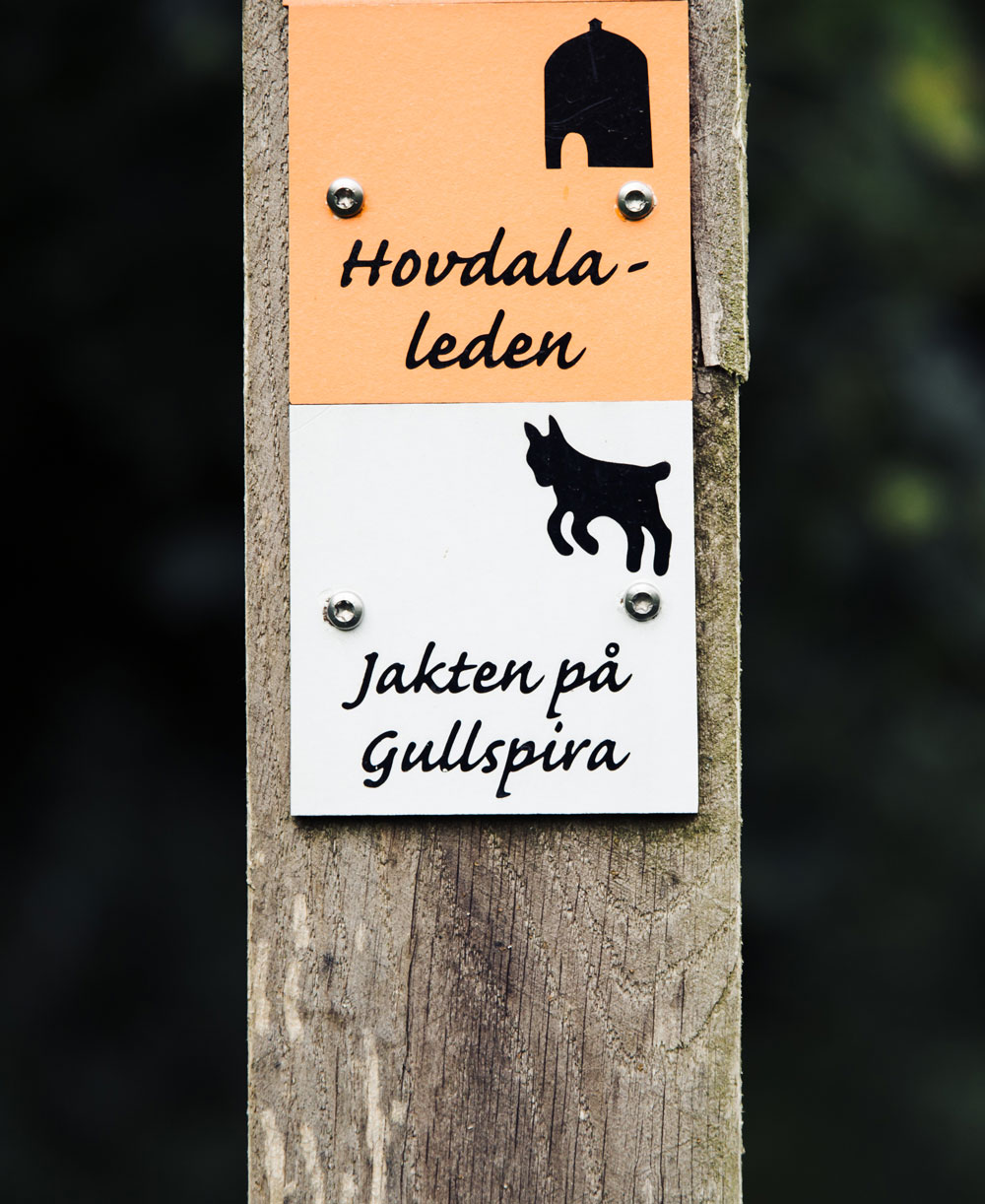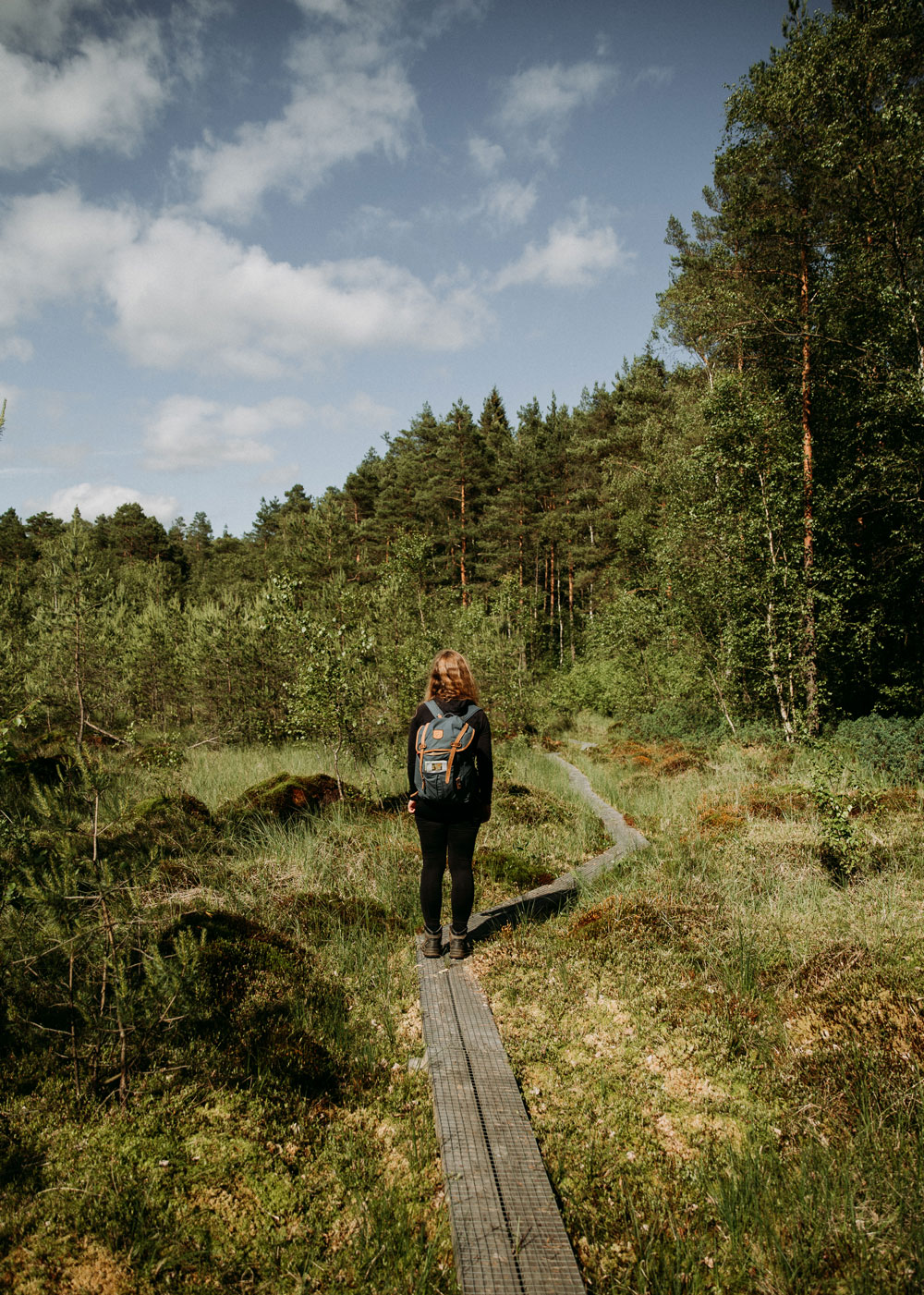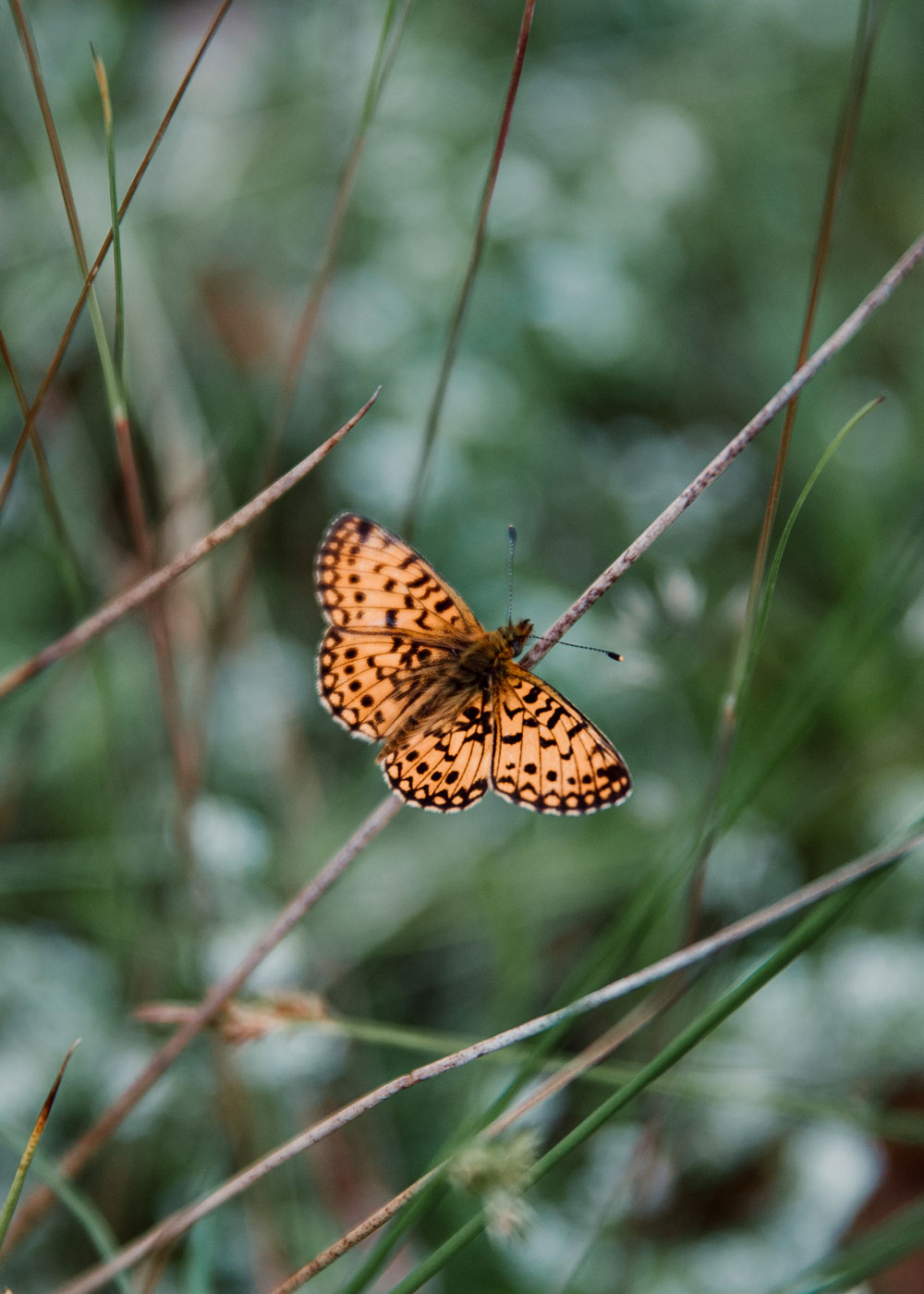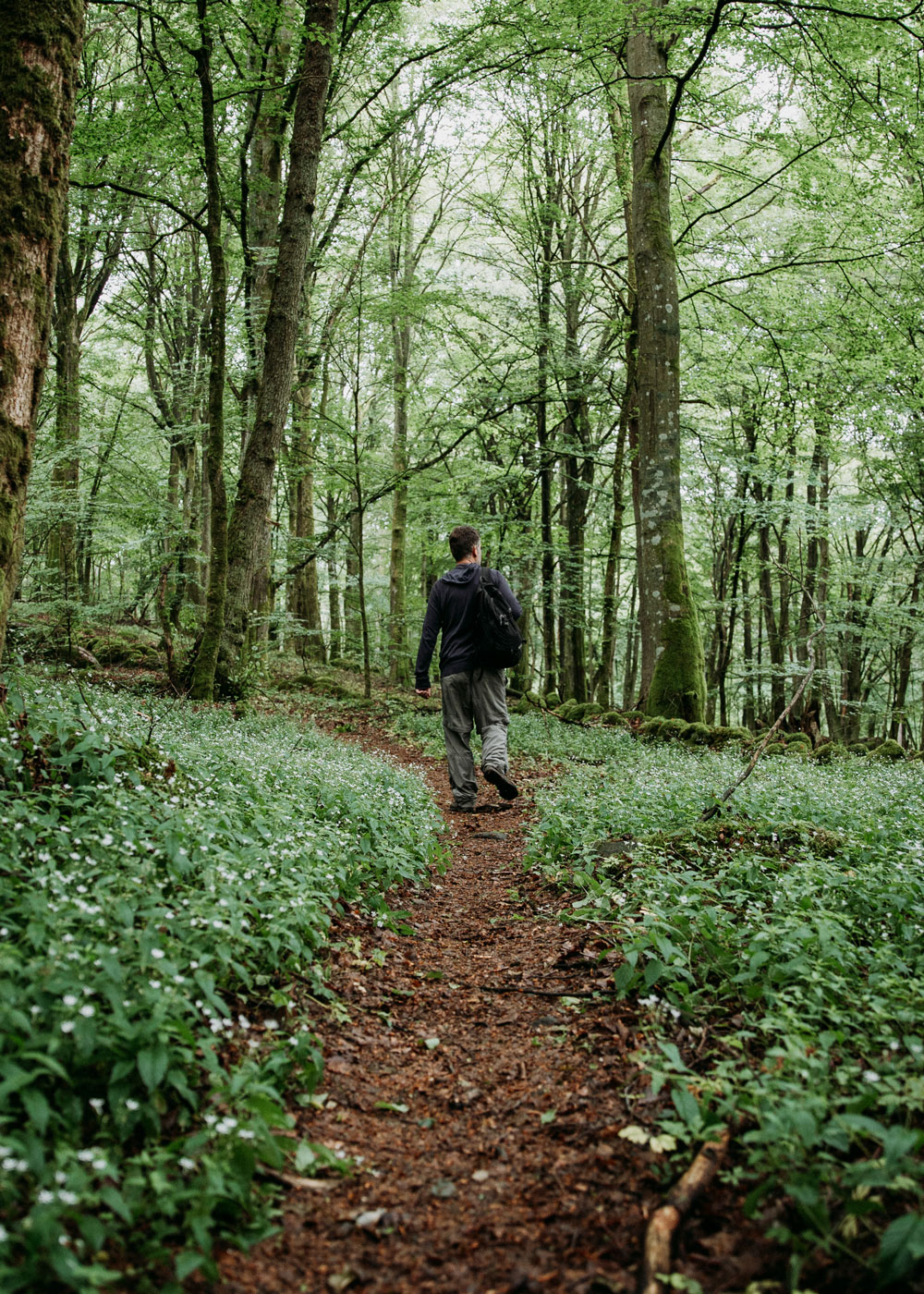 Lunch at Glada Geten Gårdsmejeri
The path leads out onto an idyllic field road, and we are looking forward to have something to eat. There is really nothing that grows your appetite like a good hike! Food just tastes even better, but that's not the only reason why the food tastes so good at Glada Geten. The cute goats run around a field out the back and the result is the best goat cheese I have ever tasted.
If you do not eat lunch here you should at least indulge in a classic Swedish fika (coffee and cake).
Our hike continues through the forest, which is teeming with blueberry bushes. The plank paths take us across marshes and fields. Eventually we end up back at Hovdala Castle and only have to walk a short distance before reaching our shelter.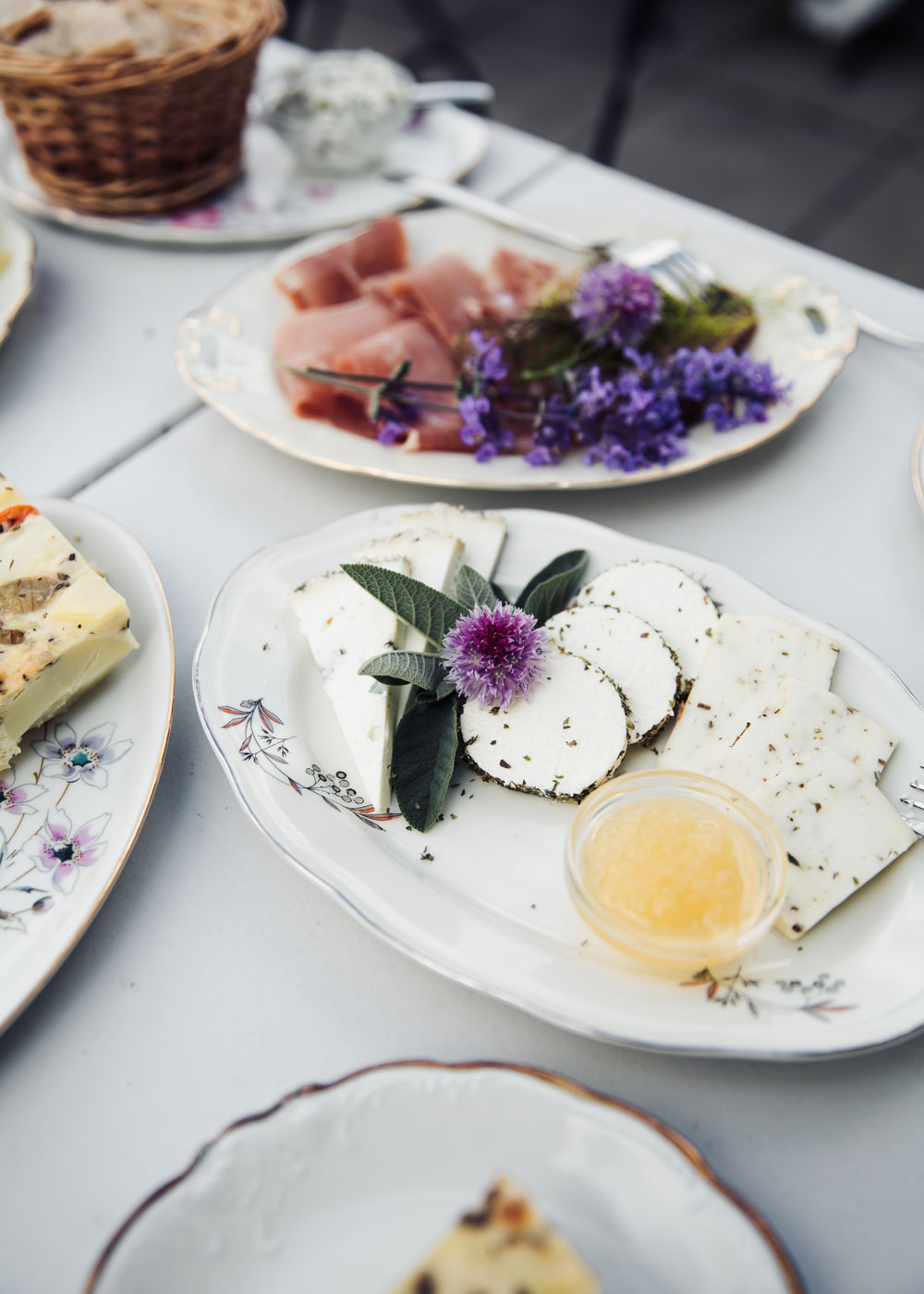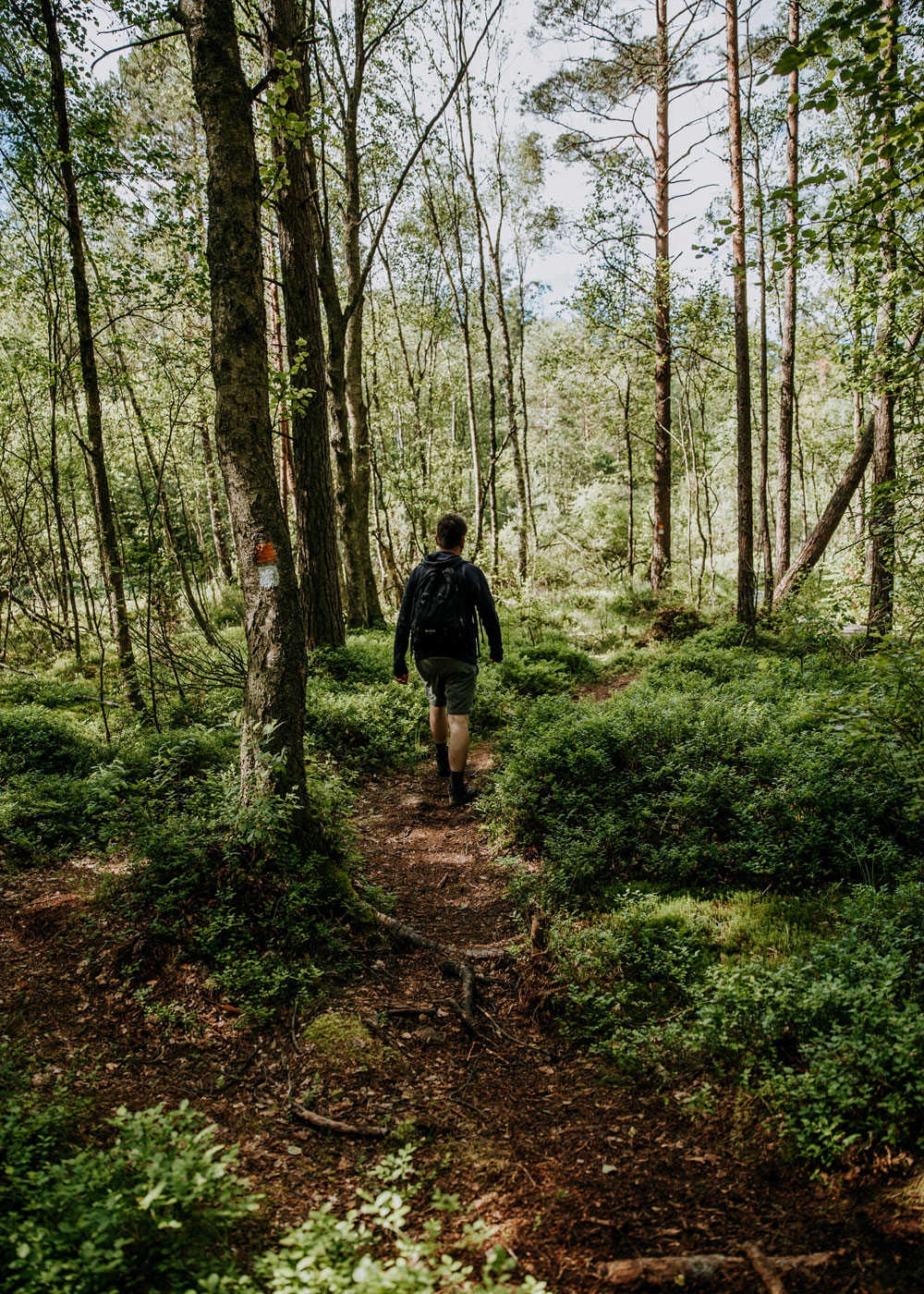 Overnight stay in the most beautiful birch shelter
The shelter we will be staying in is simply so beautiful! There are two next to each other in the most beautiful spot overlooking Finjasjön. Unlike regular shelters, these ones can be completely closed up. Covered with birch so that they blend in with the forest, these architectually-designed shelters have of course been named Birk and Birka.
I'm also pretty crazy about the platform and bench outside which makes it easy to get out of the shelter with bare feet and enjoy the amazing surroundings.
Close by is Sweden's largest treetop house. Unfortunately you can't spend the night there, but the house is used for events and in the summer it houses a cafe where you can sit up in the wooden crowns overlooking Finjasjön.
Book the shelter
The shelters must be booked in advance via this link (in Swedish) and costs 200 SEK per night.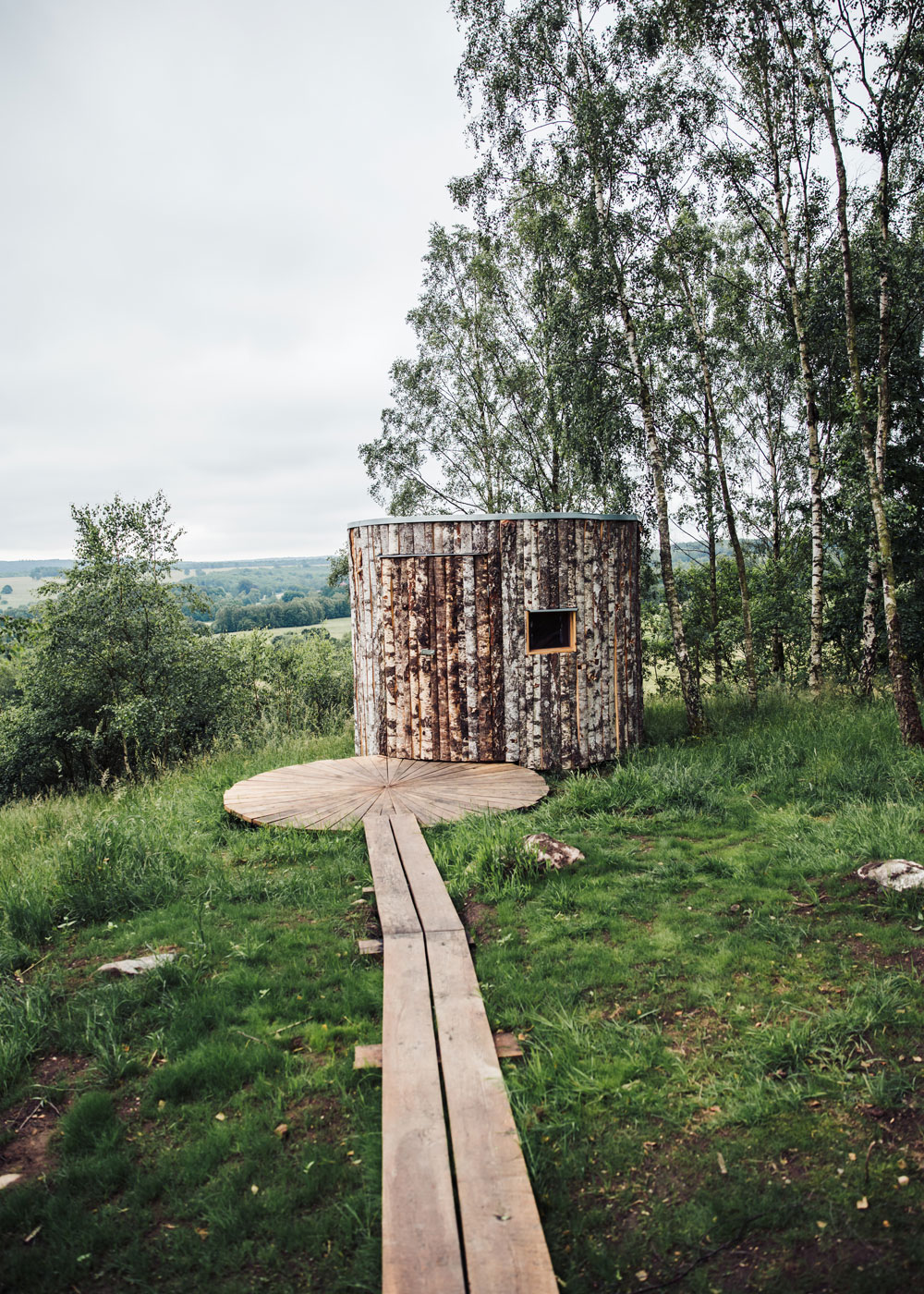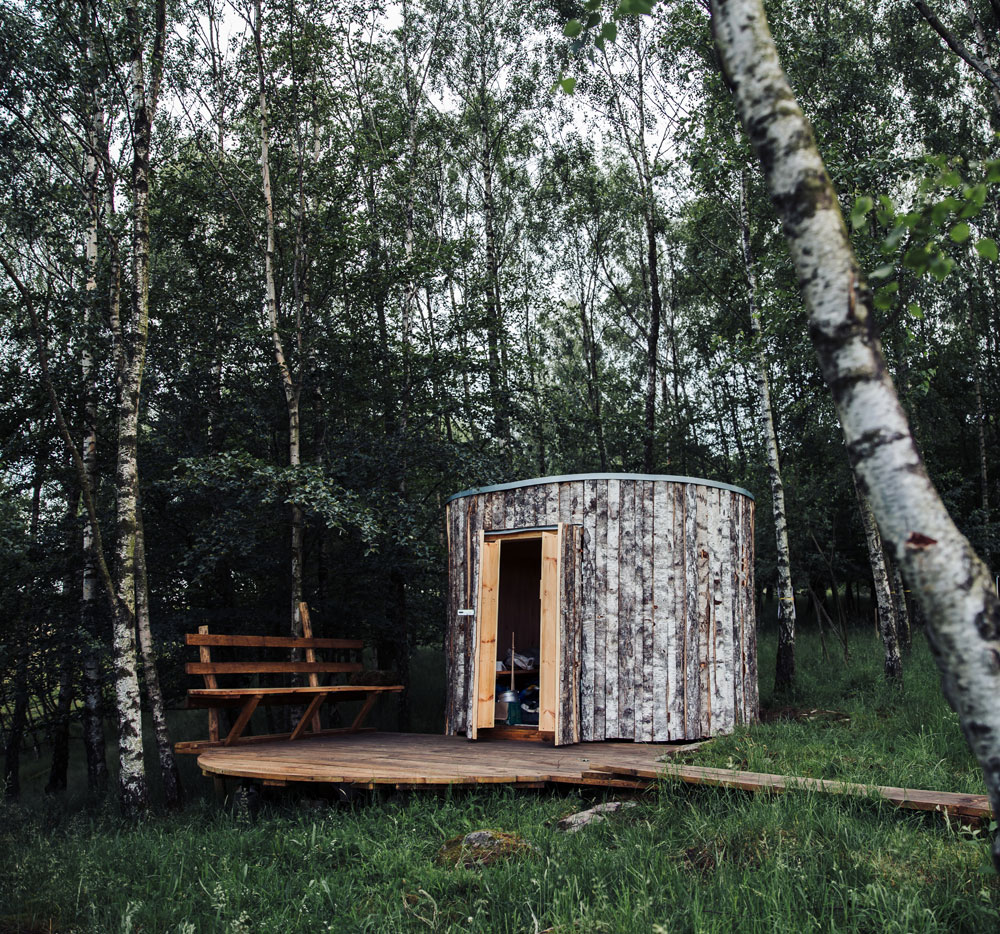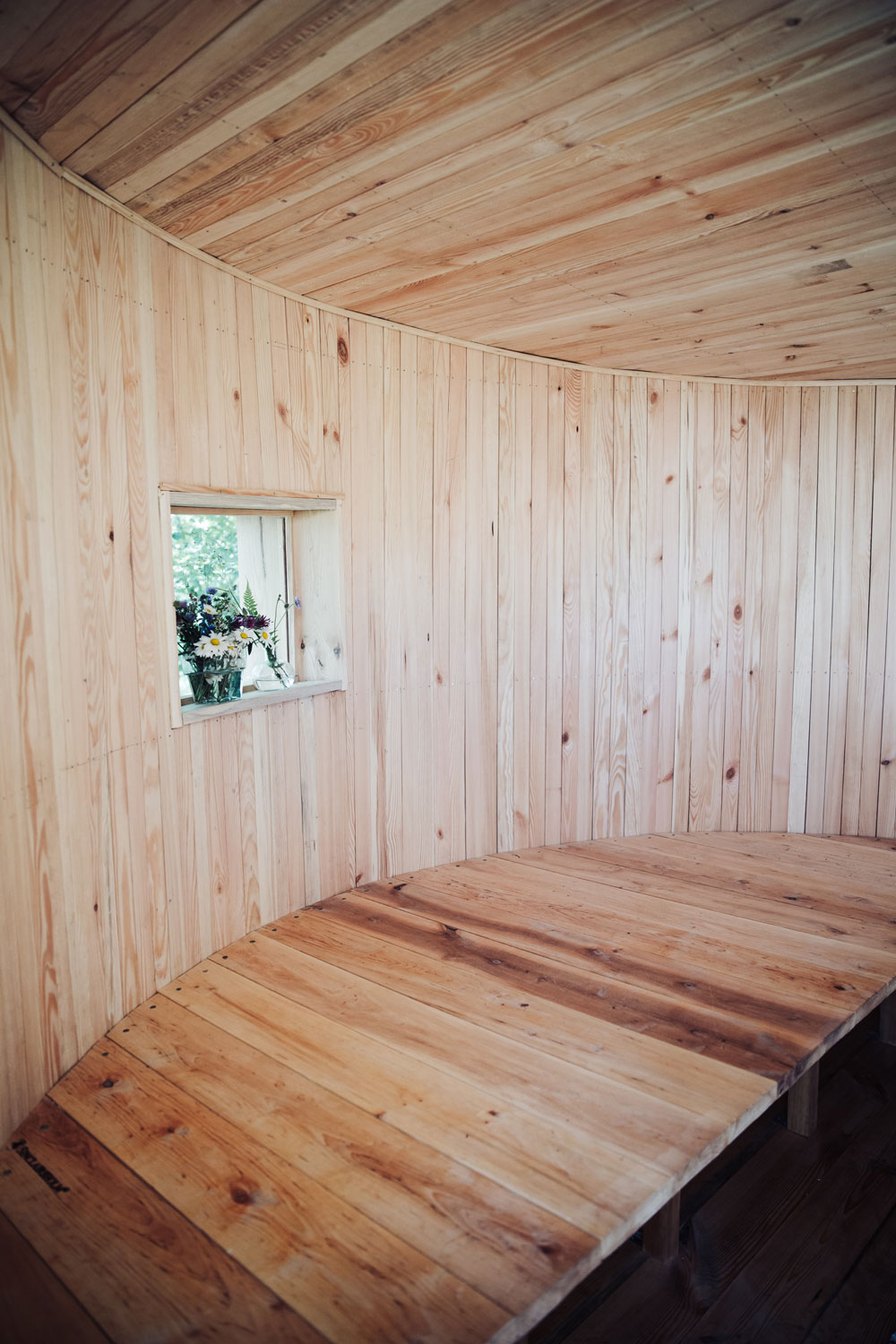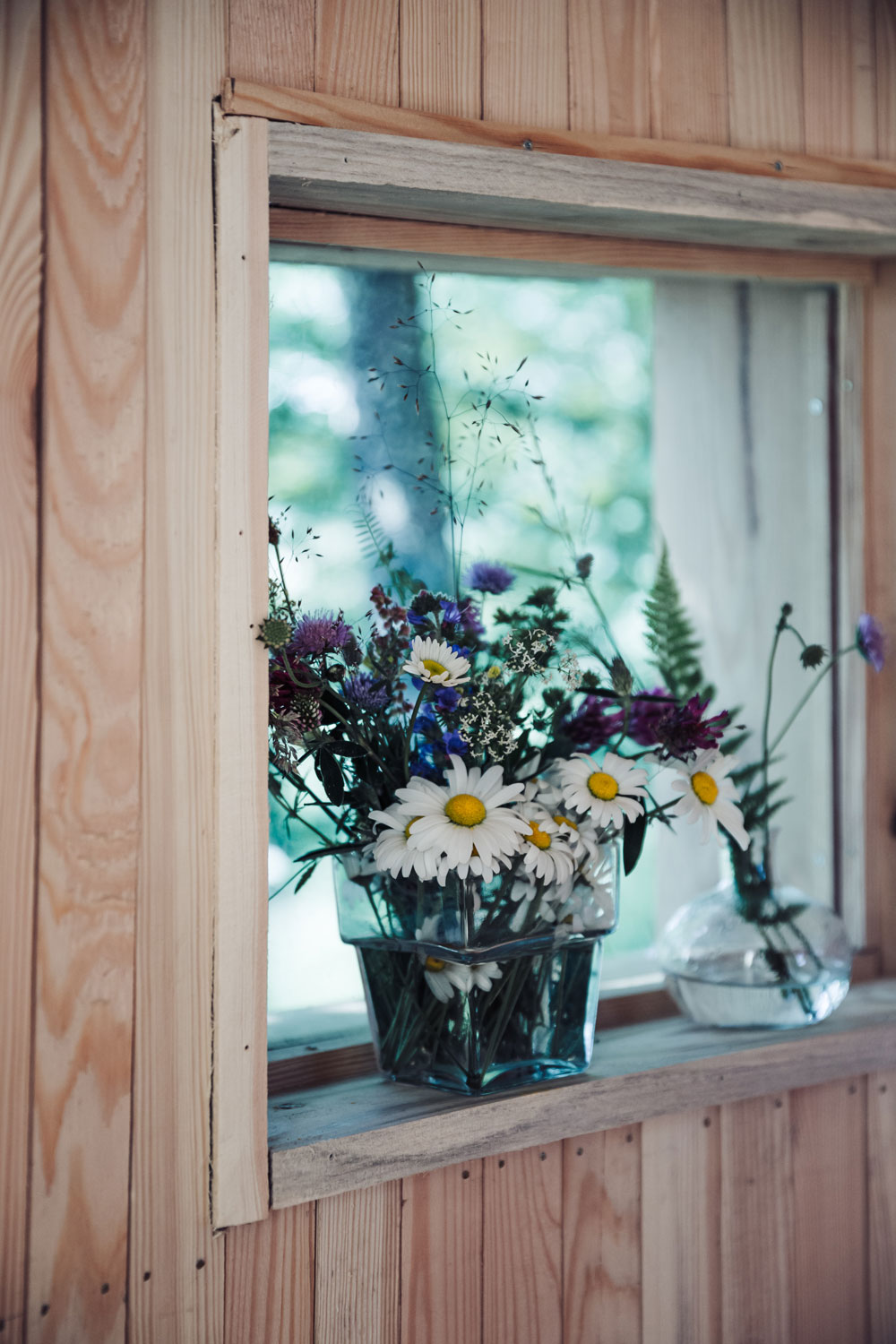 A magical morning in Skåne
I am usually not an early bird, but when you're spending the night outdoors (and the weather is good) there is simply nothing more magical than getting up at dawn.
When the alarm clock rings at 5.00 am I stick my head out of our shelter to see if nature has something beautiful to offer me this morning. Wow does it ever!
The morning mist hangs enchantingly over the field and lake. The deer and hares jump away as soon as I approach. A great crested grebe (yup that's a bird) lies on the still waters. And as the sun breaks through the haze, the world explodes in golden color.
The rest of the morning is spent sitting in front of our shelter enjoying the sun on our faces, coffee and the view of Finjasjön. I am in no hurry to get away from this beautiful spot. in fact I want to stay here forever!
Our morning bath is a swim in the lake, while a red kite hovers high above us. It seems like you always have at least one red kite hovering above you in Skåne and I love it!
We spend the rest of the day exploring some of Hovdala's vantage points on the trail Höjdarnas Höjdarled. We walk through the rolling grass and chase butterflies before reluctantly leaving Skåne and returning home to Copenhagen.