Advertisement collaboration with Visit North Sealand
If you want to have a great cycling holiday in Denmark the trail Nordkyststien is a wonderful route that runs along the entire north coast of Sealand. The trail is only a 45 min. drive or train ride away from Copenhagen.
In fact it is my favourite cycling route in Denmark! Packed with great views, white sandy beaches and beautiful natural areas. Small paths zigzag between the cozy summer houses that are among the most expensive and popular in Denmark.
This coast also goes under the name the Danish riviera. But luckily you don't need to own a summer house in order to take in the idyllic summer house atmosphere.
On a bike you can fully experience the freedom of  sweeping through the woods and beaches with wind in your hair, and the sweet scent of pine trees and rosehips in your nose.
Map of Nordkyststien
The trail Nordkyststien – also known as Route 47 – is marked with blue bike signs along the way, which makes it quite easy to follow. It is approximately 68 km long in total. We used this digital map to keep track of the sights along the way. If you tap the small square in the right corner, the map will open in Google Maps and can be used as GPS on your phone
Where to stay on your cycling holiday – the many idyllic seaside hotels in Sealand
Since Nordkyststien is so close to Copenhagen, a day trip could be an obvious choice. But I really recommend you to stay in some of the idyllic seaside hotels dotted along the coast. See them all here.
We stayed at two of them on this trip. Havgaarden Badehotel lies close to the cute little beach town Tisvildeleje, while Marienlyst Strandhotel is situated a little outside the town Helsingør (or Elsinore in English). They helped to add a little bit of luxury to our otherwise not-so-luxurious plan to bike 73 km over three days.
Day 1 – Cycling from Nivå to Marienlyst
Lenght: 15 kilometers
This stretch is not actually part of the Nordkyststien trail itself, but it is so gorgeous that it's worth including if you want to extend your cycling holiday a little. Here you will pass the Nivågaard Collection's beautiful garden, the bird sanctuary Nivå Bugt Strandenge, Nivå beach and harbour, the idyllic fishing village Sletten Havn and the Louisiana Museum of Modern Art before finally spotting Kronborg Castle in the distance and riding on through Elsinore to Marienlyst.
 The rhododendron garden of Nivågaard
I bring my bike with me in the train from Copenhagen and only half an hour later I an riding through the countryside in Nivå to the art museum The Nivågaard Collection. I am not visiting the museum itself but instead enjoying the free pleasures. It's spring and Nivågaard's amazing rhododendron garden is in full bloom. I walk around the little paths and get lost in a maze of pink flowers.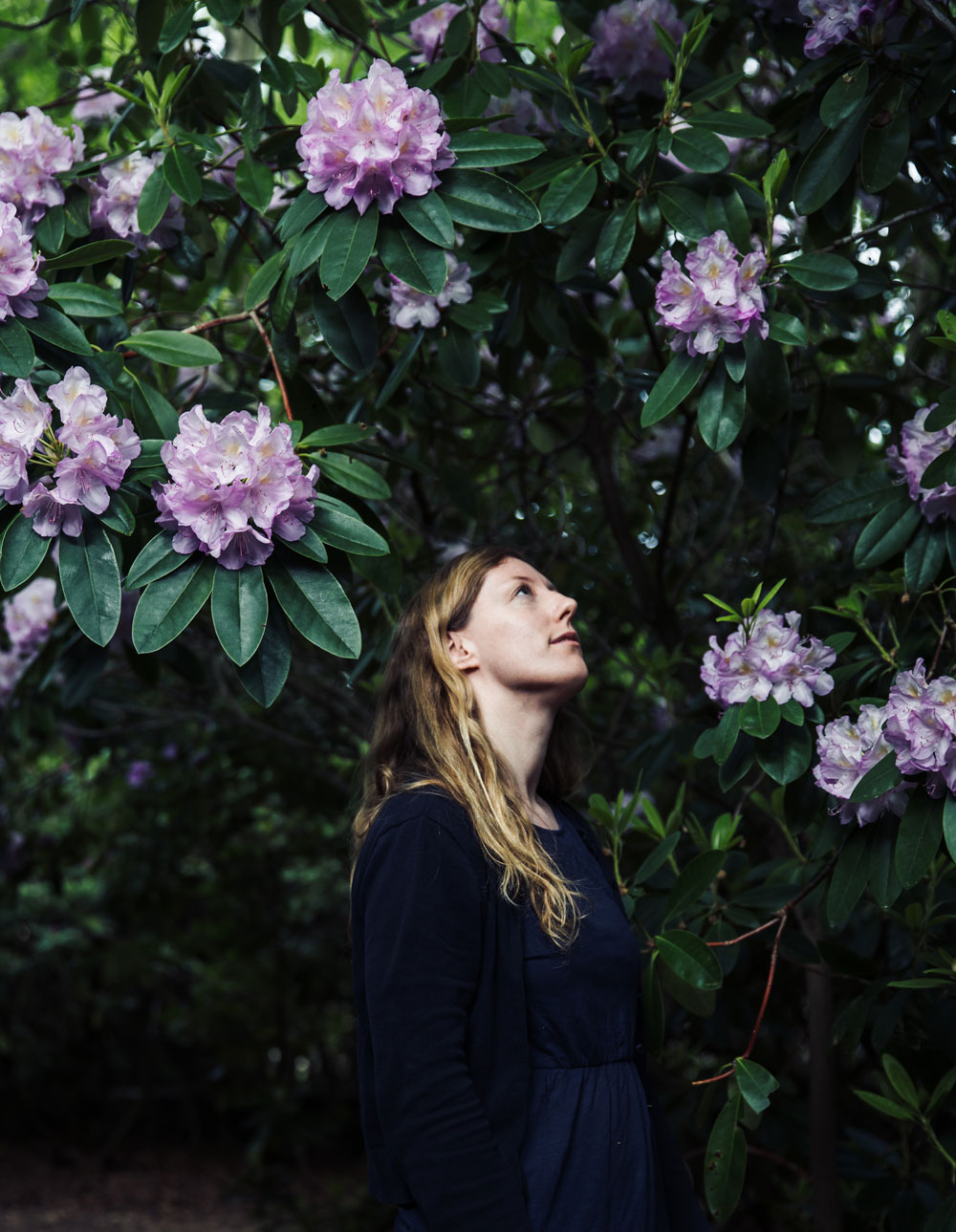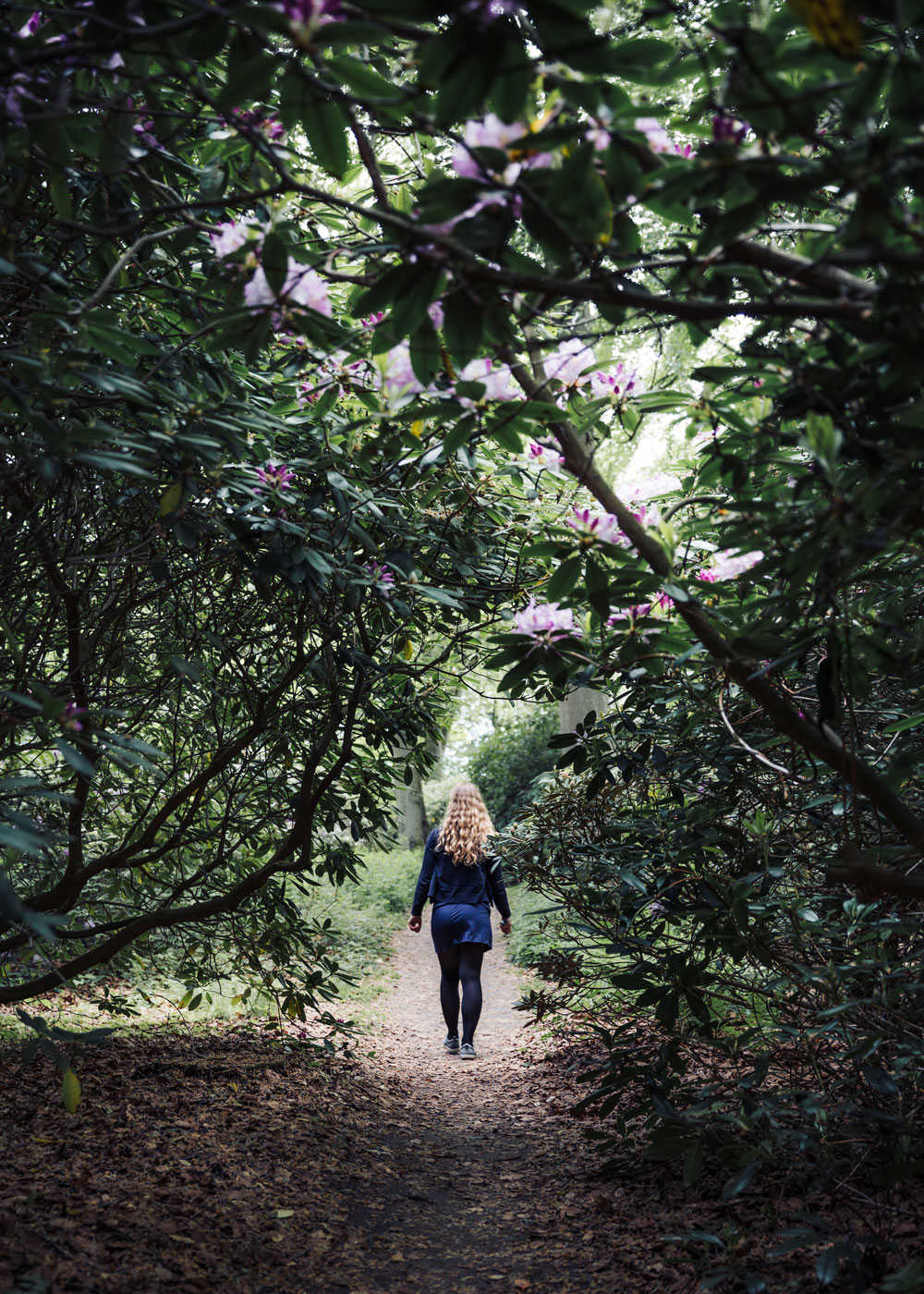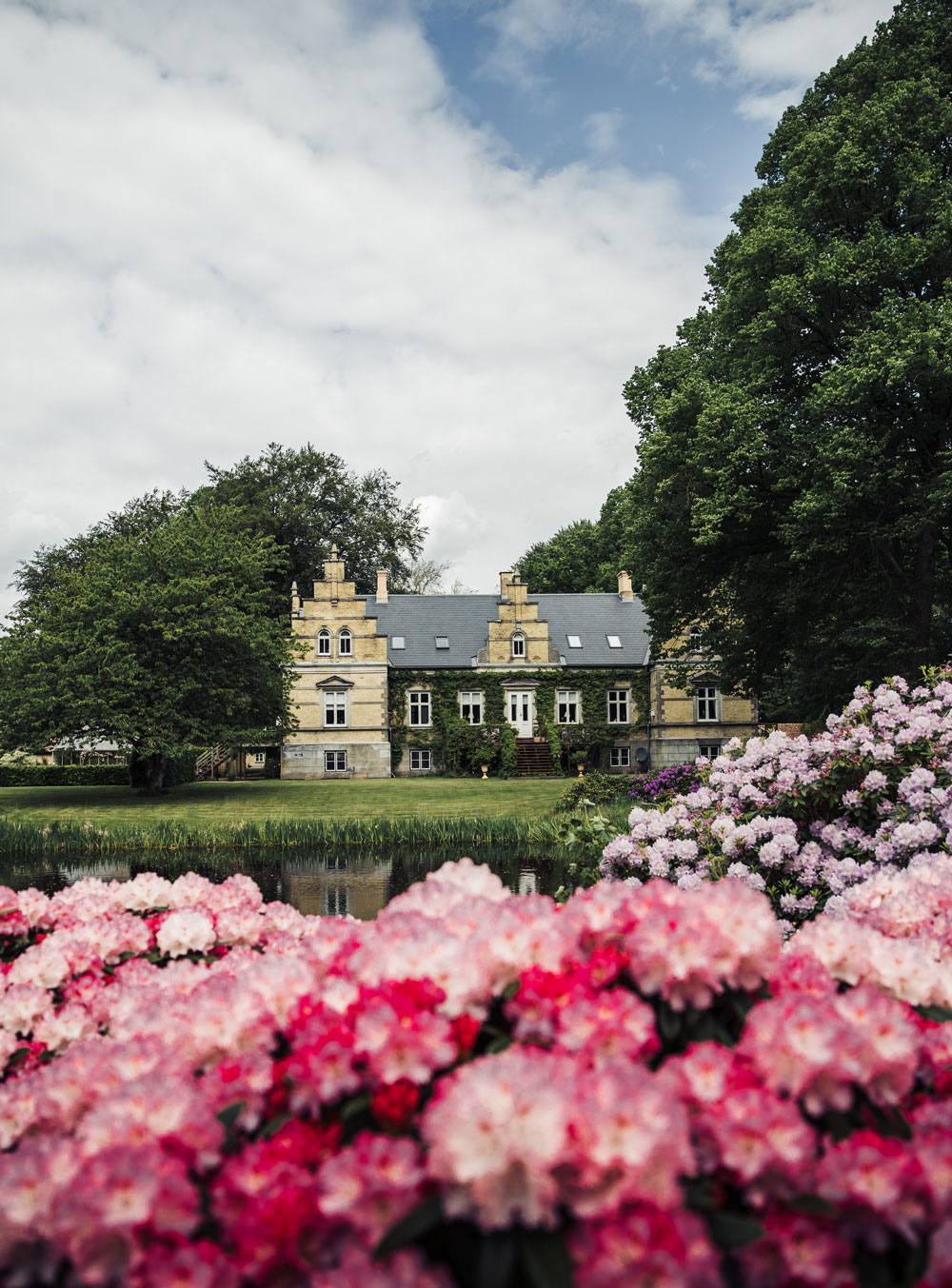 Nivå bird reserve and harbour
From Nivågaard my route continues along the coast. Here by the salt meadows you can be lucky to see wading birds – the area is a bird reserve. A small path leads out to a bird tower and further along the water where you can even sometimes spot kingfishers. I also pass Nivå Beach and Nivå Harbour full of red wooden houses, and Sletten Havn, the cutest little town with thatched houses.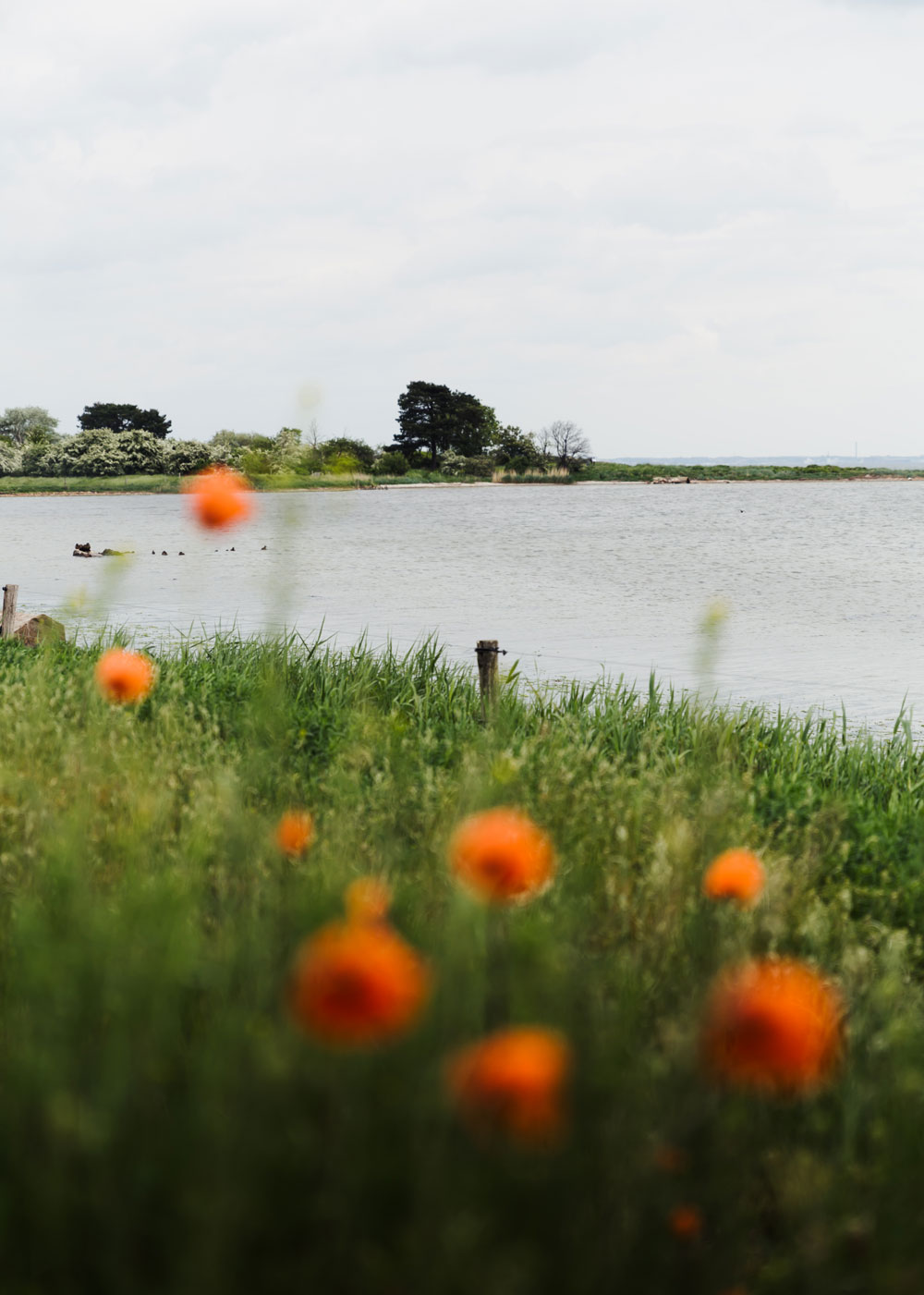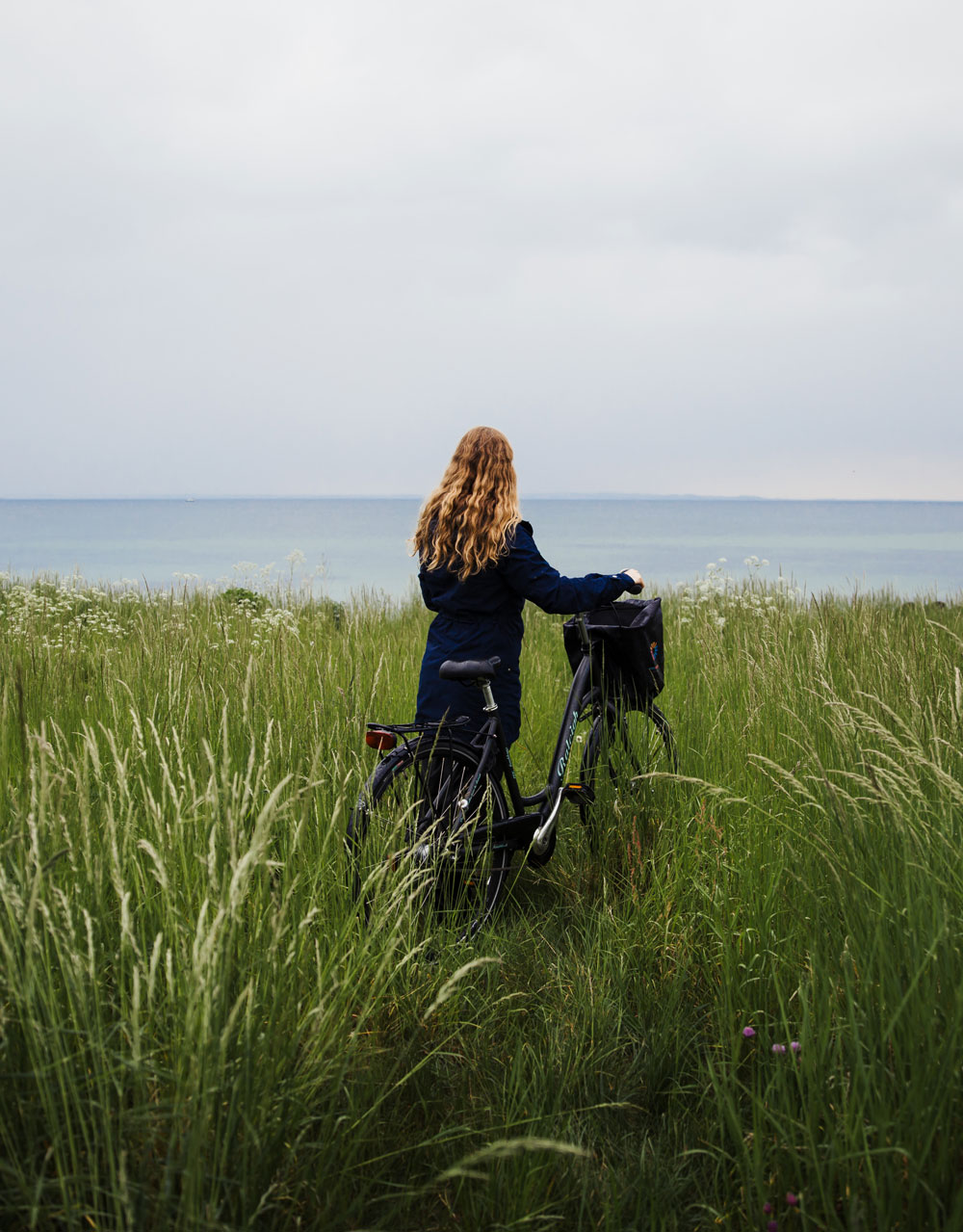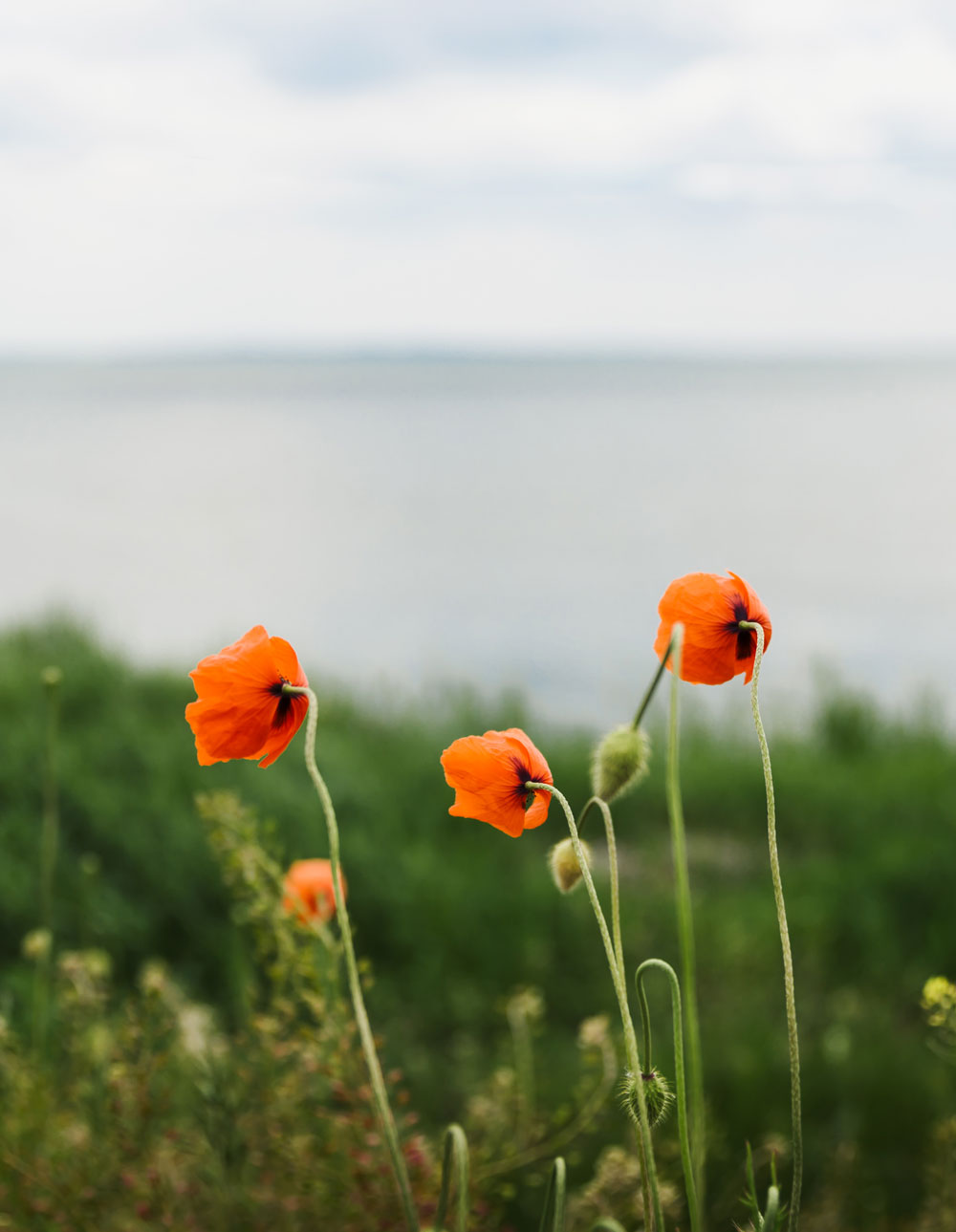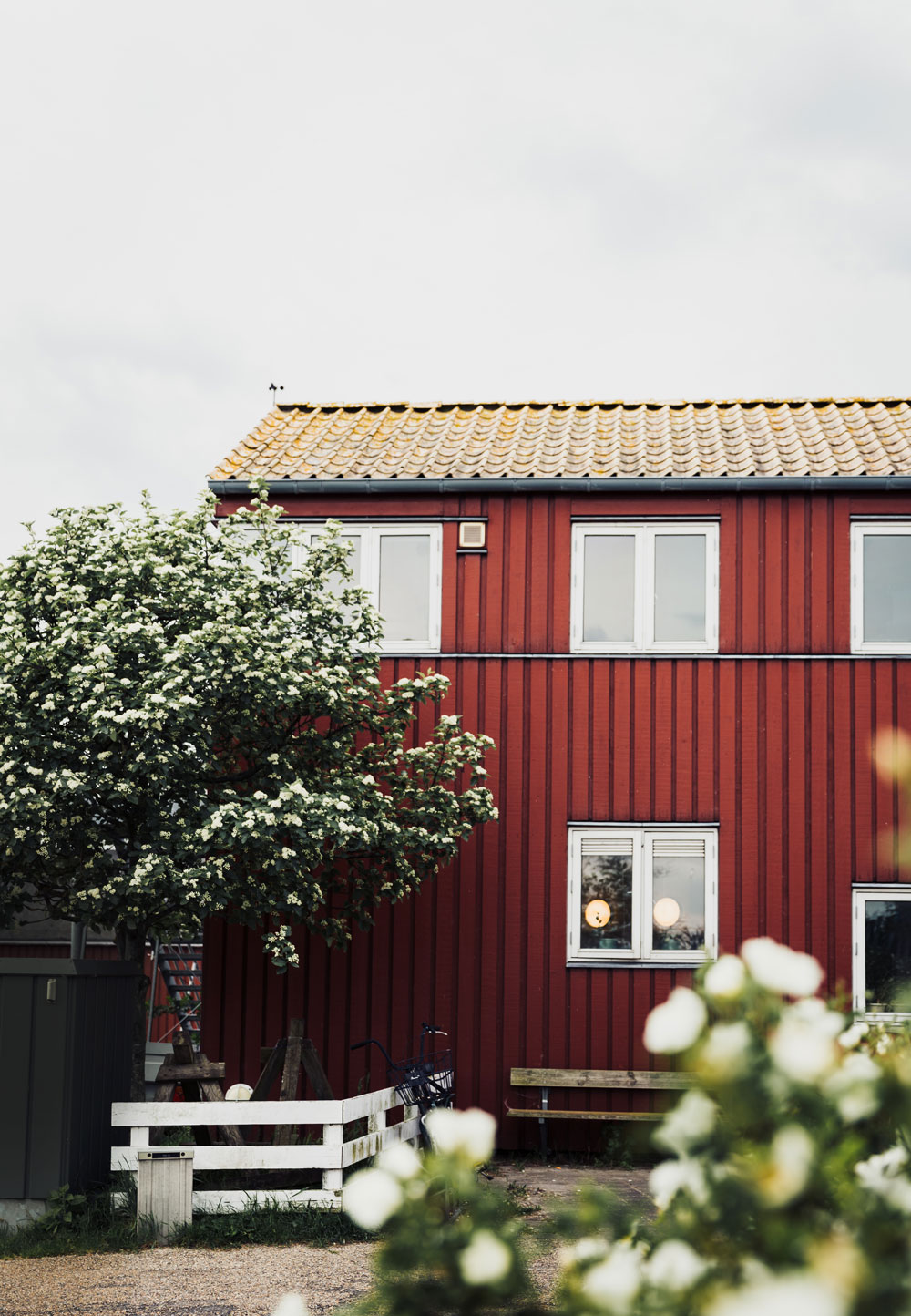 Staying at Marienlyst Strandhotel
Just outside Elsinore we check in at Marienlyst Strandhotel. The rooms are decorated in a lovely beach hotel style but the best part is the location right by the sea.
Here you can choose whether you want to jump in the ocean or in the hotel's beach spa, with a fantastic view of the beach and Kronborg Castle (Shakespeare's castle from Hamlet). There is even a sauna located directly on the beach.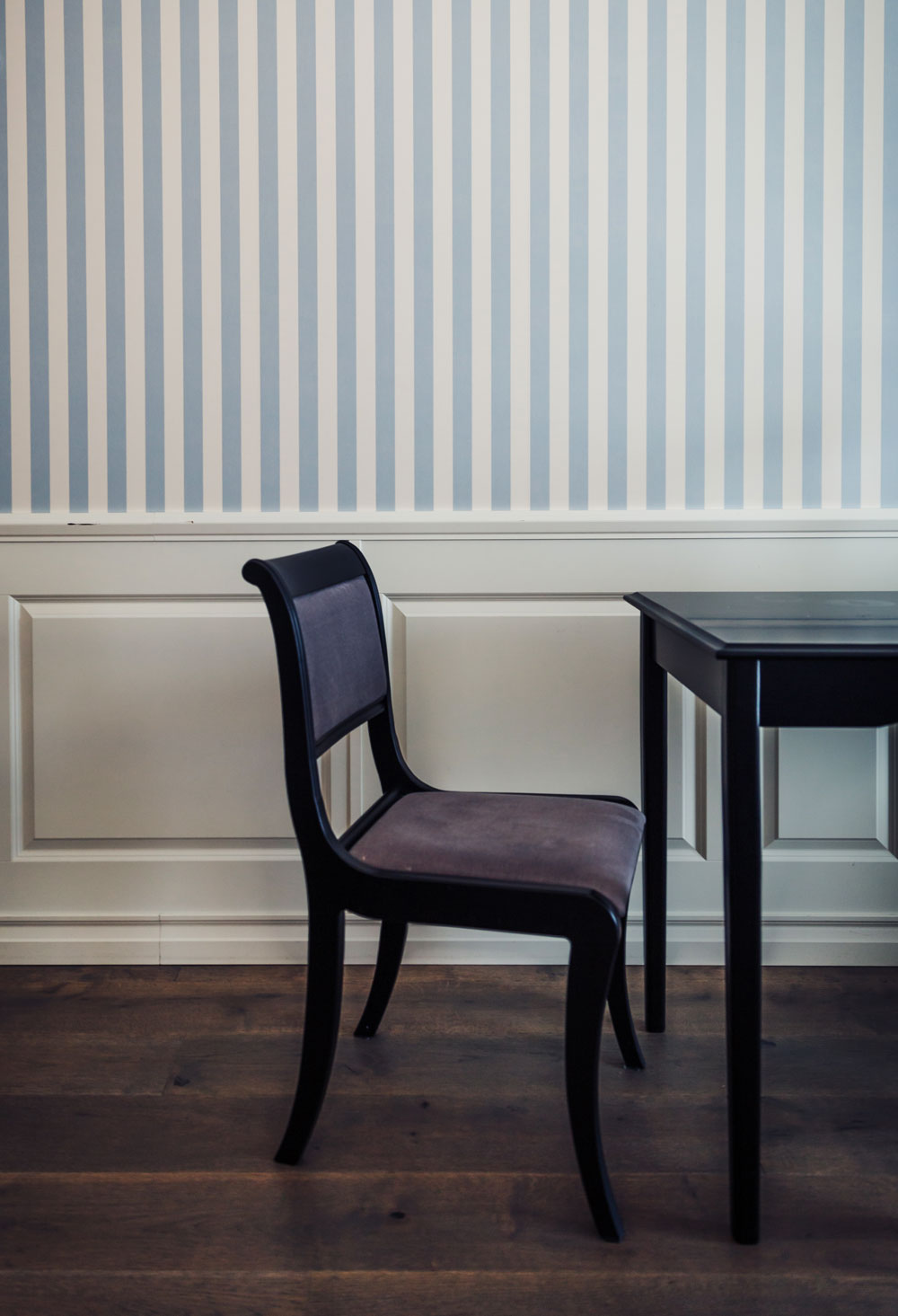 Day 2 – cycling from Marienlyst to Tisvilde
Lenght: 35 kilometers
After some pampering at Marienlyst Strandhotel we are so ready to be active again. The first part of today's route runs through seemingly endless forests. We sweep through Teglstrup Hegn and Hellebæk Forest along small forest roads. We pass by lakes and the Hammermøllen Cafe – an old watermill in the middle of the forest. I totally regret not having our lunch there. Look how idyllic it is!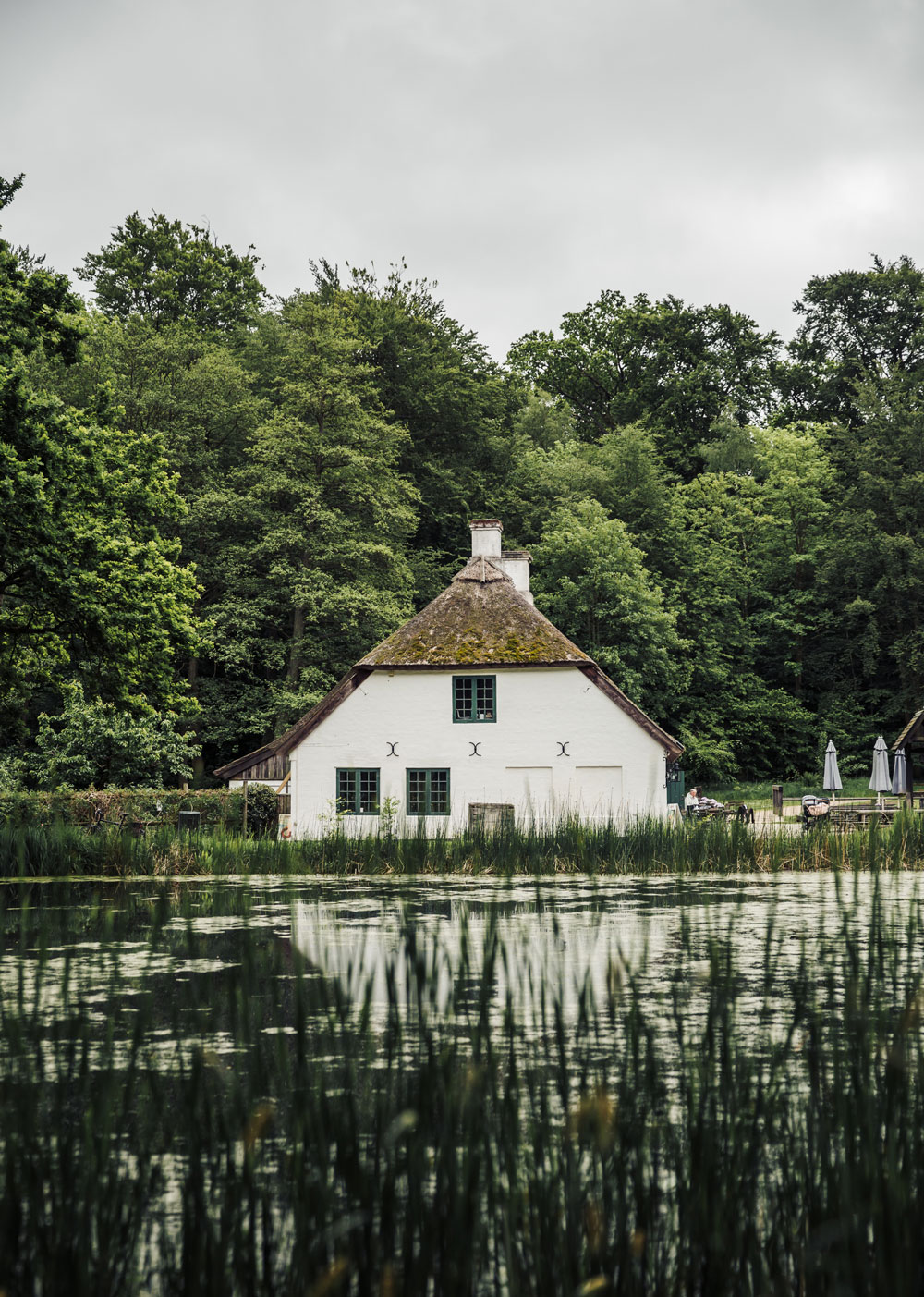 Hornbæk Beach
We ride out of the Hellebæk Forest, only to drive into Hornbæk plantation a few moments later. Here the beautiful pine trees are scattered on the sandy forest floor. On the other side of the sea we can spot Swedish Kullaberg in the distance.
In Hornbæk we have a well-deserved break and fill up with traditional Danish fish fillets at Fiskehuset Hornbæk – a small red house with outdoor seating.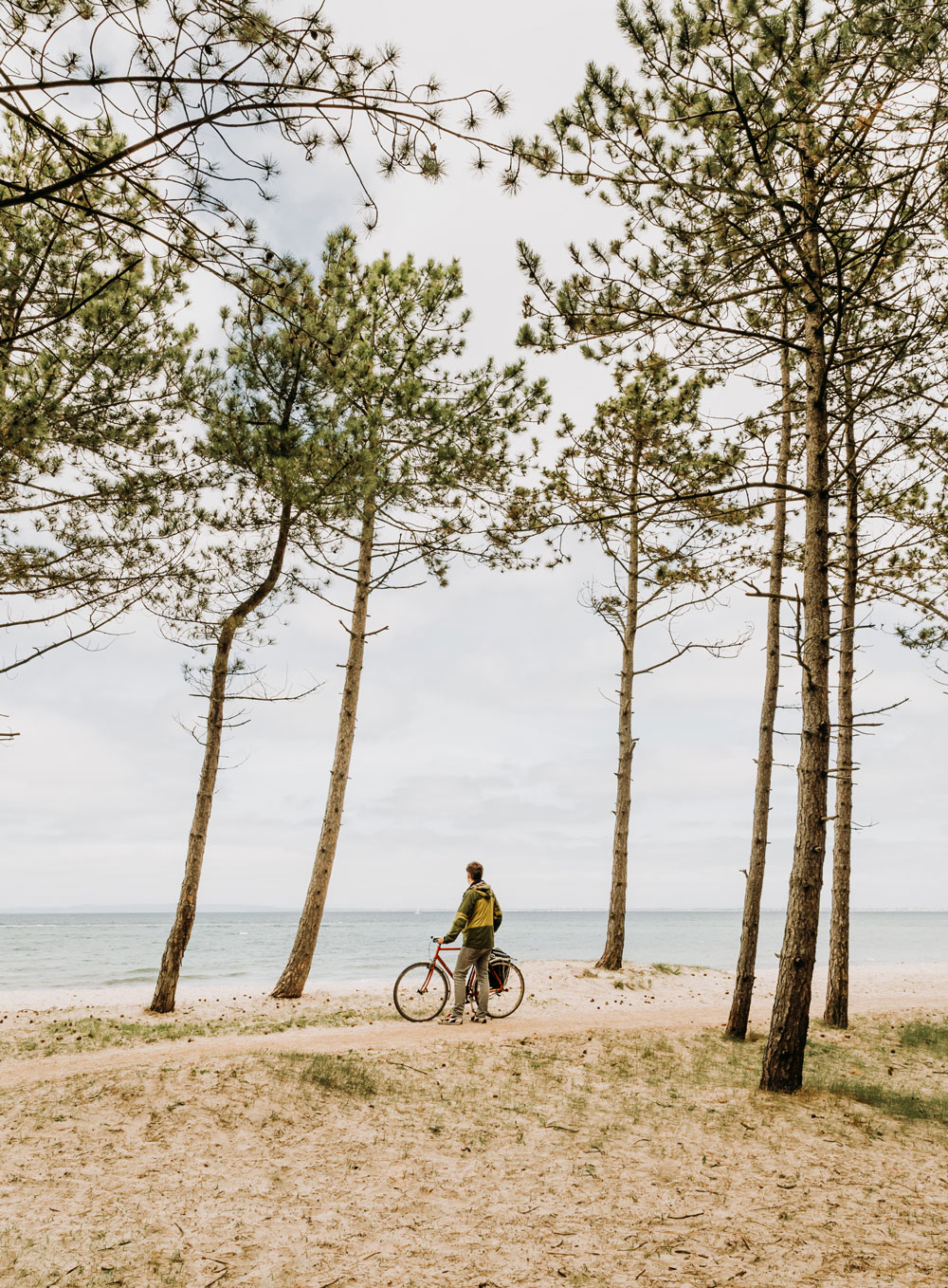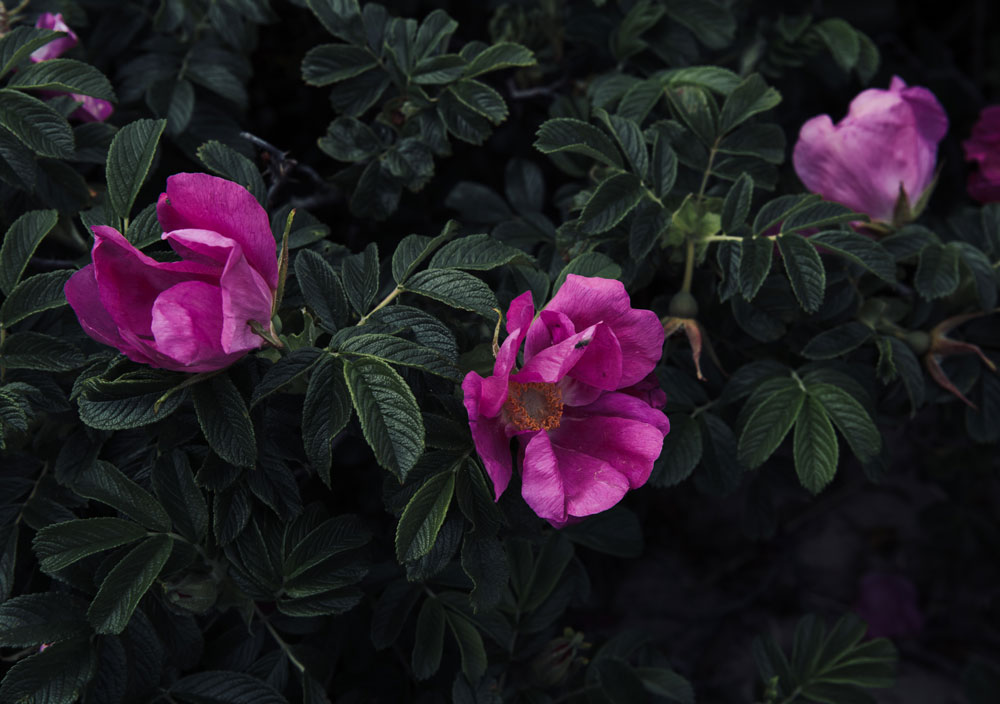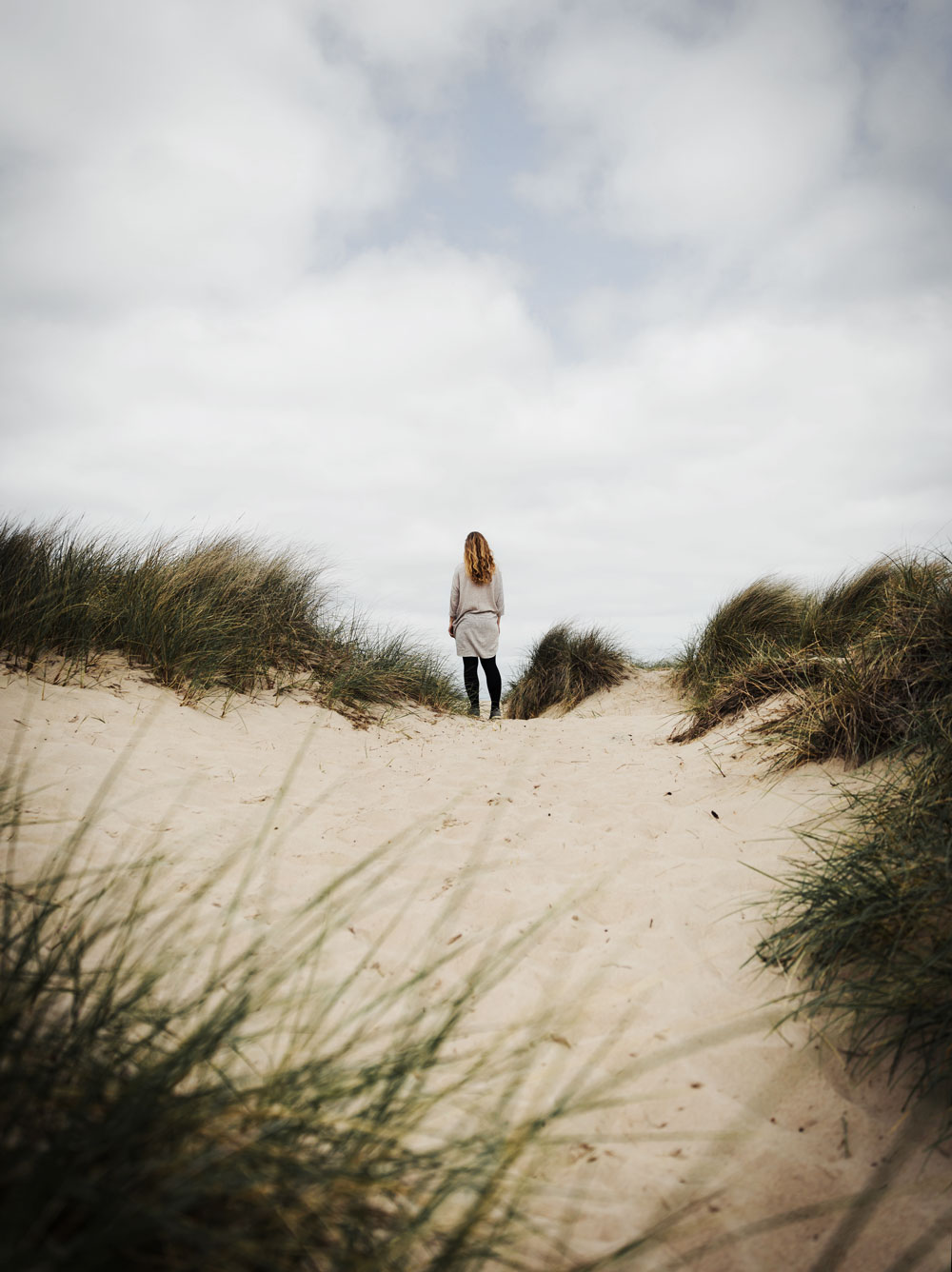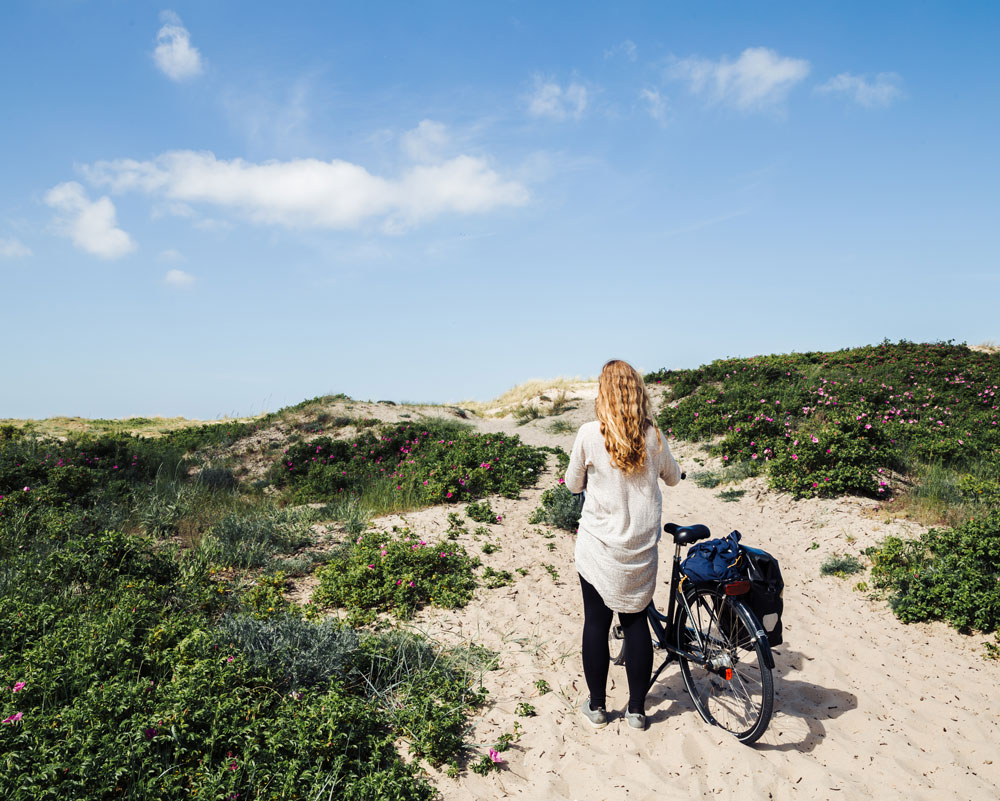 A little detour to Russia in Denmark
Shortly before the town of Dronningmølle, a small sign points to Tegners Museum. We take the detour and the GPS leads us down a small path through the fields. After a while, I am totally in doubt. Is there really a museum out here?
Tegners Museum is truly in the middle of nowhere. Both the museum and the surrounding hills are filled with artist Rudolph Tegner's sculptures. There is free access to the sculpture park, which is more like a nature area with heather-covered hills and a beautiful view of the surrounding countryside. Perhaps it is precisely its remote location that has given the area the nickname "Russia" or "Rusland" in Danish.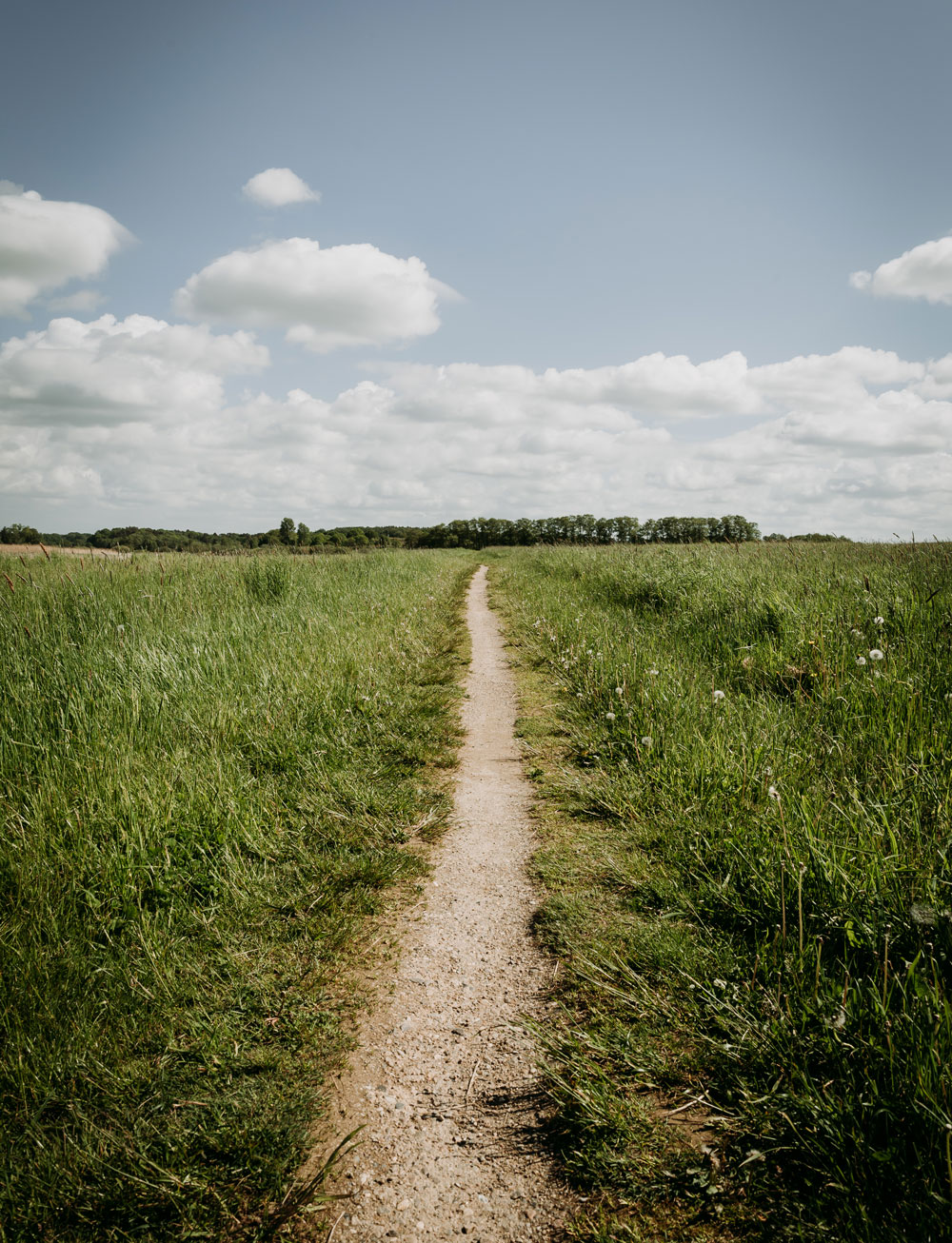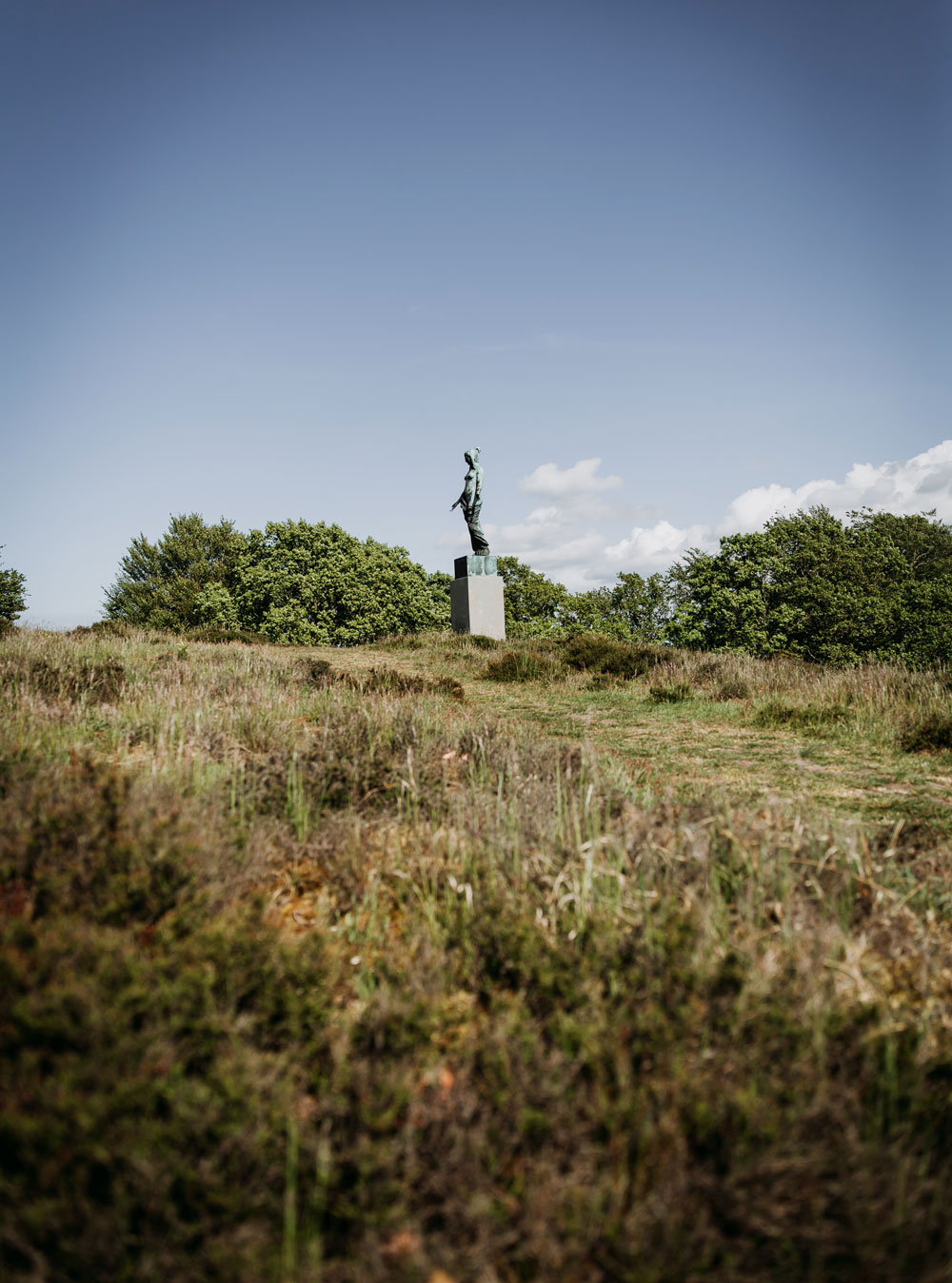 Munkeruphus
Back in Dronningmølle we cycle past Munkeruphus – a small art museum in an old wooden building.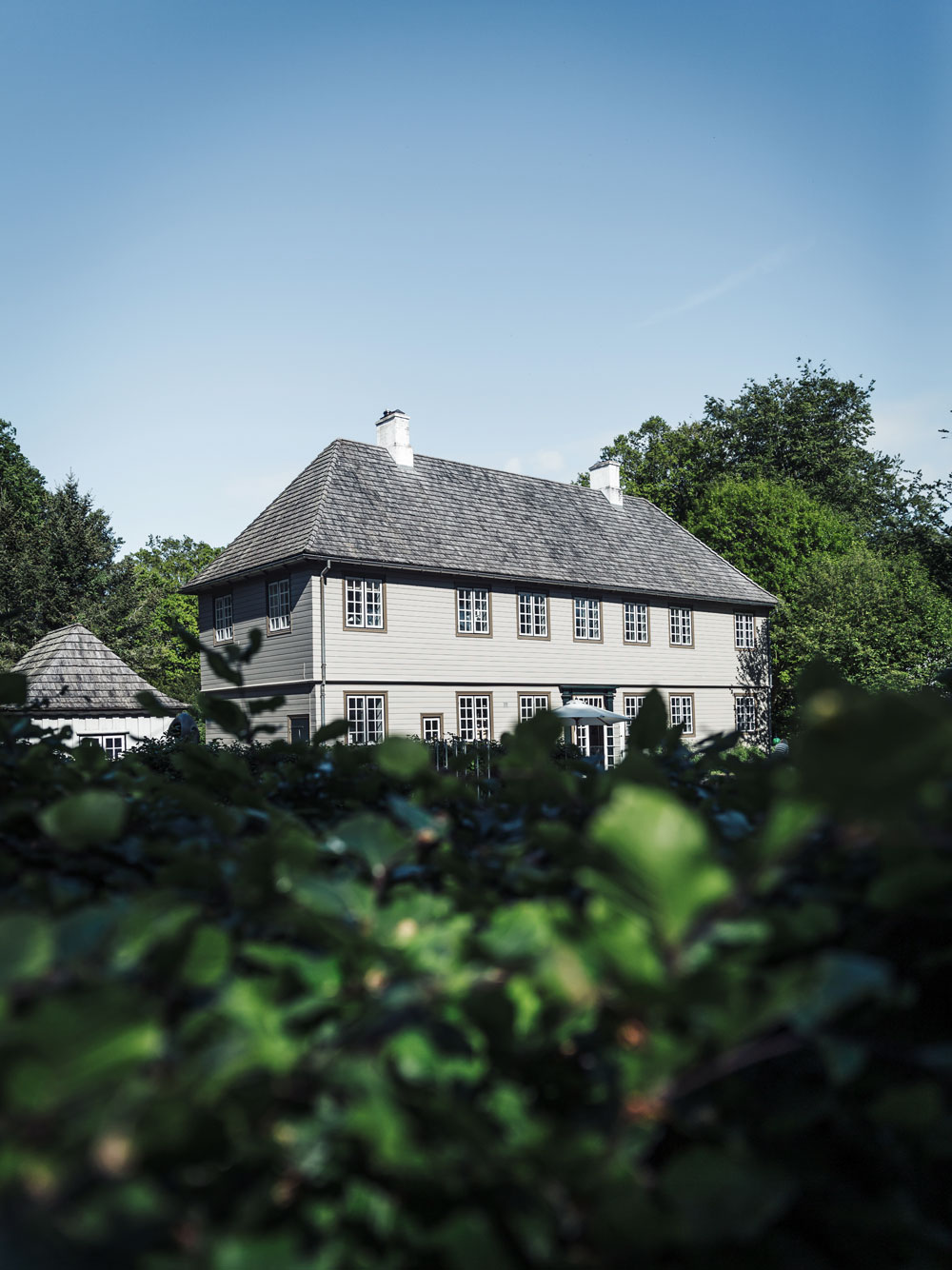 Nakkehoved Lighthouse
There is just something fascinating about old lighthouses and on the North Coast Trail you will find two of them. One of these is Nakkehoved Lighthouse. There is a tiny museum inside.

Gilleleje and Gilbjerg Hoved
We reach the harbour town Gilleleje and get ourselves the biggest ice cream we have ever seen. At the end of the main road, the Nordkyststien trail continues onto a narrow cycle and footpath surrounded by fragrant rosehip bushes. The path here is called the Gilbjerg Trail and leads us high up over the sea towards Gilbjerg Hoved – almost Sealand's northernmost point.
This is where Denmark's famous philosopher Søren Kirkegaard sat when he had to gather his thoughts and being here, it's not hard to understand why. Both the slope in front and the rolling meadow behind it are protected nature areas.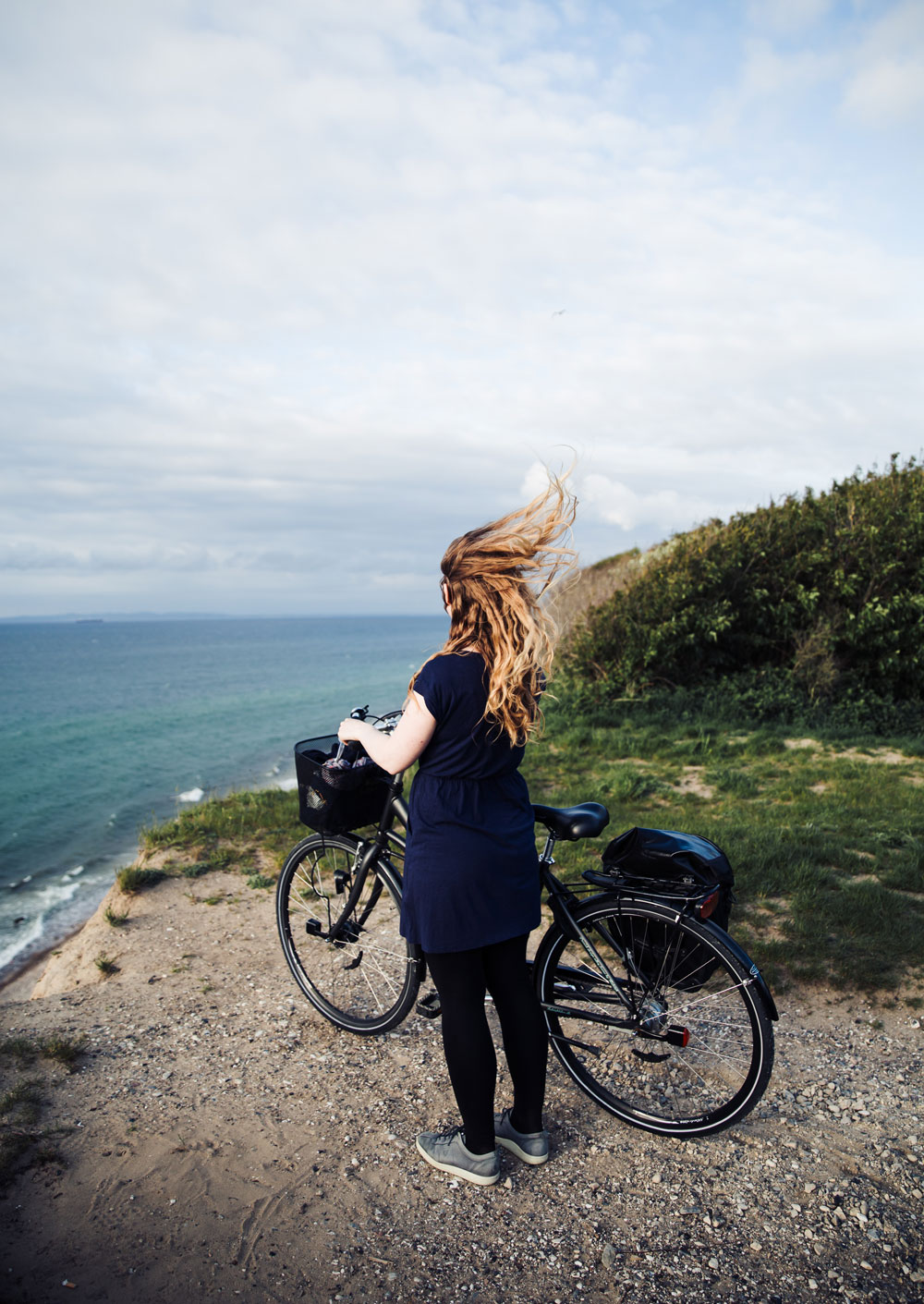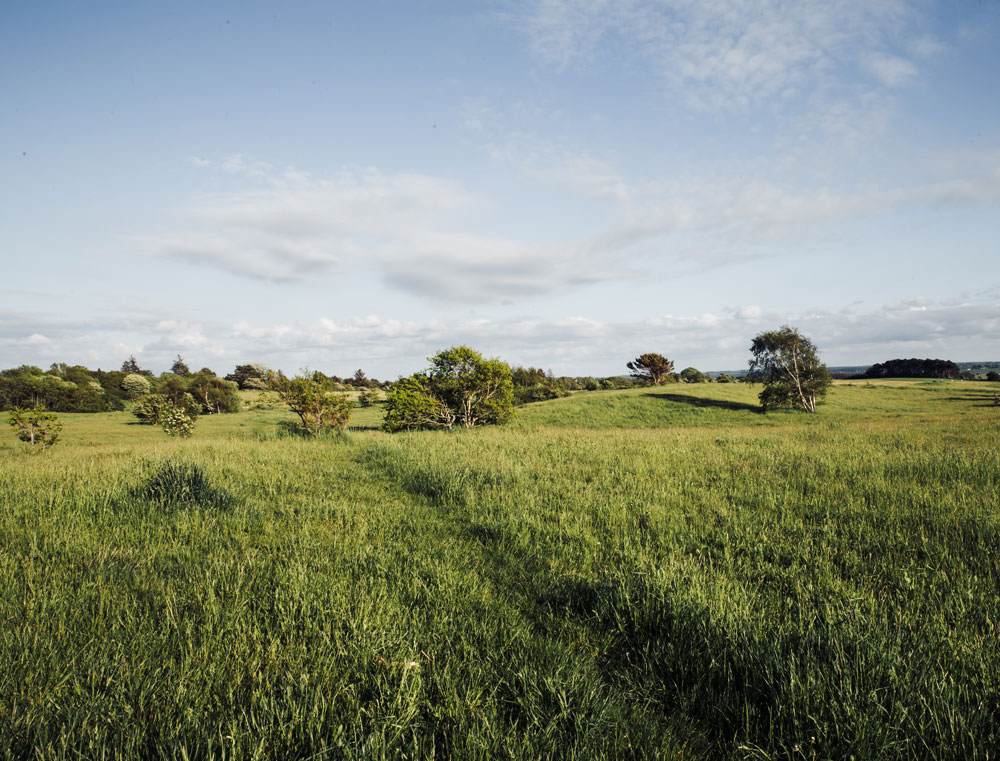 Staying at Havgaarden Badehotel
Just before Tisvildeleje, we arrive at our accommodation for the night. It's a steep uphill climb and we have to walk our bikes the last bit of the way to Havgaarden Badehotel. The hotel is located in the loveliest farmhouse with a thatched roof and blue doors.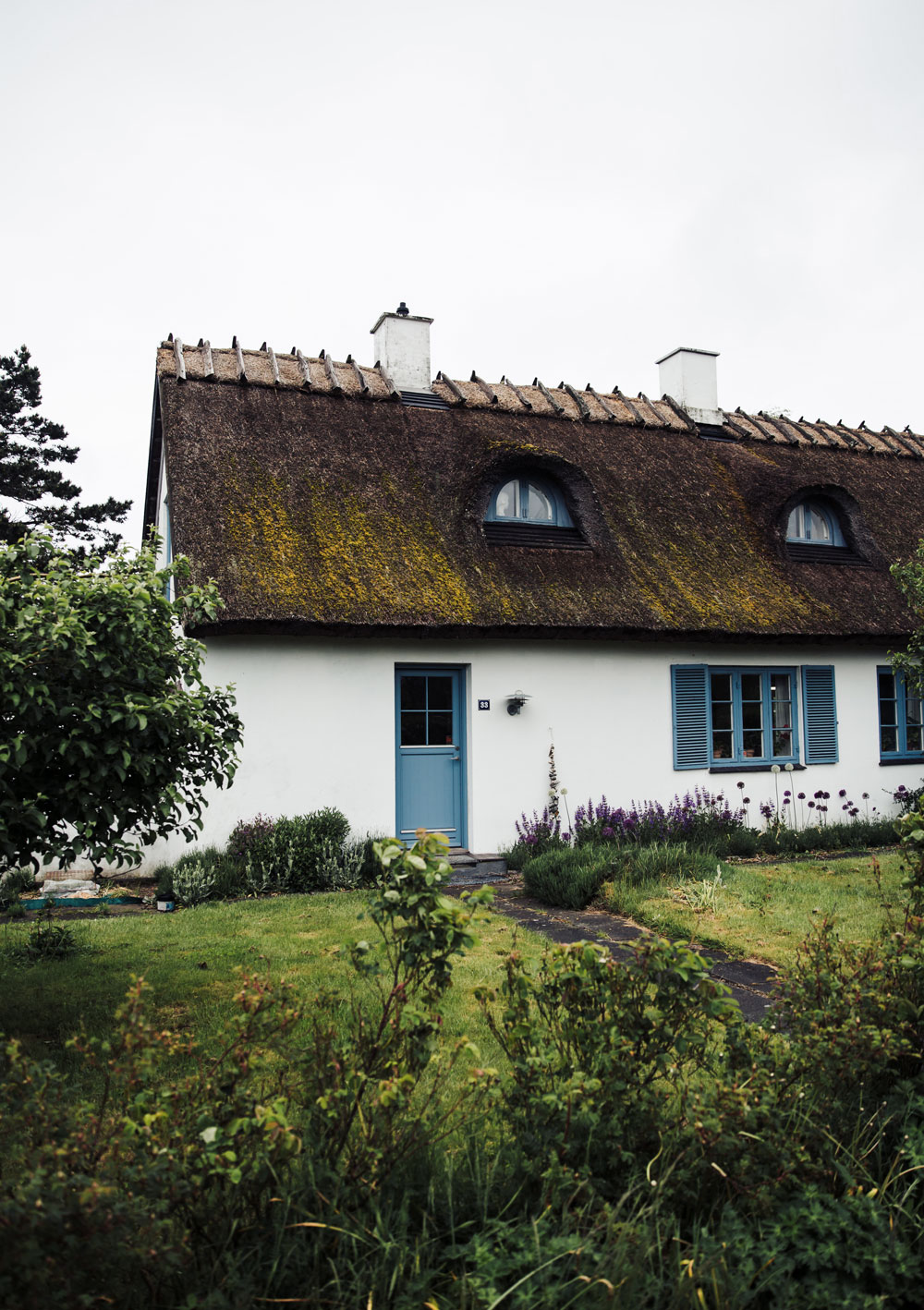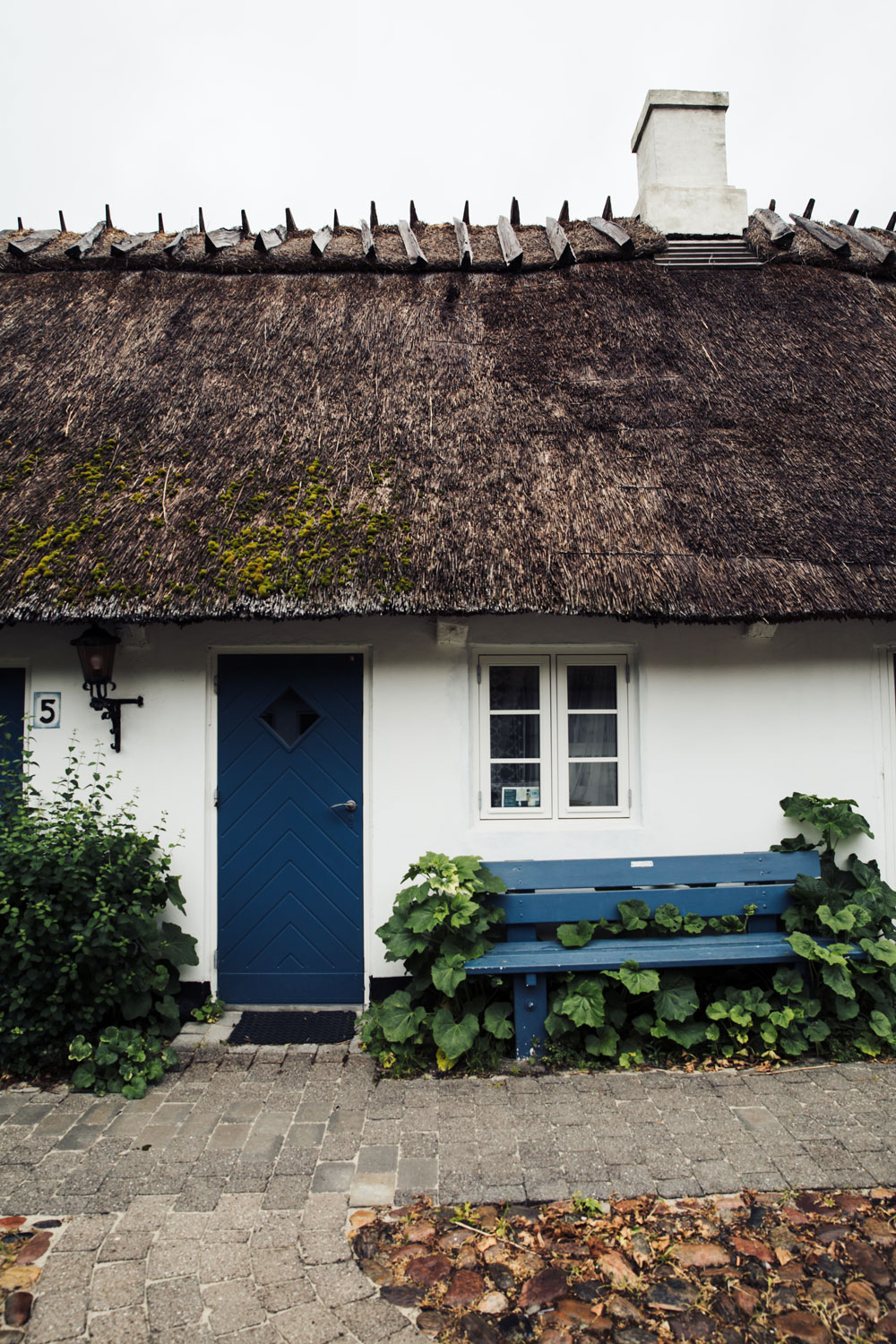 Day 3: Cycling from Havgaarden Badehotel to Hundested
Lenght: 25 kilometers
On day 3 our legs are a bit tired, but any concerns quickly fall away when we remember that today's stretch is the most scenic stretch of the entire Nordkyststien trail. We continue our cycling holiday and make a small stop at Helenekilde, which offers both a sacred spring and a hotel in a beautiful spot overlooking the sea.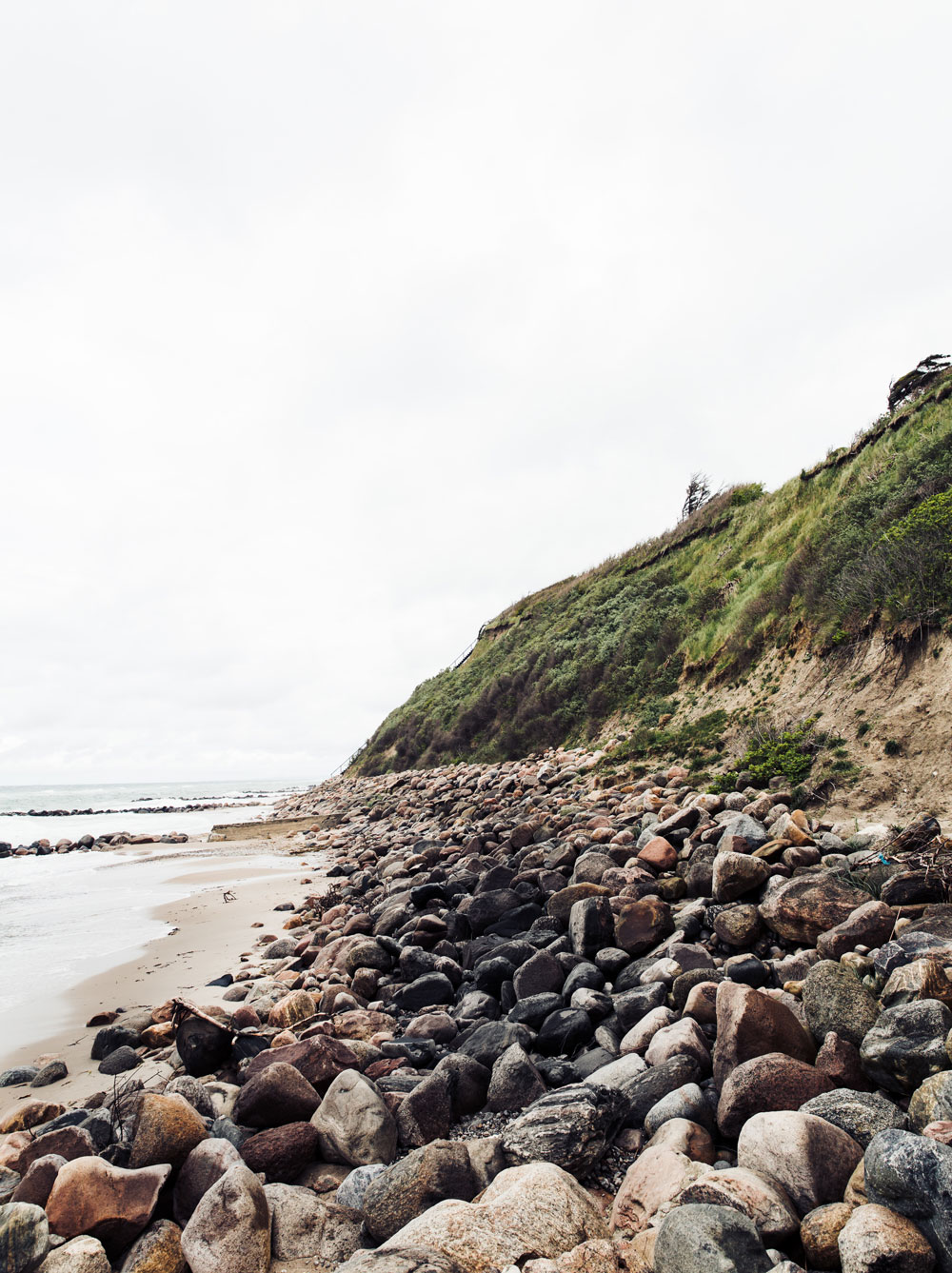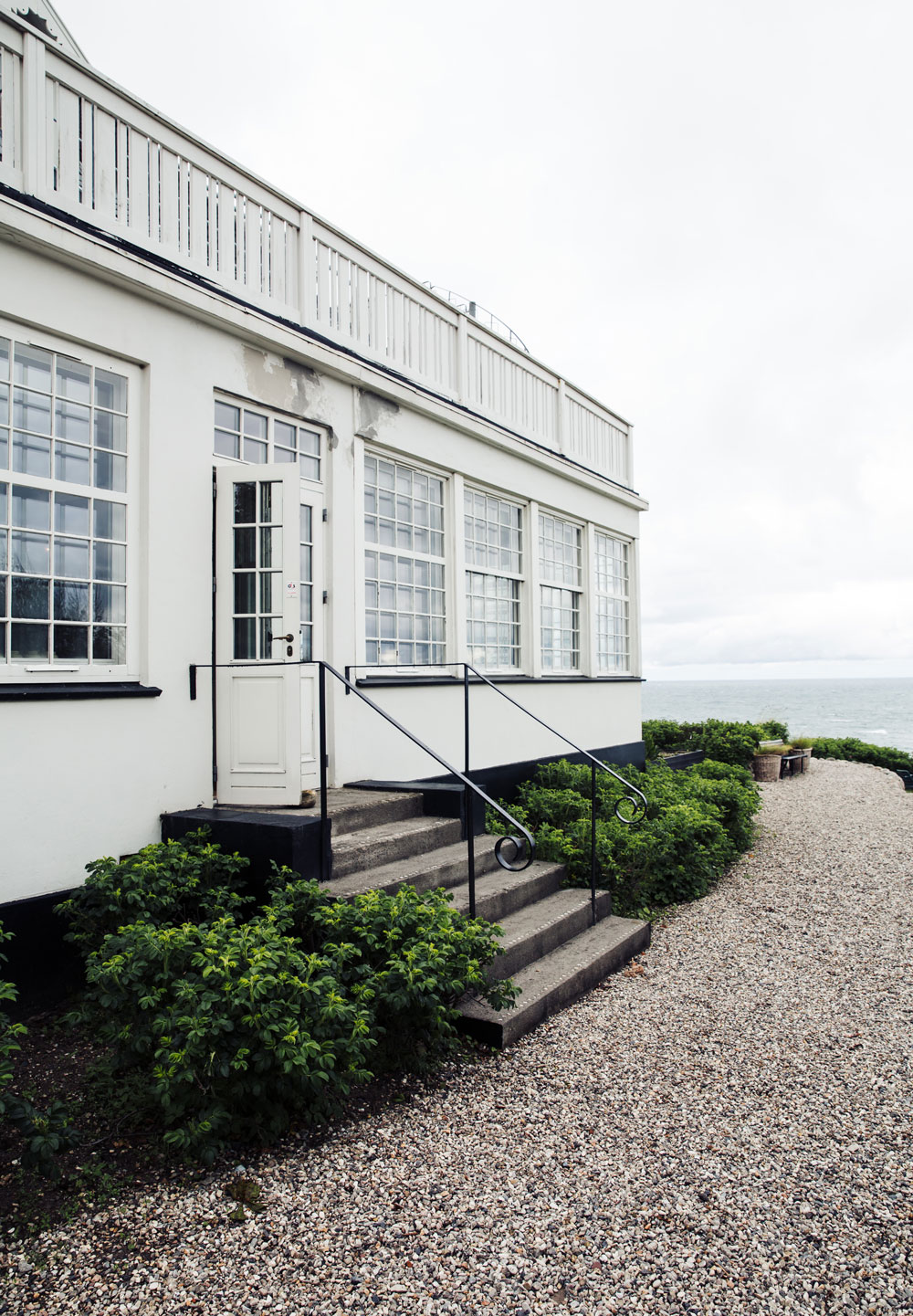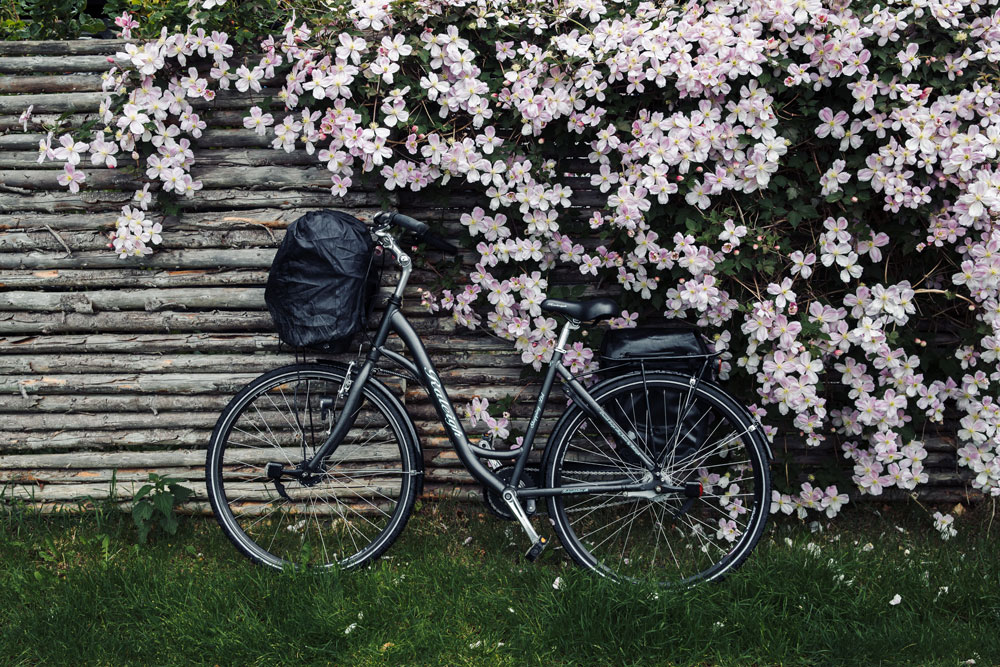 Tisvilde Hegn and Troldeskoven ( The Troll Forest)
We pass through the cute beach town Tisvilde and the trail leads us into the forest Tisvilde Hegn. I spot some purple flowers on the path and discover that it's small pasque flowers (delightfully called the "nodding cowbell" in Danish) – a rare flower found almost only here on the sandy coast of North Sealand. The trail also takes us past the crooked trees of Troldeskoven.
Melby Overdrev
We drive from Tisvilde Hegn out to the huge moorland area called Melby Overdrev – one of my absolute favorite places in Sealand. It is completely flat and heather-clad. A few deer jump around and I spot a pair of white horses that light up in the flat landscape. We have landed on the prairie of North Sealand!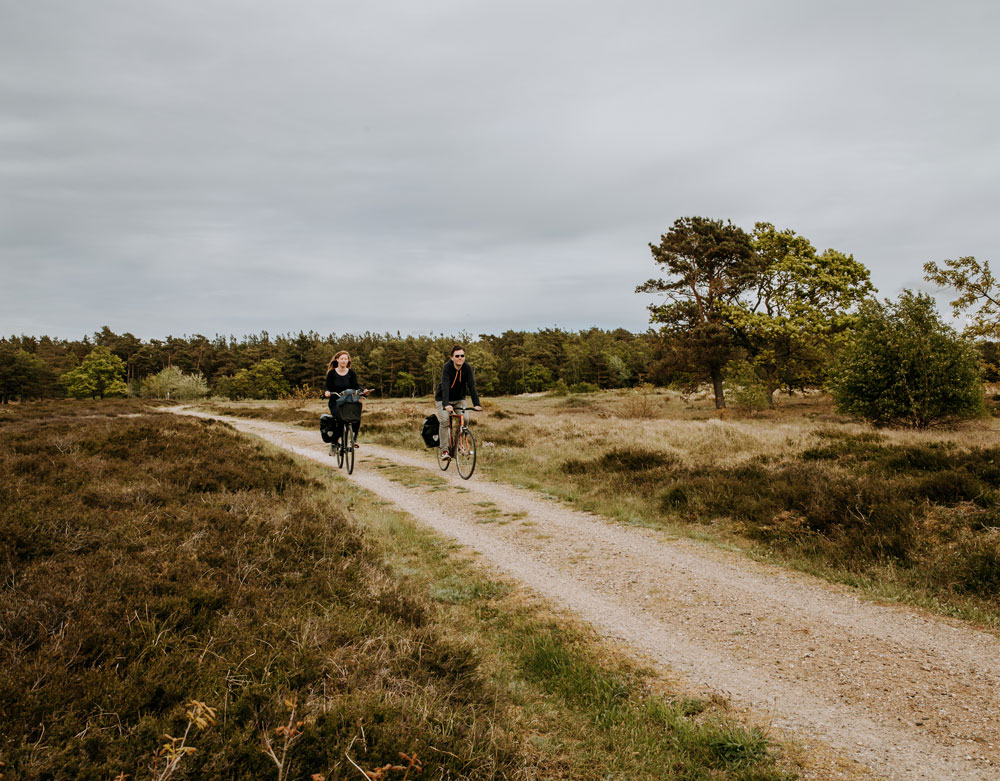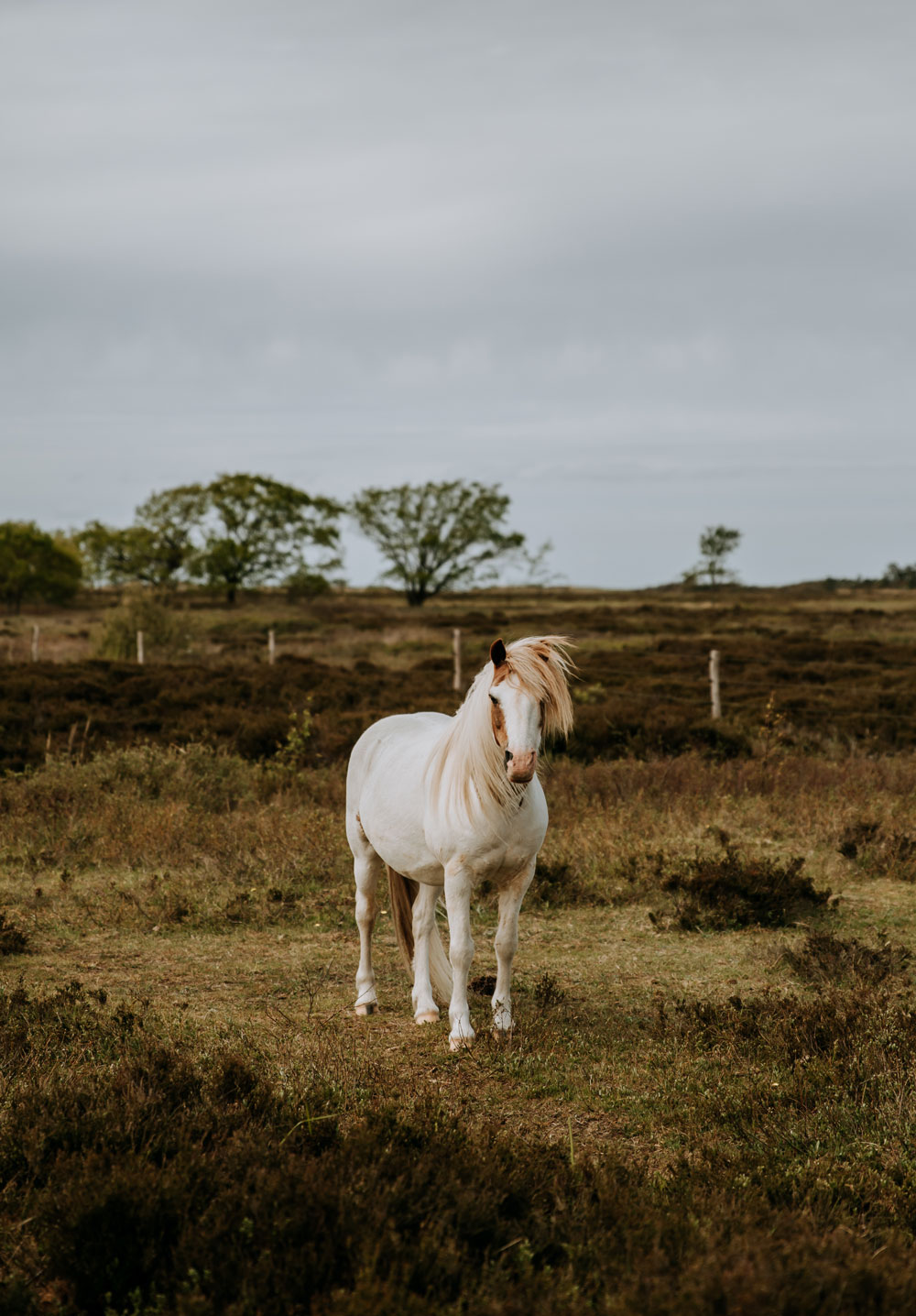 Rågeleje Beach
On the way we pass the cute little beach houses at Rågeleje Beach.

Kikhavn
From the beach town Liseleje we embark on the last and most beautiful part of our cycling holiday. We drive through the small cottage roads and turn towards Kikhavn, which is not a really harbor, but an adorable little village, located right on the beach with the most beautiful thatched houses.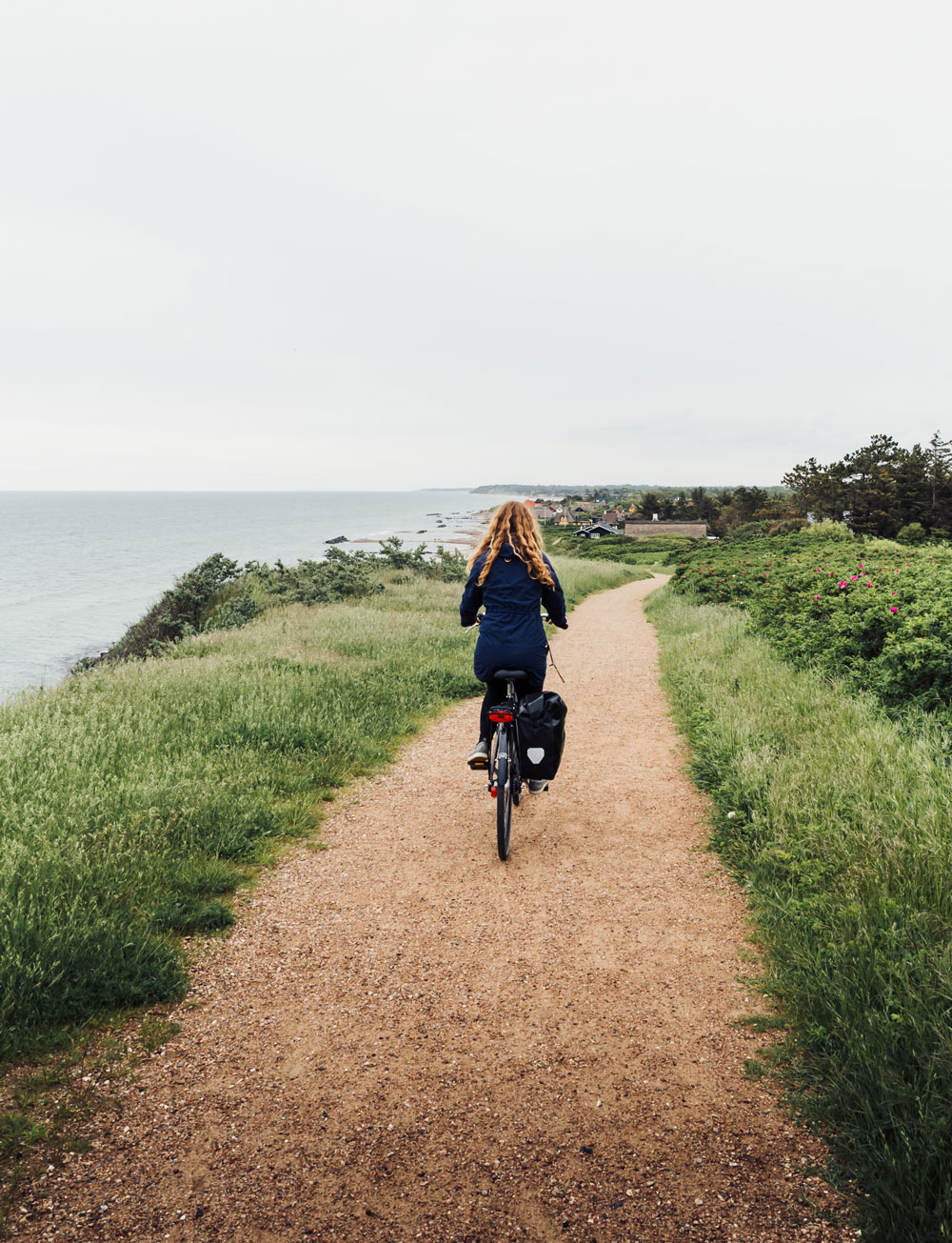 Spodsbjerg Lighthouse
We are almost at the end of the trail, but before we get there we pass one of the most beautiful places on the Nordkyststien trail – Spodsbjerg Lighthouse, near Hundested. High on the slope, it stands in a rolling grass-green landscape, with the most beautiful view of the sea.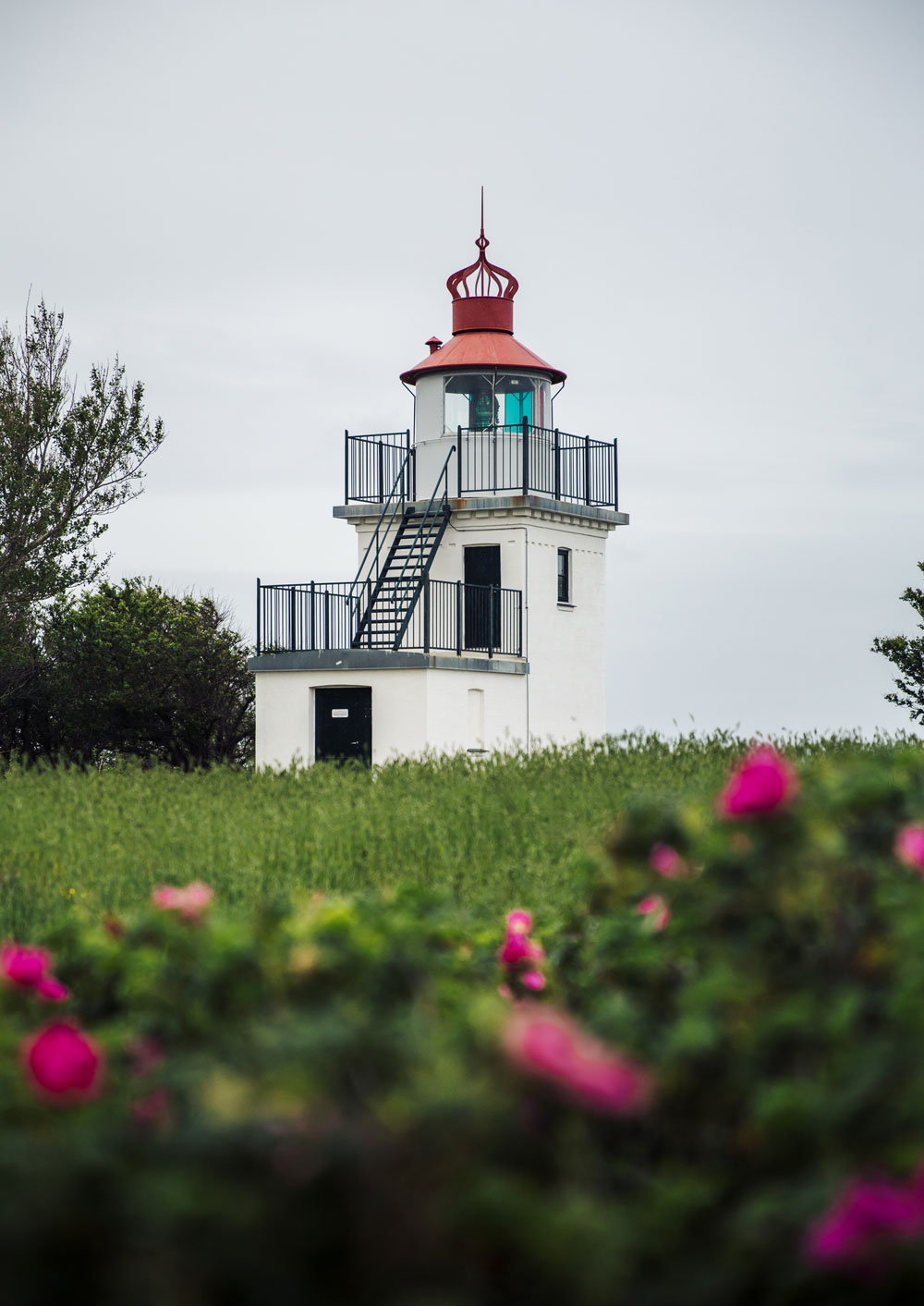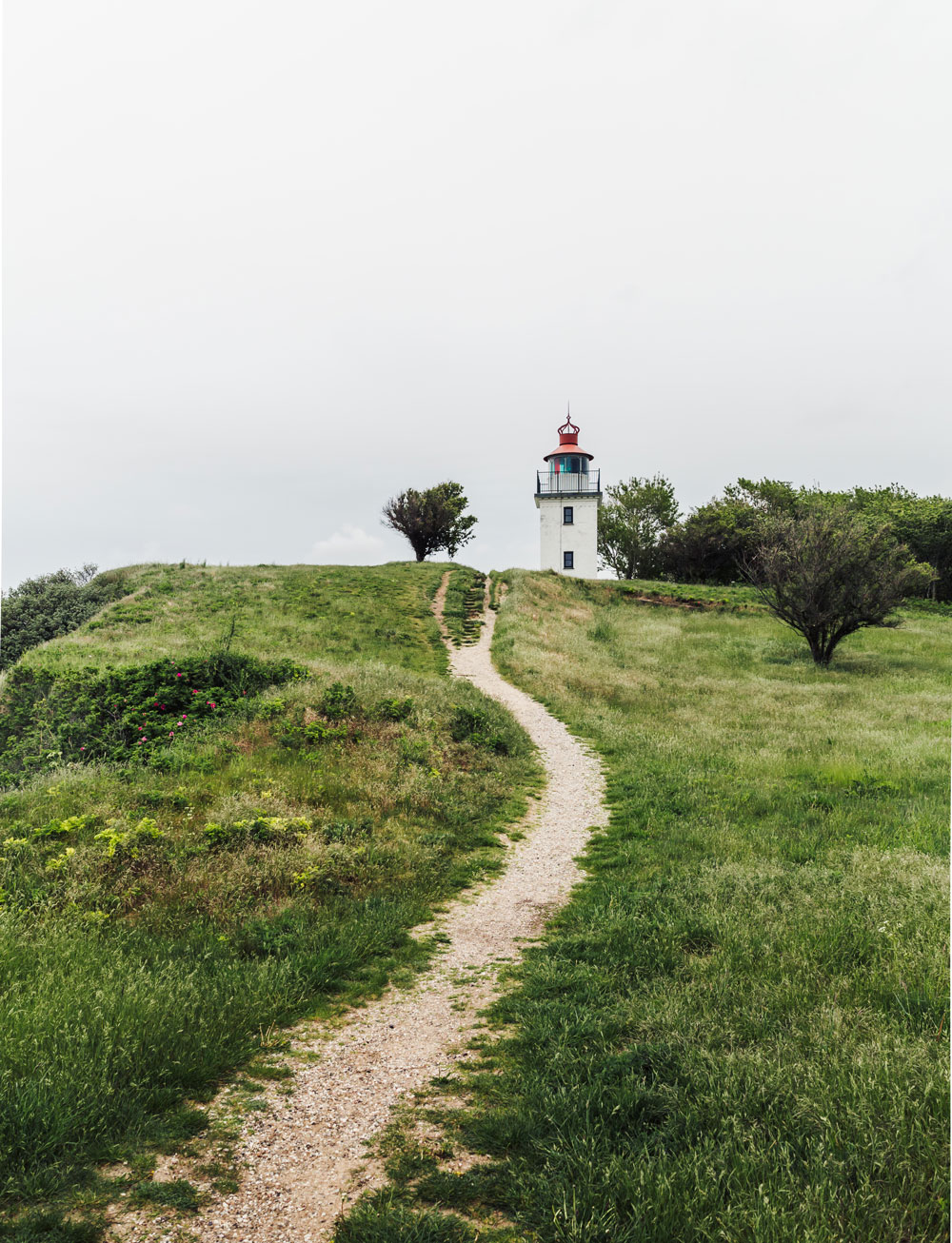 The house of polar scientist Knud Rasmussen
Not far from the lighthouse you will also find a funny-looking smurf like house. Polar scientist Knud Rasmussen lived in this house, when he was not on one of his many polar expeditions. And although the place is far from reminiscent of Greenland, it is easy to understand why a polar scientist would pick such a scenic place to live in Denmark. The house is now a museum.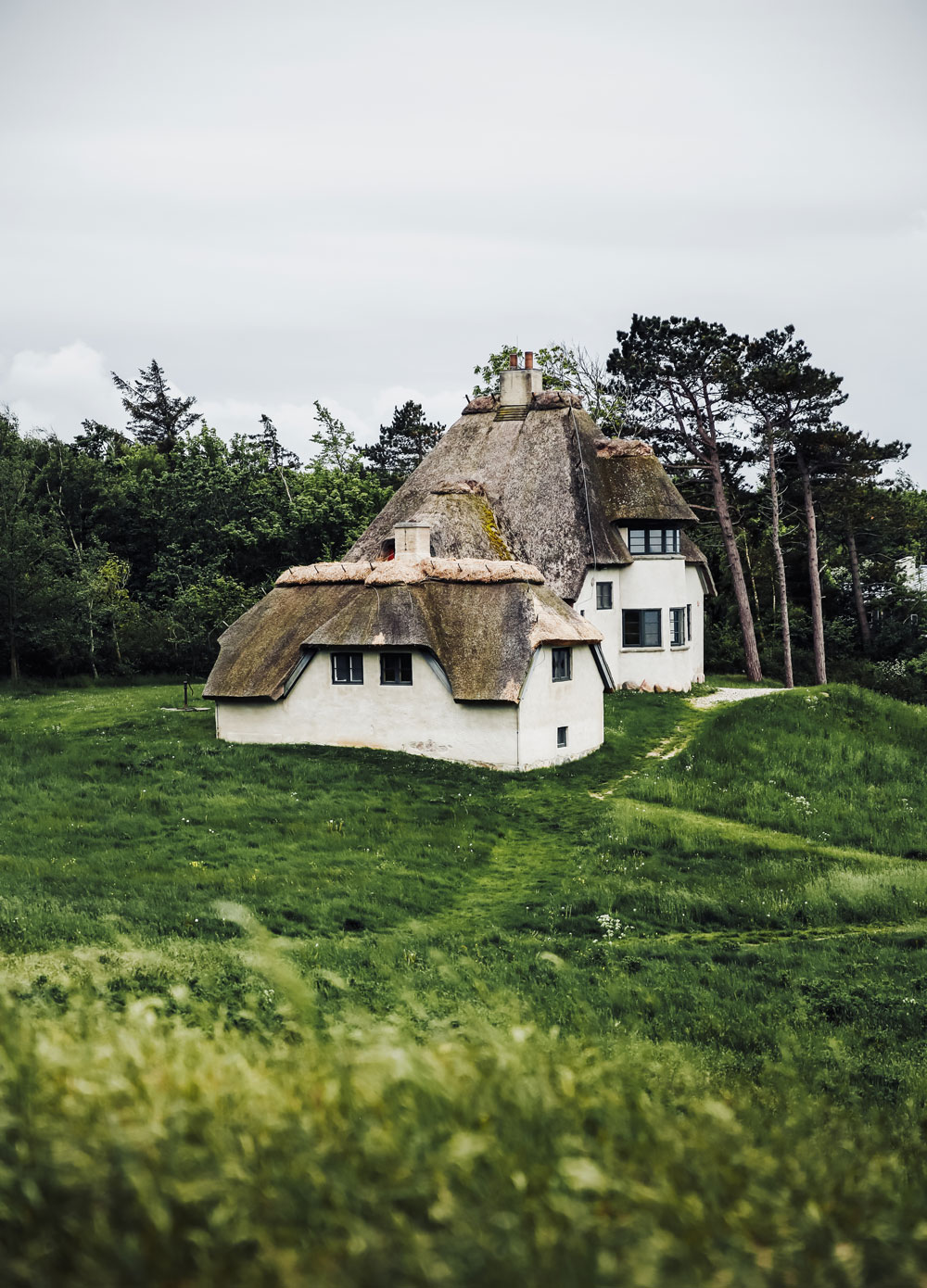 Staying in the Hundested habour huts
Cozy Hundested Harbor is known for its fish restaurants and creative workshops. On the very last night of our cycling holiday we stay in the finest little red cabin on the harbor, which can be booked right here.
The next morning it is only a 5-minute drive to Hundested Station, where the train is ready to take both us and our bikes back to Copenhagen.
Take your bike with you on the train on your cycling holiday
The local railway runs all the way along the coast which make it incredibly easy to take your bike with you and shorten the route as needed. There are train stations in Elsinore, Hornbæk, Gilleleje, Tisvildeleje and Hundested.
Use the national travel planner Rejseplanen to plan your trip
Advice for cycling holidays
I'm pretty crazy about cycling holidays. The pace is perfect – you get around faster than walking, but without going so fast that you can't experience the landscape around you. And without being trapped inside a car where you can't feel the wind in your hair or the smell of the ocean. Biking in Denmark is easy because the country is so flat. I really doesn't require any fitness level at all.
– Invest in a good pair of waterproof panniers (bags) that you can clip on to your luggage carrier. That way it doesn't feel so heavy to drive around with your luggage
– If you do not have your own bike with you on your holiday, it is possible to rent bicycles at Nordkystens Cykeludlejning, who kindly deliver your bikes to the beginning of your route and pick them up again when you're done.
– You can easily ride an ordinary bike with 3 gears on this route – the roads and paths are good and relatively flat. In some places the path is sandy, so in those places you may need to get off and push your bike for a little while.
More cycling holiday routes in North Sealand
If you would like to experience even more of North Sealand by bike, take a look at Visit Nordsjælland's website, where you will find good inspiration for cycling holiday routes and digital maps with sights included.
Video: The Nordkyststien trail in 30 seconds
Like this post? Save it on Pinterest!